Meet Judy Chapman. The Author of "My Singapore Lover", a contemporary love story in which Singapore is the main character.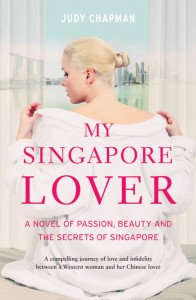 Was "My Singapore Lover" inspired by personal experience?
This is definitely a work of fiction, however I have personally experienced aspects in the story, including the martial arts journey, living in hotel suites, and Singapore of course. I wrote the first draft in three weeks around seven years ago when I was living in Singapore. It is a contemporary love story set in Singapore, the story is told mostly from a hotel suite over a twenty-four hour period and I have definitely had my fair share of hotel suites – in Singapore I was the Editor in Chief for Spa Asia magazine and travelled the world reporting on spa openings. It was an enriching time.
Who are your literary influences?
I am passionate about Haruki Murakami, a beautiful contemporary Japanese writer and Paulo Coelho's Eleven Minutes is one of my favourites. Right now I am reading a novel titled Beautiful Ruins by Jess Walters – it's stunning. I'm more into film, though and my biggest dream is for one of my novels to be made into an edgy film. Well, one can only dream!
Is this your first publication?
This is my first novel, but my fifth book. My first four books were non-fiction that was a completely different journey. I knew from the age of eight years old that I wanted to write a novel, but like all of us, have been on many detours. It took quite a bit of focus and determination to make this novel happen.
What is your background?Where did you grow up?
I grew up in Byron Bay, Australia, a similar melting pot to Bali in terms of being a small community of many cultures, beliefs, religions, creative types, raw foodies, yogis – and both places offer a more relaxed and free lifestyle. My upbringing was typically alternative and consisted of trips to Bali and ashrams in India. Well, I tried my hardest to be 'straight' and wear a suit and carry a briefcase, but never succeeded in that. I did attend University in Melbourne for a while, but ended up working for The Melbourne Herald on the fashion pages, as I was impatient to get into the workforce. I started my own spa brand with my ex-fiancé when I was 23 years old and we opened spa stores around Australia – a very inspiring chapter of my life. After I published my first book, everything took off and this is when I moved to Southeast Asia and started writing about spas.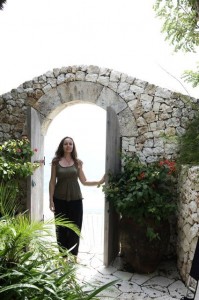 What brought you to Bali?
I first came to Bali back in the late seventies when there was only one western hotel. Over the last decade I have written and photographed two of my spa books in Bali and in 2012 completed my yoga teaching training course – so Bali has been a big part of my creative life. Last year you could find me tapping away at my novel from various organic cafés around Ubud, the perfect setting for any writer. I never expected to live here, but Bali has been my home base since I came here on assignment for a magazine to do a piece on Karma Resorts, and they kidnapped me to set up their spa brand, which is what I have been doing for the last five years in Bali – but I didn't actually decide to live here and can be a reluctant expat in some ways. However, my day job involves lots of travel throughout Southeast Asia, setting up spas and creating bespoke treatment and retail concepts.
What is a Spa Curator?
That's what I call myself because I didn't want to be a Director or a Consultant – it's not me at all. I resonate with Curator, as it feels more creative. I have been working in the wellness industry for twenty years now – writing about spas, creating natural products and working with architects and interior designers to dream up beautiful spa concepts. More recently I have learned about the business side of spas – so in many ways I now feel like I have a more holistic understanding of the spa business. It hasn't been easy for a right-brain thinker, like myself, to learn about the financials, but it's been a very rewarding journey. I now have great respect for both the business and the creative and understand the two cannot exist without each other. Overall I have created around twenty spas around the world including Australia, Europe, India, Thailand and right now I am developing spas in the Middle East that is a fascinating experience (a new backdrop for another novel perhaps?).
What are your other passions?
I am addicted to Pilates! It's my sanctuary. I also love martial arts that I feature strongly in My Singapore Lover (the protagonist goes on a journey of learning martial arts that helps her grow). I am into healthy living, love travelling and contemporary art galleries, but my biggest passion is film. I love Asian directors, Deepa Mehtaand, Wong Kar-wai, as well as Sofia Coppola's work.
Do you have another book planned?
My Singapore Lover is my first novel and a humble beginning (I hope reviewers are kind to me). Whatever happens from here, I feel so blessed to have come this far and get a publishing deal. My next novel (which I actually wrote first), is set in the Himalayas and is more of an epic mystical-adventure-romance with subtle spiritual tones. There's a little bit of martial arts in this second novel, as well as this modality has personally been an important part of my own growth.
Will you be at the upcoming Readers and Writers Festival?
Yes! Drop by Three Monkeys Café in Ubud on Sunday 13th October at 4pm and all will be revealed – a free event with drinks and refreshments provided.
Thanks Judy!I look forward to seeing you at the Readers and Writers Festival!
'My Singapore Lover' is available at Periplus Bookstores and will be available online at Amazon and iBooks.