Meet the former Swiss banker who swapped his corporate life for one eradicating poverty in Bali.
Tell me about your former life as a banker in Switzerland.
During my 35 years in banking I went from the commercial banking side to training and human resources to quality management, finally becoming a managing director and head of private banking services of UBS in Switzerland, a unit with around 1,200 employees.
I always felt privileged being born in Switzerland, with a lot of freedom to decide what I wanted to do! I decided to support the community by taking over a board position in an association which focused on developing the artistic skills of mentally disabled children. I learnt very fast that giving something back to underprivileged people has a positive effect on them and at the same time an energizing effect on me.
As the banking industry changed during the '90s from a customer driven business to a financially profitable and bonus driven industry, I began to realize that I had to change my professional activities or I would have to spend the rest of my life in an industry which no longer fit my character.
In 2003 I quit my job at the bank during a reorganization and walked out into a new life.
What brought you to Bali?
I decided to give myself one year to think about my future. I liked travelling and I knew Bali from a previous trip to Indonesia, so I decided to spend the year near Ubud.
What motivated you to stay in Bali?
In Bali I encountered women begging with their children on the streets of Ubud and the South of Bali and I started to ask questions. I could not understand why people in this community-oriented culture had to beg. I ended up in Muntigunung, an incredibly dry area in the north of Bali and I experienced an island I would never have believed existed before. It was desert-like without direct access to water and with people living in dire poverty: unregistered, malnourished and illiterate.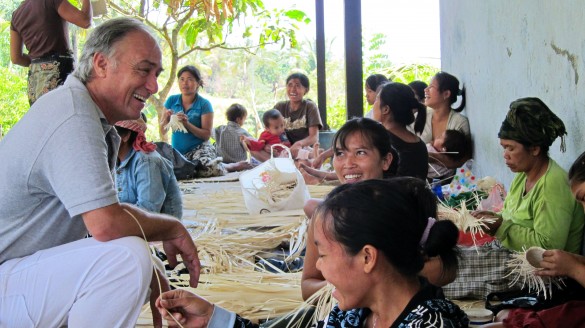 While driving back to Ubud that day I decided to organize help. I realized I needed support from different professional sources. First an assessment of the situation had to be made. With Yayasan Dian Desa, I founded a programme managing organisation, and with friends, the Future for Children, a Non Profit Organisation in Switzerland to raise funds for the programme. I got the support from the former Swiss Honorary Consul in Bali, Jon Zürcher, who acted as the intermediary to the Karangasem and Bali Government.
What did you learn from the assessment?
The assessment showed that it would be possible to solve the problems of the 6,000 people in the 36 small villages of this area with a holistic and long-term approach. Four measurable objectives form the backbone of our work:
To provide a water supply of minimum 25 litres of water per inhabitant per day.
To educate the adults and create one job per family with a minimal income of US$100 per month.
To reduce the child mortality rate of 9 percent by 50 percent.
To assure an adequate education for all children.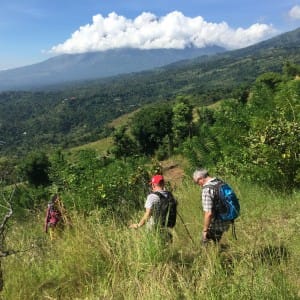 Tell me about the Muntigunung trekking tours.
The trekking tours from Songan to Muntigunung were initiated as one part of the income generating activities of our overall programme. Many of the women from Muntigunung were walking over the mountains in order to go begging in the south of Bali. This gave us the idea to train and employ them as trekking guides to bring tourists over their former 'begging path' to their villages, showing them how they live, how they organize their water supply together with our team, and what kind of products they produce in Muntigunung.
How successful have these tours been?
The trekking adventure was very successful from the beginning, attracting not only people who wanted to see another side of Bali and spend a day in breathtaking scenery, but also media from around the world. The trekking adventure of our small undertaking won a global ecotourism award 2011.
In 2014, the trekking activity was rated by a group of international journalists during the Journalism Impact Day as one of 100 projects worldwide with a replicable method and a measurable impact. We still adhere to our philosophy of not organizing more than two treks a day in order to keep pressure on the population at a low level and to keep the adventure exclusive.
What other projects are ongoing to elevate the living conditions in the Muntigunung area?
Water is the first priority. We help 36 villages by renovating their existing water tanks and training them to do renovations in the future. We construct one large communal water tank per village and teach the population how to purify the water. The second priority is to build up skills in all the villages to be able to employ people at a later stage in newly formed social enterprises. Without a monetary training incentive, the begging women and children would not come back to Muntigunung.
The third priority is to improve hygiene by motivating the population to build toilets and training the women about safer births, breastfeeding and nutrition. And the forth pillar of our work is village development, where we organize workshops to develop the skills of the villagers to approach their government concerning registration, the needed infrastructure, and to implement the understanding that sending children to school is beneficial.
How do you create sustainable income and employment?
At present, we produce cashew nuts, rosella products (tea, sweets, salt), dried mangos, bananas and pineapple, lontar palm sugar, as well as moringa powder and moringa salt in our Muntigunung Community Social Enterprise. We produce baskets from lontar leaves, bags and hammocks, and we employ a number of women as part-time trekking guides in our Muntigunung Trekking Enterprise. All these social enterprises are owned by Indonesian citizens.
What are some of the positive outcomes you have achieved since starting your projects?
So far, 20 villages have a sustainable water supply according to our objectives. 60 percent of the population have access to toilets, road construction by the government is ongoing and more people are registered and therefore entitled to government support (Bali Mandara) concerning health issues.
How has this life experience changed your outlook of our world?
Being able to help a poor population out of poverty with a long term and holistic approach is a privilege. I have had this privilege now for the last 12 years and I must admit they have been the best years of my life.
I realize what real poverty means, I have started to understand the needs of the poor, learning that water is more important than food and that work and self esteem are more important than a huge income, and that a minimum income is important to slowly change mindsets. I learned that it takes much more time to sensitively change and develop a population than expected. Also that it's not possible to fulfil every wish, but rather that it's necessary to involve the population in the whole programme from the beginning.
How can people contribute and help your cause?
The best way is to purchase our products and help the Indonesian owners of the enterprises become so successful that they are able to employ more people and raise their salaries. Products can be purchased at Bali Buda, Pepito, Bintang and other retailers in Bali.
What are your plans for the future?
I believe that it will take another ten years to come near to reaching all of our objectives in Muntigunung. It will take patience and persistence! In ten years I will be 75, so just the right time to retire again. Then I will have time to do trekking every day at least once!
Thank you, Daniel! To get in touch email: [email protected]