(UPDATE 9/30/16: This article has been retroactively updated to remove identities of individuals and specific company names that have been accused of wrongdoings by the writer and interviewees. One identity has been changed to "one of the firm's representatives", while the company itself is referred to below simply as "the firm". The reason for this update is that claims in this article remain in dispute by concerned parties. For all intents and purposes, Indonesia Expat apologizes for any stress and damages caused by the previous version of this post.)
Whether they're recommending investments in sustainable timber or top-end wine, some financial planners are just out to fleece you.
When you've worked hard for your money, the last thing you want is for some shysters to take it away. But that's what precisely can happen if you fall prey to unscrupulous or fraudulent investment firms.
One of the annoying side-effects of socializing in Jakarta bars is that you might end up giving your business card to a chatty Englishman (invariably with a 'wheeler-dealer' Cockney accent) who describes himself as a financial adviser. The following week, he calls you, trying to sell some investments. You politely explain that you don't have time to talk. So he chummily says, "We should have a little chat about putting your money to work for you. I'll just pencil you in for a meeting on Wednesday." If you claim that you have no savings, he asks for phone numbers of friends who would like to invest. Now it's time to start swearing and hang up. If you don't swear, he'll continue to persecute you over the phone for the coming weeks.
Financial planners come in all forms. Many are legitimate and provide shrewd, professional advice. Some are just nuisances. And a few are outright scammers.
A certain type will trawl the bars where affluent expatriates congregate, especially those in the oil, gas and mining sectors. Over a drink or several, the planner will deliver an enticing pitch, claiming he can help your money start earning a 10 percent or even 20 percent return, in US dollars. The investment will invariably be described as "super-safe". It may be touted as a green investment in sustainable plantations or biofuels.
Should you decide to entrust your money to a local investment firm, then make sure it is legitimate. If it is not licensed by the Financial Services Authority (OJK), then consider another option.
One such firm has an office in Jakarta and bills itself as "specialists in expatriate wealth management and financial planning". OJK has put this firm on its warning list of unlicensed investment companies, as its products and services are not supervised or regulated. Instead, the firm boasts that it is "licensed and regulated by the Labuan Financial Services Authority (LFSA), Malaysia". Labuan comprises a handful of islands off the coast of the Malaysian state of Sabah, operating as an offshore financial centre. It lists the company as an "insurance broker". Malaysia's actual financial services regulator is the Securities Commission Malaysia.
A few years ago, one of the firm's representatives was persuading people to put their money into what was described as an ethical, green and financially rewarding teak plantation in Brazil. The spiel went like this: Global Forestry Investments (GFI) is a super-safe investment in a sustainable teak business called Belem Sky Plantation. It's great for the environment and it's yielding returns of 10 to 20 percent per year.
As the brochure explained: "Investors simply lease a plot on the timber plantation. The value of the investment and the return it will derive is based on the teak trees growing on it. Specialist timber management companies lease the plots from the investors and manage the land."
Mark Andrews, an Englishman based in Jakarta, invested his £20,000 private pension fund into GFI at the behest of the firm. "They convinced me that it was a super-safe investment," he says. He was told to expect 16 to 20 percent in annual returns.
Other financial advisers looked at GFI and warned that it should be avoided. But the firm was adamant that it was a winner. When GFI failed to pay dividends, excuses were made about a poor season and difficulties with Brazilian banks. GFI was liquidated in 2013 and remains under a criminal investigation by Britain's Serious Fraud Office. The company's founders, a couple of London-based scammers named Omari Bowers and Andrew Skeene, also ran a currency trading scheme called Global Forex and a Dubai real estate scheme called Middle East Investments.
Mark says he has not received a single word of apology from the firm. "No one has kept me informed as to what is being done about the loss of investment. Terrible behaviour all round. I am sure I will never see my money again, but I sure hope the people who perpetrated this scam get what's coming to them."
If the firm didn't know that GFI was an outright scam, then it was incredibly naive not to have conducted adequate due diligence.
Wine Auctions
Another get-rich-quick scheme that proved to be a scam was a wine investment promoted in Jakarta by a company calling itself The Bottled Wealth Holdings (TBW). It targeted politicians and other affluent Indonesians, inviting them to an exclusive wine tasting event at The Plaza Office Tower, one of the city's poshest premises.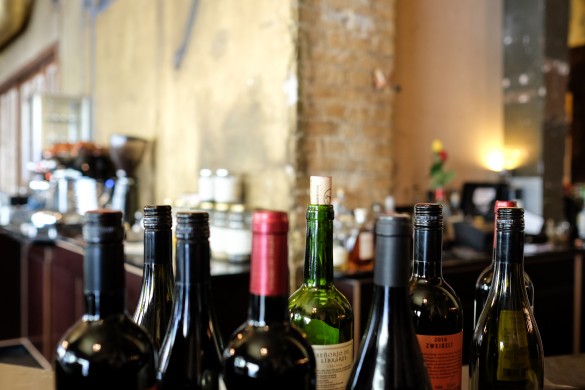 As guests entered the venue on the 45th floor, they were greeted by well-dressed expatriates. A few tables of wines had been set up, mostly just Australian brands. The tasting soon turned out to be an "invitation" to invest in crates of wines that would be auctioned in Hong Kong for vast profits.
TBW claimed that top quality wines would be purchased cheaply from Australian and European vineyards, on behalf of investors, and then stored in Singapore, before being sold in Hong Kong, where rich mainland Chinese would happily spend big on classy wines.
The sales pitch included pointing out that TBW's headquarters was at the luxurious One Raffles Quay office complex in Singapore. The implication was that only a legitimate company could afford such high-cost premises.
Investors, some of whom parted with up to $10,000 after being hounded by TBW's pushy marketers, received a receipt of payment, a certificate of ownership and a "complimentary" bottle of Australian wine.
Months later, they were told their capital had automatically been re-invested to capitalize on a wine auction coinciding with Chinese New Year – to yield even better results. A follow-up email promised cheques would be coming soon. They never came. The Jakarta office of TBW then closed and its once passionate staff stopped taking calls. Calls to the Singapore office also went unanswered and emails were ignored.
If you do have a nest egg to invest, spread it across a few safe baskets and avoid unregistered companies. When financial planners do start making unsolicited calls, trying to "pencil you in" for a chat about green investments or wine auctions, politely tell them to go to hell. Or you may live to regret it.
Feautured Image by Kev Shine