Hola Jose Luis Mejia and his wife Alesia Arnatovich. The newlywed Peruvian and Belarusian couple who met and fell in love in Jakarta.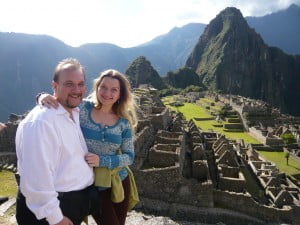 How did you meet?
My wife, Alesia, is a professional classical pianist and I first saw her playing at a five star hotel in Jakarta. I pursued her for six months, she ignored me the whole time, and finally we were married last month!
Congratulations! Where did you tie the knot?
We got married in Lima, Peru as there is no embassy of Belarus here. The closest one is in Vietnam! Also, the wedding officials here in Jakarta said it was too complicated to marry two 'bules' and told us to do it "in your own country." So, we did and had a beautiful honeymoon in Machu Picchu!
What are you doing here in Jakarta?
I am a writer moonlighting as a Spanish teacher at JIS. I've been a teacher my whole life and I've published 20 children's and poetry books in Peru. My latest book is a collection of poems under 140 characters each which was inspired by Twitter and written in Jakarta and I dedicated it to my wife.
Do you find Indonesia very different to Peru?
There are many similarities in the people of these countries. Peruvians like to be in groups, share food, share time, people are warm and you feel at home. It's very much like that here, too.
Do you feel the impact of Ramadhan living here?
Alesia lived in Bahrain for two years, which is a very strict Muslim country, so compared to that Indonesia is extremely relaxed. You really felt that it was Ramadhan in Bahrain – everything was closed, windows covered in black curtains, however here we haven't felt the impact so much. If you drink and go to bars you might feel it, but as we don't, it's irrelevant.
Society here is very open and you can literally find whatever you want. Being non-muslims in the largest Muslim country in the world, we haven't felt that it is Ramadhan, which shows that this country has a lot of tolerance for other religions. The one thing you do notice though, are the sleepy taxi drivers!
Do you both feel settled here and plan to stay a while?
I think with this country you either reject it immediately or you stay for longer than two years and continue living here. For a foreigner it's a very nice life, we feel comfortable and secure and that we aren't in any danger. I think we will stay for at least two or three more years. You take out the traffic and Jakarta is the best place to live in the world!
For more information about Jose Luis' books and Alesia's upcoming concerts, please visit: