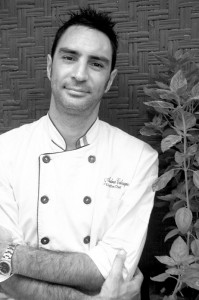 Meet Luigi Andrea Calcagno, owner and chef of Zibiru, Cucina Italiana in Seminyak, Bali.
I'm guessing you are from Italy. Where in Italy?
I'm from Rome. My extended family is in the F & B business, so the passion for good cuisine is a long tradition among us. Our daily lives revolved around food. When I was in school, I spent many summers and holidays working in kitchens around Europe, South America and New York.
When you were a child, what did you want to be when you grew up?
A firefighter or astronaut of course! But making and serving good healthy food is in my blood, so becoming a chef with my own restaurant was what I always wanted and have now realized.  
What brought you to come and live in Bali?
I was offered a job as a chef for an Italian restaurant in south Kuta called Ifiori Restaurant back in 2009. I loved it here and by 2012, I opened Zibiru, a bonafide 'cucina Italiana' on Jl. Drupadi in Seminyak. It was previously Café Vienna. It's a great set up – the architecture brings back a little of the nostalgia of Old Bali. I was looking for a space that would communicate three elements: old Bali, authenticity and cosiness, like the comforting feeling of being in a convivial place. There's really lovely garden seating, and we even have a breezy rooftop terrace where you can see the night sky during dinner.
What does Zibiru mean?
Zibiru is the combination of two names; Ziba and Nibiru. Biru means 'blue' in Indonesian, and you'll notice that colour scheme throughout the restaurant.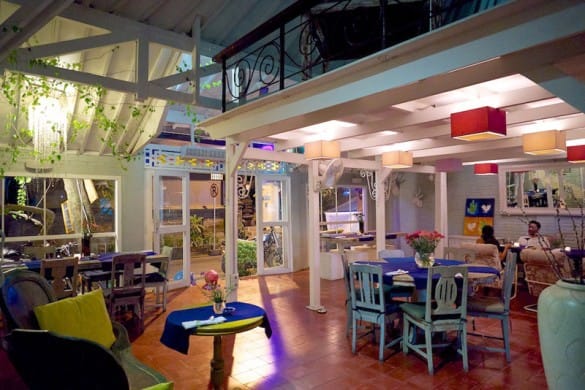 Tell me a funny or weird Bali story.
The funny part of Bali that many of us experience is in the bureaucracy. Sometimes it's so complicated, it's comical. It's impossible to plan coherently. We learn to slow down and see the humour in all of it. Also a really funny thing here is the prevalent use of small tools for big jobs! The grass is cut with scissors and small brushes are used to paint large walls!
What are the best things in your life right now?
My beautiful partner in life, Lisa. Also, having the time to dedicate to making food. Our cuisine presents classic and unique dishes from every region of Italy from the North to the South. You can literally take a culinary tour of the country! We make our own pasta, pastries, breads, butter and jams, plus more exotic foods like terrine foie gras, bottarga and cheese in our 'gastro-atelier'. I enjoy working with different types of meat (like quail, rabbit and lamb) for my dishes and also creating fresh pasta in different shapes and colours. We harvest our organic heirloom vegetables from our farm in the mountains. I'm looking forward to developing true farm-to-table dining here. I won't use more than three or four ingredients in each dish to keep it simple in the Italian tradition, so the quality and freshness of the food stands out.
This issue is about smoking and the new smoking laws which have been passed. When did you start smoking?
I started smoking at a very, very young age! Let's leave it at that.
Do you enjoy smoking?
Yes, especially after a meal or with a glass of wine. The rest of the time it is to relieve stress.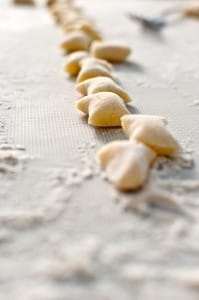 What do you think of laws which forbid smoking in clubs and restaurants?
I don't think these laws are so bad. Anything that helps make the air cleaner for the public is good. I prefer going to smokeless places. You inhale so much second-hand smoke when a club is crowded with smokers. It's nice not to leave smelling of cigarettes. As for restaurants, I don't always want to be inhaling smoke from the next table while I'm eating. I hope anti-smoking laws are the beginning of laws that will protect the air from being contaminated by other pollutants as well.
What do you think about vaping?
I've tried it, so I speak from firsthand experience when I say it doesn't work. It's just a tobacco-free substitute for the same ritual, but you're inhaling chemicals instead.
How do you see Bali in ten or twenty years?
I see Bali improving by using modern technologies. A modern mentality for proper planning is integral to creating a good infrastructure here. Once Bali faces the fact that it's no longer a small town but a growing city and progresses accordingly, many of the existing problems could be addressed in an organized fashion. No more waiting until streets are flooded to fix them quickly at the last minute. If this could be integrated with more sustainable solutions, then the nature and the culture would also flourish.
Bali is an international island. It is very metropolitan. People come here from all over the world because Bali possesses a unique energy we are all drawn towards. This spirit, this energy will always be here.
You can find Luigi at Zibiru, [email protected]