Meet Alastair MacDonald, the British endurance athlete who nearly lost his life to pneumonia when running a race up Mount Fuji in Japan.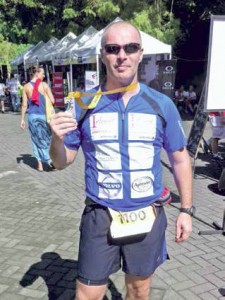 Alastair, you have an extreme hobby. Tell us about your running.
I'm an endurance and ultra athlete. Ultra running tends to be anything over 42 km, which is a standard marathon. The longest one I've done was a continuous race of 650km across the Sahara desert, which took me seven days to complete.
That's very impressive. When did you start running?
I have always been a runner. I have a colleague in the industry whose name is Alex Harkess and when we were at Bali Coaltrans in 2005, it came up in a conversation that we both wanted to do endurance races, and that's how it started.
How did you end up calling Jakarta home?
When I lived in London, I was travelling for seven months of the year as I worked for Coaltrans and McCloskey conferences, which both have annual conferences in Indonesia. Asia was always the natural growth area in the coal industry, and I always felt at home in Jakarta.
How many races have you done altogether since 2005, including marathons and ultra marathons?
250km plus races I've done 12, 100km – 250km I think 15, and marathons of around 50kms I've completed 15 as well.
Have you had any dangerous experiences on one of your endurance races?
Yes, actually. I signed up for the Ultra Trail Mount Fuji, which is a 161km continuous race, running up and down the peaks of Mount Fuji and there are vertical drops where you have to climb up with ropes in the dark with a headlamp on. I ran 143km out of 161km and stopped because my chest was hurting so much while I was holding onto the rope on the vertical cliff. At the checkpoint they told me to see the doctor right away, and I was admitted into hospital. It turned out I had respiratory failure and pneumonia even before the race! I was in the hospital for ten days and then  they moved me.
"Where am I going now?"
"You're going to Intensive Care."
"Am I not in Intensive Care?"
"No, you've been in the crash bed for ten days."
That's the bed right next to the nurses' station, so that they can see you and monitor you continuously. It turned out I had nearly died!
Unbelievable. How did you not know you had pneumonia before the race started?
Well, you see I was a smoker up until that race and I was trying to quit. I thought the respiratory problems I was experiencing were down to quitting smoking, but it turns out I had pneumonia. Since then I have quit smoking. If I can do 143km with pneumonia and respiratory failure, it should be a doddle to finish the race next year!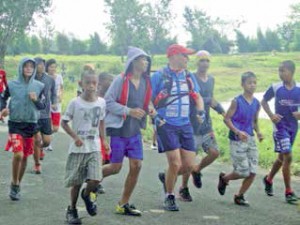 Why do you love running so much?
By doing a lot of training you can always eat what you want, and you tend to eat more healthily. In Bali I run down the beach, in Beijing or Venice or New York I run in parks or around all these amazing buildings and sites. For me, it's a way of clearing the mind, when people can't contact you via Blackberry or email. I've seen people in New York running on their Blackberries, but I don't do that!
What would you say to someone who believes endurance racing is a dangerous sport?
More people die going to work than doing the races I do. It is dangerous, but we prepare for it and we do regular medicals. I'm now 47 years old, so I will probably eventually go from running to hiking in the future, just so I can still be in the open air.
How do you get your daily running fix in Jakarta?
I run in the mornings between 6-7am. I live in Setiabudi and I run around the graveyard between Cassablanca and Taman Rasuna. There is also a stadium behind Aphrodite in the Epicentrum, which you can use for free. I use a face mask (buff ) to keep pollutants out, which you can buy at any outward bound shop.
What's your training regime like?
I joined Gold's Gym when I moved here and Hernawati Djohari, who does the Body Pump class, has become my personal trainer, meeting with me two times a week at Gold's Gym. She's been fantastic and helps me to strengthen my legs, ankles and arms. I also do a class called Six Pack with Michael Ronald, which is basically half an hour of sit-ups, with weights and music. He's got me so conditioned now, that if I hear a certain song in a taxi, I start to crunch my stomach muscles!
Do you have any running tips for our readers?
Don't ever wear new shoes or a new t-shirt first before you race. Be careful when you cut tags off because sometimes their remnants will actually chafe you. Try and get rid of as much excess weight as  possible, even by taking wrappings off of foods and sweets. It's important to find the right shoe that suits you. Whoever invented Body Glide, which is a stick that you can smear over your nipples, under your arms, everywhere, is a genius. You can buy this stuff online, but never share anyone else's Body Glide is all I can tell you!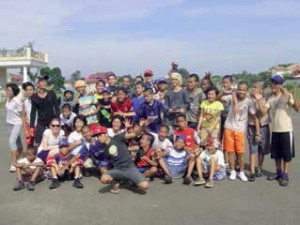 What's coming up for you this year?
I've got the Japan Ironman at the end of August, which is a 38km swim, 180km cycle and 42km run. This will probably be my first and last Ironman because it's very difficult to train for this race in Jakarta. Then there will be the Jakarta Marathon and the Crazy Ultra Run in Singapore in September, which is very well organized, with options of 101, 78 or 43km.
I heard you're doing some charity work with your running now?
For Jakarta Marathon, I'm raising money for Mama Sayang Orphanage. To me, running has always been a way of life, so I'm going to sponsor two children to run the Jakarta Marathon. You have to be 18 to run the full marathon, 17 to run a half one or above 12 to run a 10km. I'm going to sponsor them with proper running gear; running tops, shorts and socks and we're hoping someone else will sponsor their trainers. I just want to get kids to run, even if it's only for 10km.
If you're interested in sponsoring new trainers for the kids of Mama Sayang to run the Jakarta Marathon, please contact Alastair on [email protected]