Nicole Shiraz is a 21-year-old sports presenter and producer of mixed Iranian and Indonesian heritage. Spending her childhood travelling between Australia and Indonesia, she took the plunge and moved to Jakarta six months ago to gain international media experience. A former Fox Sports reporter, Nicole shares her story and her passion for sports with us.
What made you come back to your birth land?
Working as a sports reporter in Australia, I found that we would sometimes ignore news from the world, due to the fact that we're quite secluded in Australia and show only what we want to show. I felt that if I wanted to progress into being a serious anchor or sports journalist, I would need to travel and gain worldly experience to expand my network, so I took the risk and came to Indonesia as my stepping stone.
How long have you been in the media?
I studied Communications and Journalism at University and I did internships during my studies. I worked at Fox Sports and as a freelancer for three and a half years before coming here.
Have you ever done other types of media other than television?
I used to write for several sports magazines and online websites such as the Australian Times and Rugby League Magazine with a monthly column. I only got into TV because my lecturer at University persuaded me to try it. I was actually really hesitant about working in TV because I didn't want to be judged and criticized all the time – I preferred to be behind the scenes with my work being based on my writing. Eventually I did try TV and I actually liked it! I feel that even though you're presenting and reading off a teleprompter, we have a lot of influence doing what we do.
Why sports?
My dad treated me like a son growing up, since I was the eldest and my dad always wanted a son first. Because I was close to my dad and my brother, I watched a lot of sports, dressed like a boy and I was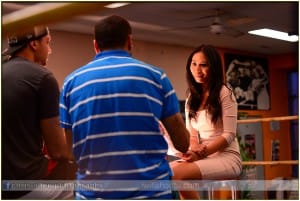 even in a football team from the age of six. I only started to develop my feminine side when I was put in all girls' school at 12 years of age.
In Australia, it's engrained into us that we have to follow a sport – it's our bread and butter. Growing up, if you didn't watch the National Rugby League (NRL), you weren't part of the 'cool group'. I always knew I wanted to do the news (Sandra Sully was my idol growing up) and one of my goals from a young age was to work in sports.
Tell us about the new channel, MNC World News. What's the brand's vision and mission?
The whole channel is dedicated in English and we're really targeting an international audience. We want people to know that Indonesians keep up with the rest of the world; we're putting Indonesia on the map. We have to come across as suitable for international audiences, therefore our content focuses mainly on the international world. The owner, Hary Tanoesoedibjo, has plans to branch out from Indonesia to Southeast Asia, Australia, the Middle East and eventually the world.
What about your show, Score Board – what makes it special?
This is the first time I feel there is a presenter, producer and sports show in Indonesia suitable for international audiences. The way I present and package sports is completely different to other shows here. I also think viewers enjoy watching someone with an Australian accent because it feels more international. My show is probably one of the first shows in Indonesia that covers NRL stories. We will also be covering the Rugby World Cup, which other channels do not.
What's your broadcasting style?
My audience is majority male, which means I have to grab their attention quickly with a fun and down-to-earth style. Sometimes I get a bit more serious when we cover scandals or corruption topics like the PSSI (Persatuan Sepakbola Seluruh Indonesia), but the majority of the time, I'm engaging with the audience.
Who is your target audience and what's the reaction been so far to your show?
We are targeting the international audience, expatriates and English-speaking Indonesians. I'm really surprised to know that people actually watch our show because we haven't done any advertising and our website isn't live yet. We have some well-known presenters like Tommy Tjokro from Bloomberg who brings a lot of fans.
How can we watch your show?
Score Board is on at 10am and 4.30pm. You can watch us on Indovision on channel 85 and we will have a YouTube channel and live streaming on our website soon.
What other shows can we watch on your channel?
We have World Hour, which is hard news with some light entertainment at the end; Marketplace, which is all about the stock market; Showbiz Central, which focuses in on showbiz news; Screenshot, which has feature stories mainly from Asia; and my show, Score Board. We are looking to do a Russia Today show, due to the high number of Russians in Indonesia and our ties with the Russian diplomats.
Have you ever met a sports person that left you awestruck? And which personalities would you like to meet?
I don't get fazed by athletes. People see them as gods – I see them as just normal people with talent. I would like to meet Rhonda Rousey, Mohammad Ali or Mike Tyson because I want to pick their brains!
What challenges have you faced coming back to Jakarta?
Yes, things take a lot longer to do here. I took a lot of criticism showing international sports in Indonesia, but apparently Score Board is now the number one show on our channel!
Do you speak Bahasa?
I can get by, but I'm still learning – even though people still laugh at me!
What do you hope to achieve in your time working in Indonesia?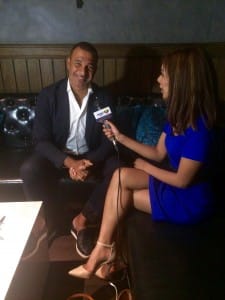 I'd like to gain as much experience as possible in my field. I also want to travel all over Indonesia – there's so much to see and learn. I also want to expand my fan base. There are only 20 million people in Australia, but in Indonesia there are 20 million people who could potentially watch MNC World News. I would like to set up a charitable organization for children where donators can access the kids they donate to or sponsor, so you know where your money goes. I'd like to focus on children because they're the next generation.
I'm also writing a book about the differences between the two worlds I'm from, but this is still a work in progress!
What sports do you play?
Boxing mainly, but I also play tennis, soccer, and even rugby.
If you were stranded on a desert island, what three things would you have with you?
I'm Gen-Y, so definitely my phone. And chocolate – I have to have chocolate every day. I would also need someone to talk to or I'd go insane, so I'd bring either Kevin Hart or Ron Burgundy, the character.
Thanks, Nicole! To get in touch, follow her on Twitter: @nicole_hash