Former Godfather of the NYC club world and former co-owner of the Bali nightclub Townhouse, Mark Baker is now involved in the cold pressed juice movement by opening In The Raw in Canggu, Bali. Mark went from selling alcohol to marketing live raw juices and living a healthy a lifestyle.
Born in Brighton, England, Mark Baker left home at a very young age and joined the circus. He went on to be a part of The Dogtown Crew of pioneer skateboarders and a world skateboard champion. At 19, he went to New York City, where he worked his way up from being a waiter to running and owning major nightclubs and earning the title 'Godfather of NYC Nightlife'. He was in the business for 33 years and his legendary clubs were like the Oscars each night. Now his life has morphed into something healthier, as he's now focused on live raw foods. Baker is the founder and co-owner of In The Raw, a business featuring cold pressed juices, raw vegan foods. It also builds retreats and eco resorts.
What inspired you to make such a radical lifestyle change?
By 2010, I wanted a change of lifestyle. I had been in the club business as well as producing international events worldwide for a long, long time. I felt it was time to hand that position over to a new generation of club impresarios.
I felt unsatisfied and saw how that nightclub lifestyle takes a toll on people. Around this time, I met the owner of The Juice Press in NYC, Marcus Antebi, and he asked me to represent this successful endeavour which now has 60 venues throughout the USA.
The juicing programme actually saved my life and I wanted to share the joys of a healthy lifestyle with others. I started to love being healthy, getting up at dawn and all that good stuff. Now, the raw juice and live foods movement has been huge in America and Europe for quite a while. That wave of juicing, cleansing and food awareness is just now hitting the major markets here in Asia, where so much of the philosophy and ancient health practices have given birth to the health movements now so popular in the west.
When did you actually get In The Raw open here in Bali?
It took some time to totally implement this lifestyle because when I initially came to live in Bali it was to continue in the business I knew best: nightlife. I have been coming to Bali for over 25 years, using these trips to reinvigorate my mind and my spirit and take time off from the club life. When I moved here and we opened the Townhouse – an entire four story venue with the juice bar Squeeze on the ground floor – it was very popular, especially early in the day. I had crazy hours, only sleeping from 3am to 7am. Juicing was still a part of my life. We had In The Raw on the ground floor of Townhouse and it was very popular. But the club and the lifestyle inherent to it remained very demanding and in time became quite unsatisfying. It took a physical and mental toll on me. I knew I could be happier in a more balanced lifestyle.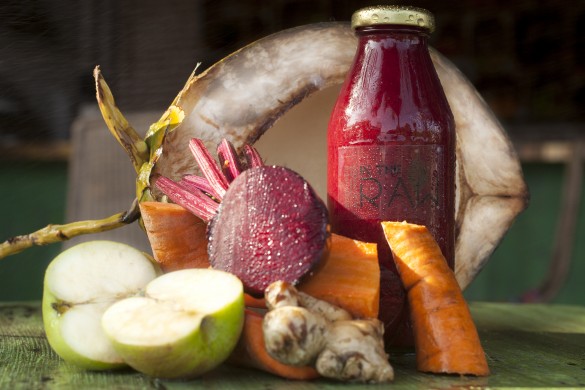 When Townhouse closed, I opened an international events association with VIP members worldwide which we still maintain. Three months ago, we opened In The Raw in Batu Bolong, Canngu. Now we have a second venue at the Joglo in Berawa. People love our juices. The juices are fresh and we do not add water. Our recipes are super tasty and include all the raw foods; love bowls, smoothies, salads and chocolates. We are currently working on an expansion of the brand into eco retreats, organic farms and wellness centres with cleansing programmes such as wheatgrass and raw juice detox for healing and longevity. We only use glass with bamboo cutlery and the traditional banana leaf for bungkus (take away), so we are not adding to the plastic problem here in Bali.
How do you source all organic produce?
It is a great challenge but we are busy changing that. I travel all over the island to source from organic farmers and we have our organic farm at our Sacred River Retreat in Keramas, opening in the spring. We form communities of organic farmers and provide cold storage transportation. We are creating awareness in several communities in supporting the efforts to grow organic and get the produce sold and to its destinations.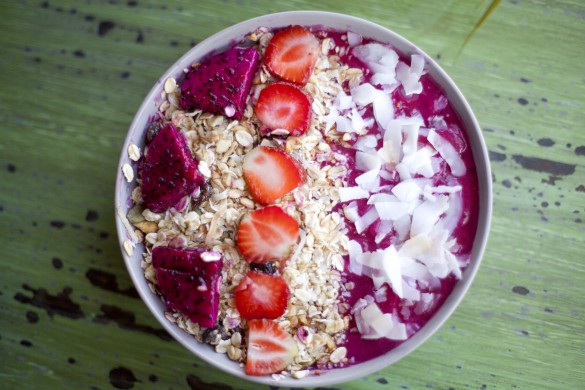 So we are not just buying produce; we are creating good income and, in Keramas, pride among the farmers. We have our own network of farmers. In Keramas we have been experimenting with produce to see what grows best down there as opposed to the cold north. We grow lettuce, beets, celery, cabbage and more. We are now expanding to the Bedugal and Kintamani areas to set up networks there and grow food at a higher altitude.
Tell me the philosophy behind In The Raw.
Work hard, play hard, cleanse and repeat. Being healthy doesn't mean being boring, it's all about balance. The integral philosophy is based on the following, recommended by Fred Biscy PhD, a leading authority on raw food. Our focus is to provide a diet and coach a lifestyle composed primarily of raw fruits, vegetables, nuts, seeds, and sprouts eaten in the correct combination and sequence which will deliver ultimate nutrition and longevity for the body's ultimate function. Leave out all toxic foods and liquids that have been genetically modified, contain added preservatives or are otherwise overcooked.
The body functions best in an alkaline state as opposed to acidic, as cancers and other diseases cannot exist in an alkaline state. Body awareness is one of the first great gifts of health and is your guardian angel which will guide you past the pitfalls of unhealthy practices. We are taking juicing to the next level and offering healing elements and elixirs such as papaya leaf to cure dengue and our homemade activated charcoal for Bali belly as well as alcohol poisoning. A daily drink of our homemade coconut milk with turmeric and ginger will keep sickness at bay and bring you general good health and energy.
What are your future plans?
We are about to open the Sacred River Retreat in Keramas in February and March of 2017. It is located on a riverbed of fresh pure water. We will offer many workshops, among them lifestyle coaching, yoga, meditation and organic farming and cooking. We will focus on expanding our eco-retreats and resorts throughout Indonesia and Thailand. This is the new trend in tourism in Asia. Wellness and optimum health are popular among the adventure travel demographic and we see celebrities and trendsetters replacing the total party lifestyle for a healthier, happier way of life.
The general population is aware of the poisoning of our foods and waters and believe it is a human concern to be addressed now and in the future. It is best expressed through the words of Fred Bisci, PhD, who says, 'The human body is a divine spirit, mind and body; induced, driven, and expressed. The health of the human body is spiritually induced, electrically and chemically driven, and biologically and genetically expressed.' We all just want to be happy and healthy. At In The Raw we are proud to be of assistance in this lifestyle choice.
Contact: In The Raw, Jalan Pantai, Batu Bolong 69, Canngu, Bali, Indonesia  
Phone: -+6281237496861
Email: [email protected]
Facebook: intherawbali
Instagram: @intherawbali