Karan is very passionate about his work and is a senior hospitality professional. He is well-versed with all operations and functions related to hotel management, with over 19 years of managerial experience at top hotel brands in India and now here in Indonesia.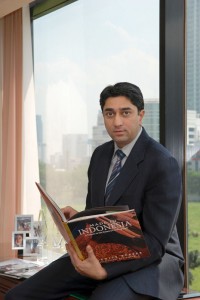 Let's start off with a bit of history; how has your journey been so far, now as General Manager at JW Marriott Jakarta?
I have been General Manager at JW Marriott Jakarta since December 2011. I was at Courtyard by Marriott in Chennai, India from 2008-2011, and Trident Hilton Jaipur from 2007–2008.
I have always been attracted to the diverse aspects of the hotel industry and after a degree in Commerce, I joined the Oberoi Center for Learning and Development to complete post-graduation in Hotel Management. It was an intense selection process of written tests and interviews to finally meet Mr. Oberoi, when selected. The course transformed me from a boy to a man.
I started with hands-on training at Trident Hilton, a 1,000 room property with kitchen stewarding – probably the real test and an intrinsic part of my experience. It was the first time I had also left home, where I had been a pampered second son in a close-knit family. I learned the dignity of labour, skinned my feet and even cleaned garbage cans.
How do you like Jakarta and what's your favourite thing about the city?
I have found Indonesia to be a wonderful country with so much diversity in its cultures and natural attributes. People of Jakarta have a natural, inherent warmth about them which has made settling in just so easy for myself and my family.
Has adjusting to different cities been exciting for you? What was the hardest part in transitioning to Jakarta?
Besides Jakarta, I have been in several cities in India; Chennai, Jaipur, Shimla, Kolkata and Agra. Adjusting and transitioning to different cities (including Jakarta) are not a problem, as I always keep trying to explore different cultures and diverse work environments. Coming to Indonesia, I kept an open mind and knew what I wanted to do at JW Marriott Hotel Jakarta.
What are the most challenging parts of your job, and how do you overcome them? What are the most enjoyable ones?
The most challenging part of the job is managing attrition and hiring the right person for the right job. It is important to identify and nurture talent. I personally feel that skills sets can be fine-tuned over a period of time through training but hiring a person with the right attitude is more important.
The most enjoyable part of my job in the hospitality industry is that it's a very exciting business – it is a fun and great business. It is developing and a fast-moving industry. It is primarily a labour-intensive industry. Therefore, I deal with human beings rather than machines or equipments.
Do you have a memorable experience in the hotel industry you'd like to share with us?
I was at The Oberoi Rajvilas and in charge during my General Manager's sales visit to the USA. The property is a low-rise, sprawling hotel set in over 32 acres of gardens, pools and fountains. The various wings are separated by a system of drainage trenches, whilst all of the hotel's main facilities are located in the basement level. My executive housekeeper advised me that this entire area was actually under some five feet of water. It seems that water from heavy rains had somehow filtered down and flooded the entire basement.
After evacuating guests to a nearby property, I set about the task of restoring the hotel's facilities. The most invidious task was in informing Mr. Oberoi of the magnitude of the problem, particularly as he considered this property to be "his baby". I have to say my staff were wonderful and covered all contingencies including perimeter security as the property was without electricity and any of its regular security services. We were able to reinstate all facilities and services to have the property operational again in what must have been considered record time.
'Indonesian hospitality' has been regarded as one of the country's most distinct trait. If so, do you think it has been a factor in the hotel industry in Indonesia?
I agree. Indonesians are humble and flexible people, and the concept of 'serve & smile' is ingrained in the culture. Hospitality requires pleasant personalities, positive attitude, and healthy work ethics, and 'Indonesian hospitality' matches very well with these requirements.
There are many smaller hotels sprouting out in Jakarta, slowly but surely. What's your opinion regarding the new trend?
Basically, Jakarta and other cities across Indonesia have a promising prospect on hotel industry, as occupancy rates are growing significantly following the stable economy. Many hotels of all levels have seen positive growth in terms of average daily rates and income per available room. Positive signs are apparent to even hotels of 3-stars. If we focus on Jakarta alone, MICE is on the increase with more and more visitors involved in various trade shows, seminars and conventions in the city. It has built a reputation of an upcoming business destination.
Did your family move to Jakarta with you too? How did they feel about the move? Are there plans for another move in the future?
Yes, my wife and I have a 10-year-old daughter. They actually shared my enthusiasm and looked forward to the move. My daughter is no stranger to changing schools due to my many moves in India, and has adapted perfectly into her new surroundings at ACG International.
With the heavy load of work at your job, how do you unwind in Jakarta?
Weekends are dedicated to family, with Saturdays being spent exclusively with my daughter and her extracurricular activities that include swimming and soccer with the Coca Cola league, and even piano classes. My family are movie buffs and tend to watch movies regularly. I also enjoy cricket, and equate cricket with life as it has taught me the importance of team work which is essential to achieve our potential goals.
I am in several organizations, including Jakarta International Hotels Association, American Chamber and Indian Business Forum.
Do you enjoy a bit of travelling around Indonesia?
I have been to Bali, Lombok, Bandung and Bogor. Travel, culture and shopping are my family's top fun activities together.
Finally, what is the driving force behind your work?
Family values are the building blocks of my management philosophy. A good family life percolates to my works. My father is my role model and has instilled values such as honesty, mutual respect and empathy, as well as the importance of balancing family and work. The philosophy that I follow is very simple; to be fair, truthful and transparent in my personal and professional relationships.
Mr. Marriott and Mr. Oberoi are my mentors for work ethic. I work by Mr. Marriott's motto 'success is never final', and Mr. Oberoi's philosophy 'the devil lies in the details'.