Whenever expats ask me for advice on where to travel to from Jakarta, I suggest Western Australia and not the other parts of Asia. The capital city of Western Australia is only a four-and-a-half-hour direct flight with Garuda Indonesia. There aren't many other countries that you can fly to directly from Jakarta, therefore the west coast of Australia is a perfect destination for families who seek fresh air and open spaces.
Western Australia is exactly what you would imagine Australia to look like. It is bursting with native Australian animals, lush national parks and delicious produce. Expect to see kangaroos hopping, lots of prawns (shrimps) sizzling on BBQ's and a strong Aboriginal heritage.
We recently took a typical Australian family vacation where we drove a campervan from Broome (north- west coast of Australia) with our three young children (under five years old) and slowly made our way down south to Perth. To contrast our indulgent expat life in Jakarta, we filled our three-week itinerary with simpler pleasures, such as camping under the stars.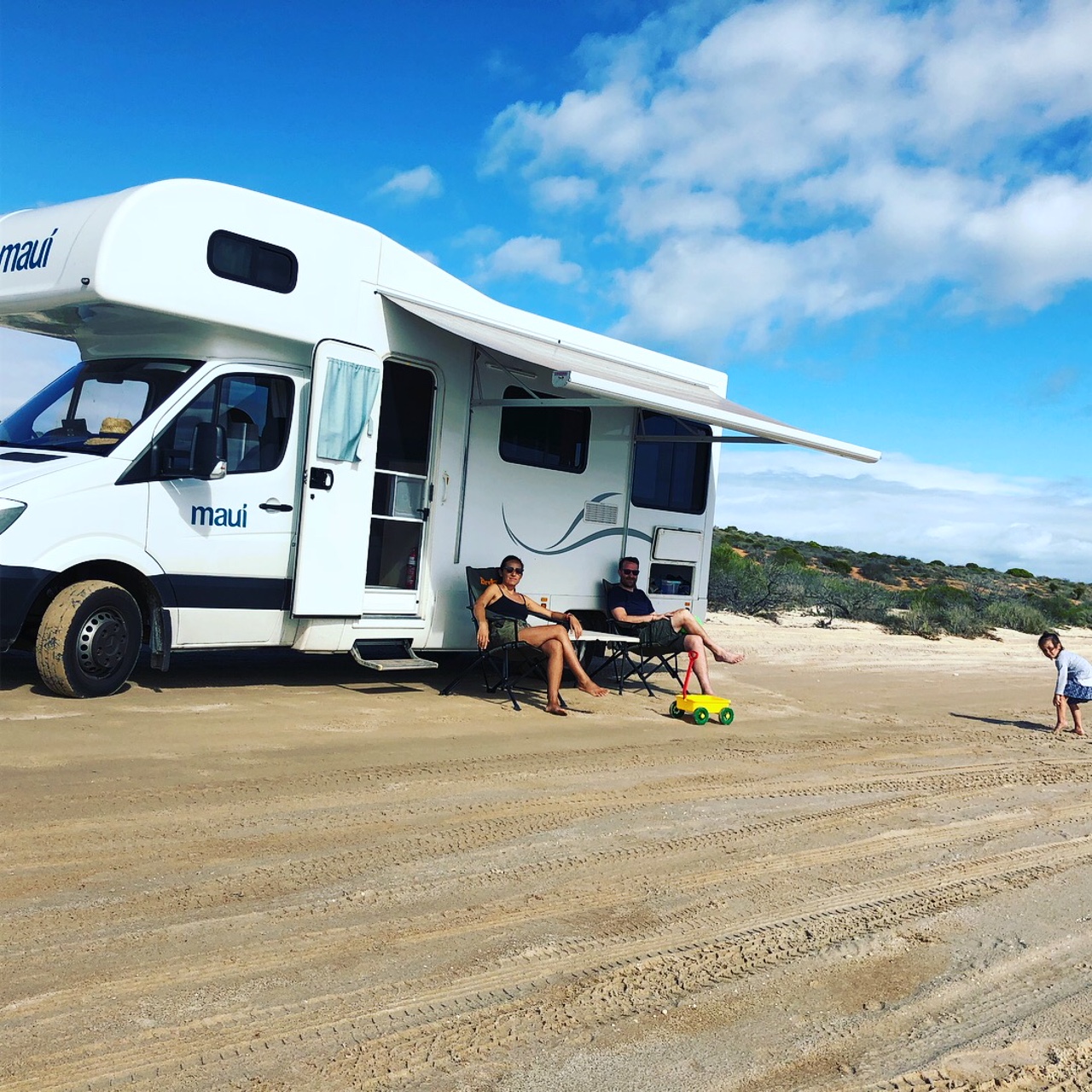 BROOME
We stayed overnight in an airport apartment in Perth and then boarded a flight the next morning to Broome. We resided in Cable Beach, where the ocean meets the desert. This beach is romantically beautiful with orange kissed sunsets and camel rides in the background. Our first expedition was to Willie Creek Pearl Farm where they offered pearl production tours on boats. With younger kids, we instead enjoyed a slow lunch by the farm's restaurant and allowed our kids to run free in the playground.
KARIJINI NATIONAL PARK
After three nights in Broome, where a seagull left me stunned by stealing a sausage from my breakfast plate, we got into a campervan and drove through the red soiled earth to Western Australia's largest national park. There we stayed off the grid in a designated campsite with no electricity or water to plug into our campervan. The soil is deep crimson, and everything, including our kids' faces turned into a mask of red. Upon entrance, we were given a trekking guide and decided to do the child-friendly trails only. We walked across a secure boardwalk along Dales Gorge, which led to a beautiful swimming and picnic spot called Circular Pool. The water was icy cold but the magnificence of it lured me and my husband and I into the emerald blue pool. Our children cheered us on and took photos as we swam into the crashing waterfall.
NINGALOO COAST
Our next destination was the beach at Exmouth and Coral Bay. This coast is bursting with marine life and you can snorkel directly along the shoreline to see coral reefs and fish, making this destination perfect for young children. Shipwrecks along the coast and a decommissioned lighthouse were the highlights for my son. Families with older children went swimming with shark whales, whereas we rode on a bottomless boat in Coral Bay. We camped at Osprey Bay Cape Range National Park where we went off the grid again and swam with stingless jellyfish. My husband and son went on a quad bike adventure and we swore that this was a destination that we would definitely return to once our children grew older.
SHARK BAY
Shark Bay is a large coast that covers 2.2 million hectares of Western Australia. This spot was my favourite because the beaches there were so breathtakingly beautiful.  We camped at the infamous Monkey Mia resort, where dolphins swam to greet us at the shore. We drove along the World Heritage drive discovering fascinating sites such as Shell Beach, where the sand is covered entirely with seashells. We drove our campervan to a secluded lagoon and soaked in the enormity of Australia while our children happily built sand castles. Our highlight was the Shark Aquarium where we witnessed sharks being fed and octopuses changing colours.
KALBARRI
At Kalbarri National Park I saw an echidna creeping along the road, and a magnificent rocky gorge that reminded me of the Grand Canyon. Our children learned how to hook and bait a fishing rod at the Murchison River, and soon learned the disappointment of not catching any fish. After a scenic walk along Island Rock and National Bridge, we spotted wild humpback whales swimming in the Indian Ocean. They waved hello with their blowholes splashing water in the distance.
CERVANTES
Our last camping site was an impressive RAC caravan park with family friendly facilities such as private family bathrooms, children's toilet and change tables. The site was very modern and felt like a five-star version of camping sites. It had cabins for those who didn't want to rough it in a tent or caravan. Our motivation for stopping at Cervantes was to eat their freshly caught lobsters. The Lobster Shack is a lobster factory that runs informational tours and an outdoor restaurant serving their fresh catch.
PERTH
After three amazing weeks, we reached our final destination of Perth. We spent our final day soaking in the Australian sun by Scarborough Beach and let our kids do what they love to do best, playing in a big adventure playground. Western Australia is a playground mecca for children and a coffee haven for sleep deprived parents.
In our final moments in the great outdoors, we reflected on how much we all enjoyed this holiday. We will miss the open spaces, jumping kangaroos, and racing emus. Our children flourished from having lots of outdoor adventures and didn't miss their toys one tiny bit. This is priceless.
For itinerary and sightseeing information visit the Tourism Australia website www.westernaustralia.com. Visit the Australian Government website for driver's licence and international driving requirements. All national parks require a permit (information is provided online and with campervan hiring companies.) To ensure you have a spot, all bookings to camp sites, including national parks must be made well in advance.