In light of a growing number of corporal punishment cases and an unruly Sharia 'police', activists ask Indonesia's government to reconsider Aceh's autonomy.
Last November, a young pregnant woman was led onto a platform in Aceh, prepared to be publicly whipped. After some discussion by local officials, she was granted a reprieve from her corporal punishment until after the child was born. She would wait in fear for months to come, but her husband was not so lucky. They gave him nine lashes on the spot; a spectacle horrible enough to make the woman pass out. Aceh authorities said the perpetrators were guilty of being alone in a room, fully clothed, before their marriage was official.
With a history of Islamic regulation dating back to 1999, Aceh is the only province in Indonesia that practices full Sharia law. With special regulation in place that allows Aceh to determine its own judicial and education systems, the region is also the only place in the archipelago where everyone, even non-Muslims, must abide by Sharia.
Public flogging is a "torture of human rights" says Supriyadi Eddyono, Executive Director of the Institute for Criminal Justice Reform (ICJR), an Indonesian organisation with a mission to fight for human rights within the justice system. According to Eddyono, beatings are painful, but the psychological effects of enduring corporal punishment in public are worse. The humiliation "beats the lashes themselves," he suggests.
ICJR's data says there were 17 incidents of flogging in Aceh in 2004, the year it became legal. The following year, that number jumped to almost 30 cases. Eddyono says in the context of national law, corporal and capital punishment should not be allowed. He also claims people who commit crimes in Aceh are rarely given a fair trial or the chance to speak in their own defence.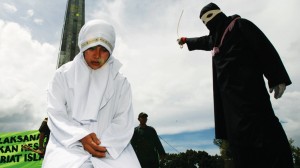 Groups like ICJR say women in Aceh are routinely discriminated against. In June, the local government implemented a curfew for all women under the pretence that it would reduce incidents of sexual violence in the region. Cafes, tourist spots, sports facilities, and other venues were told to refuse service to women after 11pm unless they were accompanied by a male family member. The move was controversial, and Indonesia's National Commission on Violence Against Women said the measure would restrict women's freedom and threaten their livelihoods. The curfew made little sense, according to the commission, as its data indicated most cases of violence against women in Aceh happen in private homes and are perpetrated by their husbands or other family members.
Aceh's Sharia law dictates illegal actions include but are not limited to affectionate contact between an unmarried couple; gambling; homosexuality; alcohol consumption; and, for women, not wearing a hijab (headscarf). Implementation of Sharia law is overseen by an organisation called Wilayatul Hisbah – commonly referred to as the "Sharia police."
Aceh's Sharia police are assigned to investigate citizens who commit "moral crimes." Technically, they're not authorised to arrest and detain, but several media reports indicate they do so with impunity.
According to Eddyono, many Acehnese people are beginning to feel disturbed by the local judicial system, and Indonesia's central government should be able to reevaluate the status of Aceh's autonomy in light of inconsistent law enforcement and an increasing number of public corporal punishments.
VIOLENCE AGAINST WOMEN
It's no secret that women have suffered under Aceh's Sharia law. Police data from 2014 indicates women were written up at a rate more than twice that of men. Of 1,817 cases processed by the Sharia police, 1,236 of them listed female violators.
Azriana Rambe Manalu was born in North Aceh, and has lived under Sharia law since its inception in the region. Today, she is Chairwoman of the National Commission on Violence Against Women. In an interview with Indonesia Expat, Manalu recalls a time when community organisations would raid villages in search of moral offenders.
According to her, in 2001, vigilantes on motorcycles would routinely speed up and down the streets, force their way into private homes, commit acts of violence, and sometimes beat women in the streets. "Many armed civilians walked down the streets," she says. "Some villages were dominated by societal organisations, but it was unclear where they came from." Manalu says raiders often acted on behalf of Islamic boarding schools, but it was extremely difficult to distinguish one faction from another.
After the ratification of Sharia law in 2003, members of community organisations were no longer able to raid villages. The fragmented movements were replaced by that of the local government through the Sharia police. But in its development, even Sharia law became a sort of "justification to judge women," says Manalu.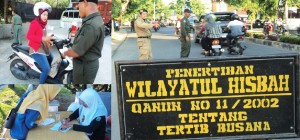 Last year in Langsa, about 284 miles from Banda Aceh, a woman was caned in public. Sadly, it was because she was raped. Initially the woman, a widow, was accused of committing adultery. The men who discovered the two alleged suspects proceeded to gang-rape the woman on the spot and cover the pair in sewerage before turning them both in to the Sharia police. After the incident, the eight perpetrators were charged under Indonesia's national justice system, as Sharia law doesn't yet govern rape cases. Out of the three men detained, one of them was a 13 year old boy. The other five suspects ended up on the run.
A few days later, the National Commission on Violence Against Women issued a statement saying the vigilantes committed a serious crime. It also condemned a response from the Langsa Department of Islamic Sharia, which stated the victim was not raped, but instead "gave up her limbs to be touched by vigilantes."
A CALL FOR INTERVENTION
Today, Manalu claims the Aceh government has become the real perpetrator of violence. Through penalties with blurred boundaries, they "already discriminate against women," says the Chairwoman.
Following the Government's approval of Aceh's autonomy, everyone in the region must now obey Sharia law, even non-Muslims and visitors. The only difference, however, is that non-Muslims get a choice on how they prefer to be punished for their crimes. For example, if a non-Muslim is found guilty of selling alcohol in Aceh, the offender could opt to be punished based on the local law or by Indonesia's national criminal code. If offenders choose the Sharia penalty, they would likely get four lashes in public. However, if they opt to take the route of punishment via national law, the offender may be sentenced to several months in prison.
With human rights issues in mind, Manalu says Indonesia's central government has acted irresponsibly in the case of Aceh. The National Commission for Violence Against Women claims to have repeatedly advised the Government on the matter at large. It hopes Jakarta can soon hold public proceedings to scrutinise local regulations in Aceh.