Our expert epicure continues an undercover operation to bring you the truth about Indonesia's dining scene. No spoon is left unturned in the quest for honest, balanced reviews, from long-established favourites to the hottest new tables in town. 
To kick off the Muslim holy month of Ramadhan, the Critic visits Moroccan restaurant Maroush on the mezzanine floor of the Crowne Plaza Hotel in Jakarta.
It all started in a Blue Bird taxi one balmy, wet evening. Trapped on Sudirman with red tail lights blazing as far as we could see and moving centimetre by centimetre, we did the only thing reasonable: we thanked our driver for services rendered and set out into the wilds of Jakarta's rush hour traffic on foot (and into fumes, soot, mud and questionable walking paths).
Three kilometres later, our nerves still intact and after many discussions on how to dodge menacing minivans whilst in supposed zebra crossings, we arrive at Maroush. What an oasis! We were greeted with tastefully painted gem-coloured walls and furnishings, wrought-iron doors and blown-glass décor. It was a quiet evening, with no signs of belly dancers or live music, as it was mid-week. On one side of the dining room, businessmen sat languidly sipping tea and puffing on sheesha pipes. A large group of well-dressed ladies celebrating an engagement or something equally as exciting sat in another corner emitting squeals of delight in short, staccato bursts throughout the evening.
We were certainly the odd couple out, of sorts. Sweaty, a little frazzled and weary, we certainly didn't look like the kind that should be allowed into the restaurant. However, we were welcomed with warm smiles and immediate seating.
After collecting my thoughts and some deep-yogic breathing to exorcise the previous hour of treachery along the walkways, I read through a dizzying menu of cuisines. My companion and I sat immobilized and shared some mutual feelings of trepidation. We had heard of the fine Moroccan meals, but Indian and now Turkish, too? There was even a section on "Chindian" cuisine, a hybrid of Chinese and Indian fare.
Was Maroush simply one level up from an eclectic food court that tries to impress everyone only to dish disappointment instead?
In the end, we decided to order one dish from every section of the menu. By this point in the evening, nothing could have been worse than when I stepped into some slimy sludge that I mistook for a sidewalk somewhere along the Taman Semanggi interchange.
The Maître D' brought some lovely harissa-spiced black olives, juicy raisins and salted peanuts to our table as a complement to our meal. It was a pleasant surprise and certainly went over well as we gulped down our icy brews. The Four Favorite Dips in One Plate displayed fine samples of their eggplant dips and hummus, with the spicy eggplant being the standout. Everything was arranged with a deft touch, and served with a variety of breads from pita to lavash to pide, a regional Turkish type of pita that looks and feels more like a soft, flat roll. It's perfect for dips, and we definitely started to feel more confident in the kitchen's ability.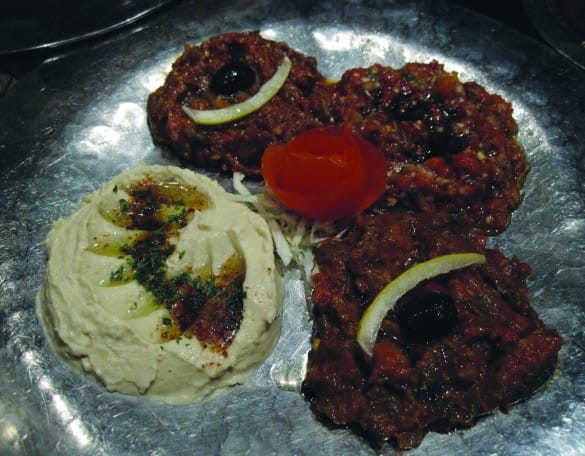 As suspected, surprises abounded this evening, and not all of them as favourable as the dips and complementary snacks, when the Maître D' presented a rather strange platter of white, which served as the Yayla Chicken Kebab. What was supposed to be a Turkish style kebab of minced chicken and spices with a garlic-infused yoghurt sauce looked more like a plate full of smashed, pasty meatball patties swimming in a sea of stark white yoghurt. I fail to understand how the dish could have looked appetizing to anyone other than a toddler. The kebab itself was lukewarm and dry with an overwhelming onion component, and the yoghurt could have been served with a more conservative hand. This was certainly not representative of the delicious minced kebab that sent me to another plane of existence from Istanbul some years ago.
However, the Royal Lamb Tagine arrived bubbling with dramatic delight; the sensuous aromas of prunes and spices engulfed the table as soon as the lid was lifted. A gorgeous fork-tender lamb shank rested perfectly in the centre, atop its savoury-sweet juices. It was delightful with the freshly buttered naan bread and pide. The Bhindi Do-Pyaza (okra cooked with onions and spices) also did not disappoint. Extremely tender, young okra stewed with Indian spices and caramelized onions provided a much-needed pop to the palate after all of the sweet-savouriness of the lamb and diverted attention away from the disappointing chicken kebab.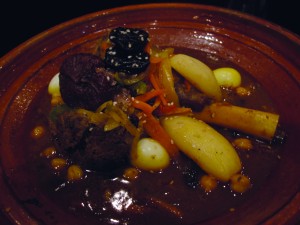 It's not difficult to imagine a thriving dining room full of diners especially during Ramadhan, when Jakartans celebrate the breaking of the fast with the variety of decent preparations of the various cuisines they provide at Maroush. I suppose, when a restaurant sets out to appease the masses, each dish may not be as enjoyable as the other, but there is always something that satisfies. On the other hand, with too much variety there is a loss of focus and ability to retain excellence in a well-meaning kitchen, where outstanding dishes are diluted by the mediocre and downright dreadful. As a critic, this is something I encounter time and again in Jakarta. It is unfair to deny the kitchen one accolade and at the same time unfair to the reader to obscure any creation that doesn't translate well to the table.
Maroush is a mixed bag as such. On the night we dined, it presented a very good Moroccan-style tagine, an appalling Turkish kebab and delicious Indian okra. The bread was decent, but the baklava dry and bland. And although an excellent pair of shoes did meet an untimely demise along the way, the culinary journey at Maroush was somewhat enjoyable.
Verdict: 3 stars out of 5
Maroush
Crowne Plaza Hotel Lt. 2
Jalan Jenderal Gatot Subroto Kav 2-3
Tel: 021-5289-2431 or 021-9277-2277
Website: www.nomi-inc.co.id
Price (Dinner for 2)
Drinks: Rp.100,000
Food: Rp.690,000
Tax (10 percent): Rp.79,000
Service Charge (10 percent): Rp.86,900
Total: Rp.955,900