Nelson Mandela, one of the world's greatest philanthropists, once said that sport has the power to change the world through its ability of promoting integration. In line with this, the Jakarta Cricket Association (JCA) unites people of all nationalities, backgrounds and faiths through a passion for the great game of cricket.
Comprising approximately 16 teams, the JCA has garnered sports enthusiasts from Indonesia, Australia, the United Kingdom, India, the Netherlands, South Africa and various other places around the globe. In turn, players of JCA embrace living in a multicultural society.
Experts believe cricket was created during Saxon or Norman times by children living in the Weald, an area of dense woodlands and clearings in south-east England. Over a century ago, England's national cricket team was enriched by immigrant players, hailing from countries including Zimbabwe, Barbados, Guyana, Ireland, India, Jamaica and Kenya. These players came from various backgrounds; some were born to expatriate parents, others were students, some earned qualifications through residency, and some simply came to play.
In Indonesia, cricket was introduced during colonial times, when Sir Thomas Stamford Raffles of the British East India Company served as Lieutenant Governor of Java, based in Batavia (Jakarta) from 1811-1816. Notwithstanding the lack of evidence suggesting Raffles' role in this, cricket was in fact played 18 years after the Englishman found the settlement of Singapore in 1819, when the game was played in Padang.
In the 1880s, cricket was played in Indonesia when the Batavia Cricket Club competed against a visiting circus team in Jakarta, who decided to join the match in full clown regalia and lost. The JCA was established somewhere in 1992 when the league arranged friendly games and touring teams, which later inspired other regions like Bali to form a similar association.
Today, the JCA has gathered a "diverse yet high quality group of people", as one of the group's members, Ben Burgess puts it. "We play competitive cricket on the field and enjoy each other's company off it. We have a very welcoming atmosphere," he says.
To Burgess, playing cricket allows him to meet and socialize with a like-minded group of people.
He further adds that the league intends to invite more people from different countries and backgrounds to get the full experience of playing cricket in Indonesia.
The JCA today has over 300 players registered, and potential players must go through a selection process. "The selection process is generally merit-based, though given the transient nature of expats in Jakarta, as well as work commitments, the team will never be comprised of the same 11 players from one match to the next," Burgess says.
Burgess himself is a member of a club called the Jakarta Barbarians. Established in 2012, the Barbarians not only play games on the field, but also organize activities such as post-match celebrations/commiserations, brunch with family members, and overseas tours, which he considers his most memorable experience of being in the club.
"Barbarians have toured Ho Chi Minh, Manila and Bangkok in recent seasons, though on-field results have always been less impressive than off-field pursuits," Burgess admits.
Burgess believes the club has come a long way since his arrival, shortly after which he participated in a victory. "It is a good memory for me as it was the club's first win, and was achieved by chasing down a respectable total of 189 runs in 31 overs," Burgess says.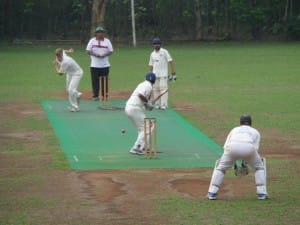 Since then, the club has gained more victories, including one over the entire league in 2014. The Barbarians have also become more organized, thanks to family members' contributions. Lunches are often catered by the WAG (wives and girlfriends) contingent, finances are kept on spreadsheets, and team members are controlled and restricted to 11 players.
One of the most significant progressions that the club has made is the birth of their very own club-house, located above Everest Bar in Blok M, which is generously stocked with memorabilia and merchandise. With approximately 20 members, the Barbarians are the only club in Jakarta with such facilities.
According to Burgess, the league grows stronger by the day. "Basically participation in the league was expanding as both expatriate and local interest increased in recent years," he explains. This, according to Burgess, is due to the result of several government-funded programmes, as well as private initiatives for school children that help develop the league.
Aside from the normal match schedule, the JCA will be touring Hong Kong in October, where they will play at the Kowloon Cricket Club, an historic cricket venue in Asia.
The JCA proves that sport is more than just a competition. And in this case, cricket's historical references further remind us that a game can serve as a powerful language that unites people wherever they may come from.
If you're keen to get involved, please visit http://jakartacricket.com for more information.