Our expert epicure continues an undercover operation to bring you the truth about Jakarta's dining scene. No spoon is left unturned in the quest for honest, balanced reviews, from long-established favourites to the hottest new tables in town.
This month, pseudo-pub, Queens Head Jakarta.
Ah, the pub. Is there any British cultural institution more important? If you let it, the humble pub can give you everything: home, community, sustenance, diversion. There's nothing better than a bitter by the fire after a winter's walk, or a summery Pimm's in the beer garden. The folks over at Queens Head chose a pub's name, and English-inspired dishes, to bring the iconic British drinking-hole up to date in Jakarta. A great idea. Only they missed by several thousand miles – so much so that I doubt the pub concept was ever really their intention.
The interior is more Seminyak than Sheffield. It's beautiful, don't get me wrong, but quite what it's got to do with HRH, or her Royal head, I don't know. A small forest has surely been cleared for the bare-wood-panelled walls, and a less-than-small fortune has been splurged on the rest of the décor – this place is aimed squarely at the young, rich and beautiful Jakarterati, and it means business. Most of the space is given over to the bar and lounge areas, with a dancefloor and DJ booth tucked under a glass roof. The dining area enjoys a view of the kitchen's pass, where current Chef Blake Thornley can frequently be seen (and heard) barking out orders in Bahasa.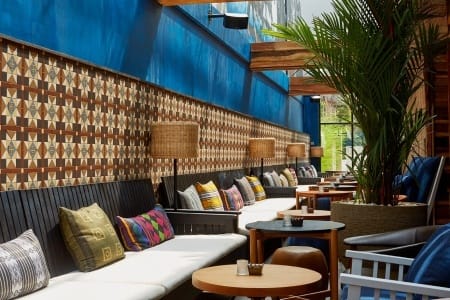 Thornley – a Kiwi – is a graduate of Chris Salans' Mozaic Ubud, and it shows in the intent of his food, if not always the execution. When Queens Head opened in January there was considerable buzz: the owner is Steve Collinson of Ku De Ta, so it was promising from the off. At first, the menu was straight-up pub grub, and it was great – a really welcome, new addition to the Jakarta restaurant scene. But Thornley's appointment took things in an unabashedly 'fusion' direction. Gone are the pies and the fish cakes. In their place is Tom Yum soup and Beef Rendang Tortellini, furthering the Kuta-meets-Kings-Cross theme.
After ordering, complimentary bread appeared with a lovely herbed butter – a nice touch. Sadly the rolls were little pellets more readily found on economy-class airplane meals: possibly yesterday's, crisped up in the oven. Still, the thought was there.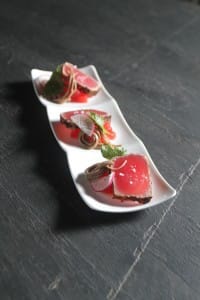 Starters were Tuna Tataki (Rp.80,000) and Roast Pumpkin Salad (Rp.75,000). The tuna itself had – strangely – a very slightly unpleasant flavour, even though the long-pepper crust was interestingly distinctive. It came with compressed watermelon which really just tasted exactly like cubes of watermelon, so-so soba noodles and a pleasant ponzu dressing. The salad was sparse. I enjoyed the Middle-Eastern-spiced pumpkin and almonds, but the herb cheese was an imperceptible smear on the wooden board, and the rocket was watercress. Otherwise, this was not a bad dish for a light starter.
For mains, there's a short selection of sort-of pub classics: Fish and Chips, Tandoori Chicken, steak. More interesting is their Roasts section, offering either a sharing portion or a one-person plate of belly pork, lamb, beef or chicken. This is a great idea in theory and rare in Indonesia. Just a few tweaks and it'd be really good: better cuts of meat, proper gravies and sides, and Bob's your uncle. As it was, the miso-mustard gravy with the Belly Pork (Rp.190,000) was a little bitter and the fat-to-meat ratio was more-than-usually skewed to fat, although the crackling was fabulous. Potato gratin on the side was slightly burned but surprisingly still tasty (Rp.35,000).
Fish and Chips (Rp.140,000) should have been better than it was. Gindara fillets were in a heavy, yellow batter that unfortunately was 95 percent soggy rather than chip-shop crispy. The hand-cut chips were chunky but seemed like they'd been cooked at two different intervals hours apart. The mushy peas were simply mashed without seasoning, but the tartare sauce was good.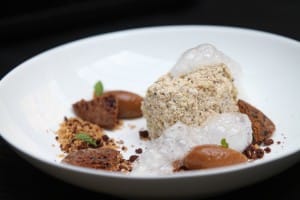 Desserts here used to be Victoria Sponge and Eton Mess, but now the Mozaic blueprint is evident: kemangi jellies, lime gels and curry leaves adorn the dishes. Chargrilled Bandung Pineapple (Rp.60,000) was a little bland, but well presented and a generous portion. Chocolate Curry Parfait (Rp.65,000) was intriguing and enjoyable – just a hint of the spice came through, contrasting well with the banana purée.
It's possible it was an off-day, but service – when it remembered it had a job – was achingly slow. 10 minutes for a beer, and a glass of wine failed to show up at all. I suspect this is because they actually do have talented, innovative bartenders and a comprehensive drinks list. This means wait times go up – not ideal, especially when it wasn't even busy.
There's room for improvement but in general the bar is impressive: they understand that a cocktail is only as good as its worst ingredient, and therefore use top-quality liquors instead of cheating you with the cheap stuff.
There's also Guinness on tap. If Queens Head succeeds nowhere else, it is at least an appealing alternative to Koi for lively late-night drinks.
This, however, affects the comfort level of those who come here to dine. There is a tendency for the space to feel hot, loud, and smoky. There's not a lot management can do about that, but installing a few more ACs would help.
Overall, I would go back – the value for money is not bad. But I do wish they would pick one concept and go with it. If it's Jl. Petitenget-style mod-Asian cuisine they think will bring the bucks, be my guest and compete with the myriad other joints in town offering the same. But I for one would love to see Queens Head do proper British pub grub, elevated. I guarantee the hundreds of expat residents of South Jakarta would, too.
Food: Rp.675,000
Drinks: Rp.250,000
Service: 10%
Total: Rp.1,119,250 (inc. taxes) for two
Queens Head
Jl. Kemang Raya No.18C, Jakarta Selatan 12730
+62 (0) 21 7196160 www.queensheadjakarta.com