You have probably noticed it by now, but Indonesians love to eat and they love to make you eat.
One way to celebrate this eating fest is the Sunday brunches offered by most grand hotels in the capital. Although each place has its own specificities, the concept is more or less the same. You get there around noon, there is too much food and drink for you to handle, and there are areas for kids to play while you can enjoy a last dessert, coffee or an afternoon glass of wine. Indonesia Expat has visited a few places for you.
Satoo at Shangri-La Hotel
Offering the real Indonesian brunch experience, the Sunday brunch at the Shangri-La Hotel is loud, busy and opulent. There are lots and lots of food choices. The restaurant offers twelve open-kitchen stations ranging from authentic Indian cuisine, innovative western cuisine, exotic Asian and Indonesian cuisine, a variety of noodles, pastas and cold appetizers, and desserts. If you are not so hungry, you can also order à la carte. The melt-in-your-mouth grilled salmon is particularly delicious. Little guests can also enjoy several outdoor activities on the hotel's spacious garden, such as a bouncing castle, pony ride, magic show, painting show and nail art while parents enjoy a relaxing moment by the pool. A great place for a real Indonesian Sunday brunch experience with a big group of people. Smoking-free restaurant. You can book online.
Opening hours: 11:30 am – 3:00 pm
Price: Rp.310,000 for the brunch including one tea or coffee and free flow of water and jamu. Alcohol is paid à la carte.
Address: Kota BNI, Jl. Jend. Sudirman Kav. 1
Visit the website
Pacific at Ritz-Carlton Pacific Place
Classy, intimate and relaxing, the Pacific Restaurant at Ritz-Carlton is a totally different experience. Located at the 6th floor of the Ritz-Carlton edifice in SCBD, it provides a gorgeous panoramic view of the city. The Pacific Restaurant offers less option than the other buffet in the same category but is more refined. Portions are smaller but tastes are more researched. Among many things you can taste an excellent beef tataki or tuna tartare and the foie gras burger is a must. The service is erased, attentive, and meticulous. The children's area is indoor and separated from the sitting area and the lovely staff can have a look at your children while you enjoy the view and maybe one last mouth-watering dessert or coffee. Fresh fruit juices are succulent. The live jazz music is perfectly tuned with the relaxing atmosphere.
Opening hours: 11:30 am – 3:00 pm
Price:
Without alcohol: Rp.308,000 including unlimited fresh juice and ice tea
With alcohol: Rp.498,000 / person including unlimited urban cocktail, wine, beer and juice
Children (6-12 years old): Rp.168,000
Address: Sudirman Central Business District (SCBD)
Jl. Jendral Sudirman Kav. 52-53
Jakarta, 12190 Indonesia
Visit the website
Il Mare at Mulia
Mulia Hotel is just grand. There is something about this place that makes you feel like royalty. The Mulia Hotel doesn't only have one Sunday brunch, they have three. One at The Café, which is the regular buffet, one at Table 8 and one at Il Mare. I went to the latter, Il Mare. This well-established restaurant offers classical Italian cuisine, such as all sorts of pastas and pizzas and a table full of delicious meat and fish carpaccio. The Il Mare formula is a bit different than the other brunches. Although there is an actual buffet where you can dig in yourself in the numerous plates offered, you can also wait at the table while the kitchen provides you with a selection of amuse-gueule for three hours. The crème brûlée de foie gras is to die for.
Opening hours: 11:00 am – 2:00 pm
Price:
Without alcohol: Rp.368,000 including free flow of ice tea, iced lemon tea, soft drinks or fruit juices. Coffee and tea are charged additionally.
With alcohol: Rp.498,000 including unlimited urban cocktail, wine, beer and juice.
Children (three to eight years old): Rp.178,000
Address: Mulia Hotel, Jl. Asia Afrika Senayan, Jakarta
Seasons Café at Four Seasons
The Four Seasons' Sunday brunch is probably the biggest one of all. There are so many food choices, there is a good chance you will not even see it all. Ranging from sushi to French raclette, to Balinese suckling pig; there is something for everybody. Among many things, the cheese selection is great. If you go with a group or if you have specific demands, it might be a good idea to reserve ahead as it gets pretty busy. The children play area is outside by the swimming pool. It is small but has everything little ones need to enjoy themselves. You can ask for a table near the window to keep an eye on your little ones. Big downside however, it is next to a smoking area.
Opening hours: 12:00 pm – 3:00 pm
Price:
Without alcohol: Rp.408,000 including unlimited ice lemon tea and fresh juices
With alcohol: Rp.558,000; free flow sparkling wine and house wines
Children (five to 10 years old): Rp.205,000
Address: Jl. H.R. Rasuna Said, Jakarta Selatan
Visit the website
Cinnamon Restaurant at Mandarin
The Cinnamon Restaurant at Mandarin Hotel has a more modest brunch compared to the others in terms of choices available, as well as originality. The menu is mainly Asian and the specialty of the Cinnamon Restaurant brunch is the outdoor BBQ area where you can get fresh seafood and meat. The restaurant itself, surrounded by the rooftop garden and open-kitchen area, has a cosy feel to it. The nicest feature about this brunch is definitely the location for those who like to take part on Sudirman Carfree Sundays. You can have a nice bike ride and pull over for brunch. There is no children's play area.
Opening hours: 11:30 am – 2:30 pm
Price:
Without alcohol: Rp.330,000 with free flow of juices, water, coffee and tea. Alcohol is paid à la carte.
Children (five to 10 years old): Rp.165,000
Address: Jl. M.H. Thamrin
Visit the website
Signatures Restaurant at Hotel Indonesia Kempinski
Signatures Restaurant at Hotel Indonesia is one of our Coup de Coeur. Apart from the central location, we enjoy the modern yet warm decor and ambience and the well-designed playground for little VIPs featuring a tree house, slide, stuffed toys, books and craft material. Although the self-proclaimed specialties here are bubur ayam, oxtail soup and homemade ice cream, there is a vast selection of breads & pastries, Western, Indonesian, Chinese, Japanese food and everything pork. The dessert menu is fabulous. Don't miss out on the macaroons. Service is impeccable. Perfect for families with younger children.
Opening hours: 12:00 pm -15:00 pm
Price:
Without alcohol: Rp.318,000 with free flow of juices, ice tea, lemon tea, water, coffee and tea. Alcohol is paid à la carte.
Children (five to 10 years old): Rp.159,000
Address: Jl. M. H Thamrin No. 1
Visit the website
C's Steak and Seafood at Grand Hyatt Jakarta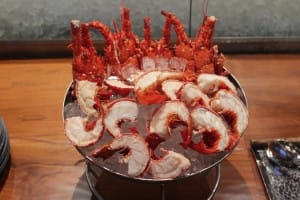 C's Steak and Seafood, the signature restaurant at Grand Hyatt Jakarta, offers a revitalized Sunday Brunch concept with unlimited servings of appetizers, premium seafood on ice, and variants of brunch cocktails, and – what makes us love this brunch more – a glass of bubbly.
The Extravagant and Bubbly Sunday Brunch concept starts on a refreshing note with the finest quality steak and seafood selections located at the entrance. Seafood and meat lovers will be spoiled by a premium marine harvest which includes lobsters, prawns, clams, alongside an exquisite selection of premium US and Japanese beef. Fancy cocktails and champagnes are also served to perfectly pamper those who are looking for the complete brunch experience.
Throughout the month of January 2016, chocolate lovers can revel in sinful moments of indulgence with C's special chocolate tasting platter. The platter offers four different kinds of chocolate from Indonesia, presented as part of our grand dessert buffet. In addition, a variety of savoury and sweet soufflés will be introduced weekly, along with a new selection of decadent desserts, all of which will surely satisfy any sweet tooth.
"In January 2016, we are pleased to announce that our buffet packages will include free-flowing brunch cocktails and bubbly to be served, "said Rolf Knecht, Executive Chef of Grand Hyatt Jakarta. Happy days!
Opening hours: 11.30 am – 3 pm, every Sunday.
Price:
Rp.700,000++ per adult, including bloody marys, mojitos, soft drinks, juices, water, tea or coffee
Rp.900,000++ per adult package includes with premium wines (Prosecco, white wine, and red wine).
Rp.1,100,000++ per adult, package includes Bollinger Champagne.
Prices are subject to 10 percent service charge and prevailing government taxes. Children between the ages of 6 and 12 will receive a 50 percent discount, and brunch is complimentary for children below the age of 6.
Address: Jalan M. H. Thamrin Kav. 28-30, Jakarta 10350