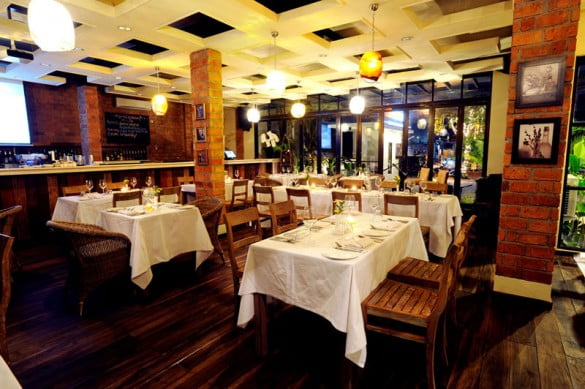 On Jalan Kemang Timur Raya you can find an array of galleries and home decor shops; Kemang has an abundance of shops that live to fancy up homes. Some of these businesses have cleverly tempted patrons to stay longer with sweet and savoury treats. Lio Gallery Bistro, Bar and Lounge has done just that.
Restaurants in Jakarta seem to understand escapism better than any other city I've been to and Lio Bistro is no exception. The venue feels relaxed, comfortable and down to earth, though this is not to be mistaken for a lack of attention nor effort but a focus on unwinding and putting your feet up. In the rectangular space, holding an intimate seating capacity of 60, two of the four walls are glass panel windows. Behind the bar is an exposed red brick wall and the other side is reclaimed wood from train tracks. Rustic table sets are in the style of shabby chic; distressed wood with faint stripes of yellow and teal. The creative details are clearly accentuated by the opulence of natural light chiming in from the tall walls of windows. One side views the uncommonly large parking area (especially for Kemang!) whilst the other glimpses the outdoor pool. Lio Bistro's Bambang Reguna Bukit explicates the space's intention to be unpretentious and welcoming for people to come and hangout for food, drinks or even a swim.
The menu in Lio Bistro offers European and Indonesian dishes. The prices are varied offering very reasonable priced items to the more pricey luxury dishes such as Foie gras. As we took a cursory look at the drinks menu, Joe Nicolaas, Marketing Communications, and Olivia Marapaung, General Manager, sat with us and recommended the Exotic Lio which is a fresh blueberry yoghurt drink with a hint of refreshing mint alongside a Black Pineapple Margarita which tasted like caramelised pineapple that subdued and surprisingly blended well with the taste of tequila.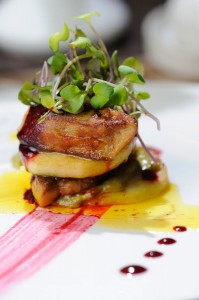 We decided to stick to recommended items this day. For starters – Foie gras, mains- Red Snapper and Poulet Grille- not officially recommended by the chef but a customer favourite, for dessert – Chocolate Bar. I do not eat Foie gras but immediately realised that presentation was held in high regard here. Grilled apples lay at the bottom underneath the seared Foie gras garnished with micro greens and cranberries. Cecilia, my sidekick for this review, complimented the well seared exterior of the rich Foie gras that had a nice crispness; well suited with the tartness of the grilled fruits. Next we were presented with the Poulet Grille and Red Snapper. The Red Snapper fillet sat on top of Mediterranean grilled vegetables and came with a Red Pepper Ketchup. Although the snapper was a touch over cooked, the flavours from the garlic herb butter were lovely. I love ketchup and enjoyed the tartness it added but if like Cecilia, you prefer a more soft flavour combination, do ask for it to be served without the ketchup.
The Poulet Grille made me miss my Sunday roasts – a big old leg of roasted chicken on top of mashed potato with thick gravy, wilted spinach and baby carrots. This dish made me wish it would rain so I could eat and look out the window and feel the full comfort that I remember with my Sunday roasts in rainy miserable London. If you are a bit down and want to eat your feelings, have the Poulet Grille. I shamelessly left nothing but bone on my plate. The Chocolate Bar is a layer of custard and chocolate mousse with passion fruit jam and sliced almonds in between covered in a chilled and hardened chocolate coating that resembles a giant chocolate bar. This comes with a thick ginger syrup and ice cream. A big portion and I do suggest it to be shared.
What resonates the most from my experience is the impeccable presentation of the dishes. Although the dishes look posh and elegant, no snoot can be found here. The staff are warm and attentive and treat you like a friend they've invited for a catch up.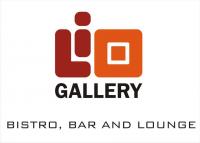 Lio Collection- Gallery, Bistro, Bar and Lounge
Jl. Kemang Timur No. 50, Jakarta, Indonesia 12730
Monday – Saturday: 11am- 11pm
Sunday: 7am – 11pm
Phone:+62 217180501
PIN BB: 256BC483
Lio has recently introduced 'Barbeque Splash' on Sunday from 11am – 4pm. Pick two of the three BBQ options and all you can eat Spaghetti Aglio Olio and Classic salad for 150K per person or a bargain 100K per person for a Family of 5 deal.