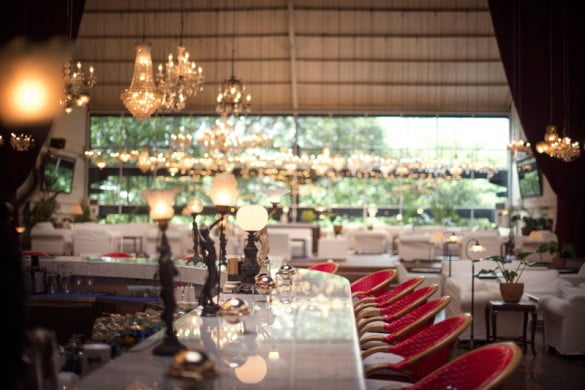 I arrived straight from work on a Tuesday evening, hungry, and looking forward to checking out the latest Potato Head instalment. After being warmly welcomed and ushered down a low hallway, I stepped into the Garage and what a first impression! It really is magnificent.
Built in an old stadium, the space is huge, with an exposed ceiling twenty-five metres high. A large bar runs through the centre of the room, on a funky black and white polished floor. Plush velvet curtains frame the end of the restaurant, separating the dining space from a lounge area with white sofas, indoor plants and soft lighting. This lounge space will also double as a stage for events, including burlesque shows and (aptly) a Tribute to Great Gatsby party on Saturday 22nd June.
The beautifully lit restaurant is at odds with its name, which is the point. Think industrial meets vintage charm. The design is classy but eclectic. Wine racks run the length of one wall, trestles of terracotta pots and plants the other. The fittings are beautiful and carefully chosen, including one hundred vintage chandeliers from France, antique table lamps and candelabras. The table settings are immaculate, white tablecloths and soft linen. Quirky black and white coasters and subtle theming provide a modern contrast to the vintage theme. For the men, there's a classic Rolls Royce to ogle, casually parked to one side of the bar!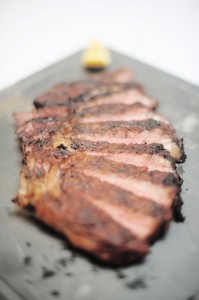 Potato Head Garage is a steakhouse, and although it might not feel like your traditional steakhouse, the menu certainly covers off all things steak with a wide selection from around the world. The menu is varied but not overwhelming. Some nice hints of Japanese flavours also come through in each of the courses. There are some vegetarian options.
The drinks are designed by the Potato Head "drink artist" who is based in Bali and responsible for the superb cocktails enjoyed at all Potato Head destinations. At the Garage you can't go past the mojitos, their signature cocktail. We tried the lychee and the classic. The lychee was a bit too sweet for my liking but the classic was great, made with sugar cane juice rather than soda, served with foam on top and a bamboo straw. We were also treated with special PTT mojito shots for first time visitors to the Garage. Part of the shot experience is to hit your glass down onto a tiny cracker that lets off a bang and a bit of a laugh.
Our meal started with great bread. For appetisers we had the Pumpkin Soup and the Blue Swimmer Crab Cake. The pumpkin soup was served at the table, with the server pouring the soup into a bowl containing just the diced shiitake mushrooms. It was nicely done, but I wonder whether this was why the soup wasn't piping hot.
The blue swimmer crab cake was recommended by our waiter. The crab was beautifully soft and perfectly cooked, just lightly fried. The green curry sauce and the bitter greens complemented it well. Fragrant and not heavy at all, this was a lovely starter.
For my main I had to have a steak. I tried the internationally renowned Australian David Blackmore 100% full blood Wagyu at the waiter's recommendation, and it did not disappoint! Rich and tasty, perfectly cooked medium rare, this steak was truly melt-in-your-mouth material. Steaks here are cooked on a wood fired grill, for a char and rambutan wood flavour unique to the Garage. As far as Wagyu goes, this was one of the best I've tasted. The steak came well presented on a wooden board with a small dish of salt, a wedge of lemon and my choice of sauce, the Yuzu Chili, a Japanese style medium chilli. With the steaks you need to order sides separately, so I had Baby Glazed Carrots and Mashed Potatoes. The mashed potatoes were particularly nice, smooth and texturally creamy without being too milky.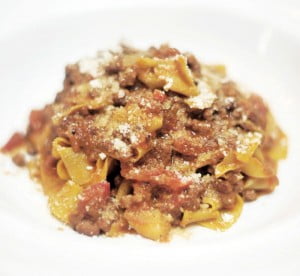 My vegetarian date ordered the Putanesca Rigatoni, with tomato, basil and capers. Simple but perfectly cooked al dente using fresh ingredients. An enjoyable meal that she and I would both order again.
Prices range from Rp.50-160,000 for starters and Rp.70-1,700,000 for mains. Yes, some of the steaks are pricey, but you're paying for high quality beef from some of the best producers in the world. The cheapest steak is Rp.250,000.
The staff are attentive and helpful, and our waiter, Reno, was excellent. The service stations around the restaurant seem to make the table service run smoother than other places in Jakarta. Our food arrived at the same time, albeit a little quickly between appetiser and main course.
For dessert we ordered the Creme D'Anjou and the Fruit Minestrone. The Creme D'Anjou was a pretty trio of sorbet, berries and vanilla, that tasted as good as it looked. I was intrigued by minestrone-style fruit salad and it was heavenly. I loved the texture of the finely cut fruit, served with a dollop of exotic fruit sorbet and topped with fluffy coconut espuma (foam). Both desserts were a refreshing end to a fantastic meal. Desserts are well priced at Rp.40-60,000.
We left very happy customers with full tummies! The Garage is a must-do, not just for great food and service, but you have to check out this incredible setting for yourself. Next time I will be trying something from the 'cold bar' appetisers which sound delicious, and definitely the wagyu beef burger. I would also recommend popping in for after-work drinks or dessert and coffee. A great spot for a romantic dinner or for a night out with a group of friends, I think the Garage is going to be one of my new favourites in Jakarta.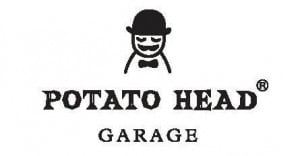 Potato Head Garage
SCBD Lot 14 (ex Bengkel Kafe)
Jl. Jend. Sudirman Kav. 52-53
Jakarta Selatan
Open 11am to 2am, seven days.
Bookings are recommended particularly during weekends. Tel. 021 5797 3330
Follow them on Twitter and Facebook for info on upcoming events.