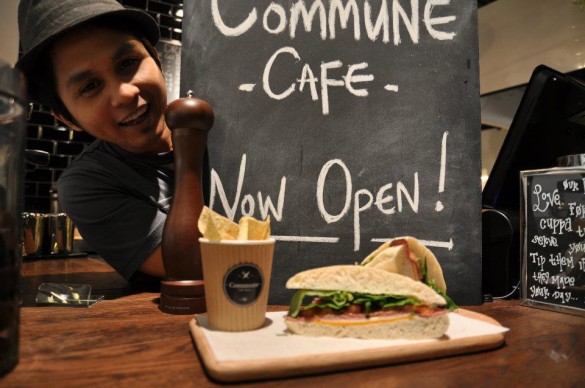 Commune first opened its doors in Singapore before making its way down to Jakarta. Commune started as a furniture business before expanding into the culinary world. Chris Zikif and Julian Koh personally design all furniture and accessories sold in the Commune showroom here on Jalan Suryo. They seized the opportunity to fulfil one of their dreams when trying to fill the second floor and thus, Commune Bistro was born. Commune Bistro has parents from different backgrounds which explains the detail orientated nature of Commune. With the wealth of places to eat in Jakarta, what makes you want to come to Commune? Simply put, Commune is where street meets style, made by foodies for foodies.
Chris's background in architecture and design has created a comfortable, simple yet dressed, funky yet classy and generally inviting eatery. I can best describe Commune as a laid back Melbourne hipster venue with Jakartan sophisticated funk serving a fine dining bistro menu. Somewhat of a contradiction but that is what makes you feel at home here. There is a pocket of space in Commune that is sure to cater to your personality. The main area is the place to be seen and enjoy the lively atmosphere smack bang in the centre of all the hustle and bustle as you are enveloped by the open kitchen, open bar and private dining rooms; simple and clean with wooden floors, tables and chairs. Those looking for a more private and intimate experience, do ask to be seated in one of the private dining rooms, one benefiting from natural light and a ceiling mural of a black naked tree and draped black cord intertwined with hanging orb like lights, the other with a painting by Adrien-Jean Le Mayeur, a famous Belgian painter from Brussels who lived the last years of his life in Bali. For dirty smokers such as myself, we are free to puff away in a section offering ionized conditioners. The floors are black and white tiled and the naked tree mural makes another appearance here. And last but not least, my favourite little nook in the corner with comfy neutral coloured couches, good for a coffee break or cocktails and gossip with the girls when evening comes.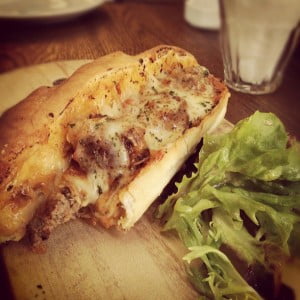 Joseph Abud, Executive Chef, and his team have created a menu of their favourite European dishes alongside Asian classics. Joseph encourages their guests to ask for any tweaks that they desire to perfect the food to the individual palate. We started off with the Caesar salad and Commune Vegetable Soup. The Caesar salad had crisp romaine lettuce and all the trimmings but an unfamiliar bite. Puzzled I asked Joseph what this spice was, that clearly was not from chillies, pepper nor mustard. Joseph revealed his secret; an extra helping of Worcestershire sauce. A fine option for us spice addicts. The Commune Vegetable soup came with egg which seemed a bit odd to me but agreed with my taste buds, akin to vegetarian chili con carne. I must rave about the Algreco Pasta. The pasta gains inspiration from a Greek salad; spaghetti tossed in olive oil, feta cheese, olives and red onion with a wonderful fried fillet of dory. Dian, my partner in crime for this review turned to me, smiled and simply chirped "Tasty!" after she took her first bite of the dory fillet. The Anza pizza is available in pork or beef sausage and had a sour-doughesque base which as a part Finn, I appreciated. The Meatball sub had tangy spicy meatballs mellowed and mingling well with the sweeter tomato sauce. The Buttered Salmon had a coral sauce coloured by roasted red peppers. By now, dessert was not a stretch my stomach could handle but recommended deserts include the ever popular Red Velvet and rainbow coloured Hummingbird.
Commune aims to be a place where friends can meet and enjoy good quality food that is good for you at a good price. Their smaller menu of both food and drink is a testament to their belief in providing quality over quantity. If a quick lunch is on your agenda, take advantage of their lunch deal which includes Commune Nasi Goreng with Satay Lilit and an Iced Tea for Rp 65,000. Or maybe you fancy a dinner and beer with the boys as you wait out traffic; have a pizza and two Hoegaardens for Rp. 210,000. To see if you can find a pocket of space for your personality, mosey on over to Jalan Suryo No. 25, Sunday to Thursday 10am-10pm and Friday to Saturday 10am – 1am. If you feel the need to announce your arrival, call 72789913 for reservations.