Days are passing by swiftly. Take a glance at your calendar – is it filled with back-to-back meetings, endless tasks, and upcoming deadlines?
Did you manage to squeeze in your leisure time on that calendar? Please do, even if it's an impromptu agenda. 
Sometimes, all I yearn for after a full day of working is to jump on my bed and disconnect from the world, to recharge. It's also undeniably pleasant to be somewhere with exquisite drinks over some waves of laughter, enchanting music blasting and tantalising light bites. 
Work ended earlier than expected on this fine Thursday, but Jakarta's traffic towards home was too horrid for me to endure. This is one of those days when I opted for the latter and headed to BART (Bar at The Rooftop) Kuningan at Artotel Casa Kuningan. "One more day until the weekend approaches," a self-thought that I'm certain many people convince themselves with.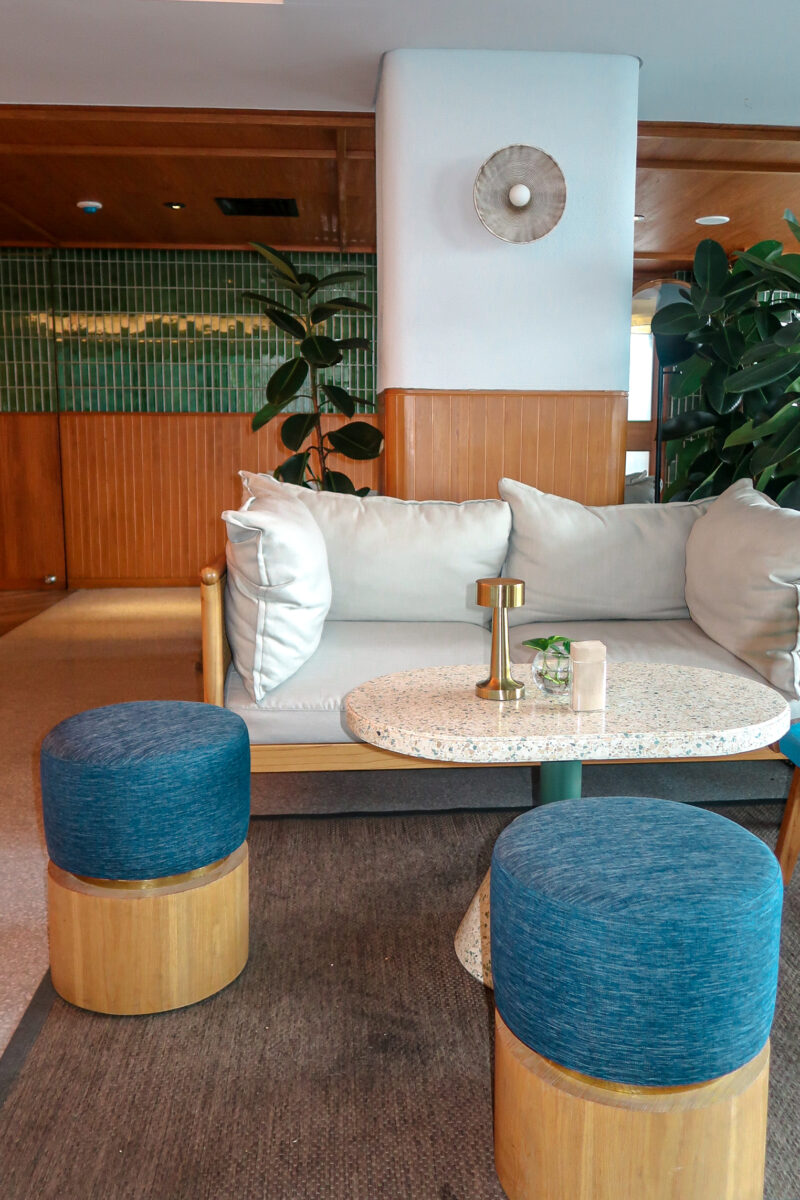 Foreseeable that BART Kuningan may be a destination unknown to many, this happens to be relatively new to Jakarta's selections of rooftop bars considering its establishment in late 2022. I spent a night at BART Thamrin years ago, and I like it there. What pleases me the most about the latest BART Kuningan is that it gives off a more serene and intimate sensation. In a way, I felt at home due to its laid-back, cosy ambience – indeed, Artotel Casa Kuningan is a lustful abode amidst the metropolitan and "Casa" is Italian for home. Every detail is designed for guests' comforts equivalent to their homes, despite its location being in one of South Jakarta's busiest districts amongst shopping malls and lifestyle centres. Sounds as if I traded my actual home for another.
This open-air rooftop cocktail bar doesn't miss any homey essence that the hotel entails. Upon entry is the indoor section, adorned in nude rattan furnishings and plywood against the white walls. It's minimalistic yet has strong touches of nature with shades of green from the indoor plants and the cushions in shades of ocean blue. The bar table itself was contemporary. Nothing is too eccentric for the eyes, instead, elegantly heartwarming. After all, that's how you would want to feel at su casa, right?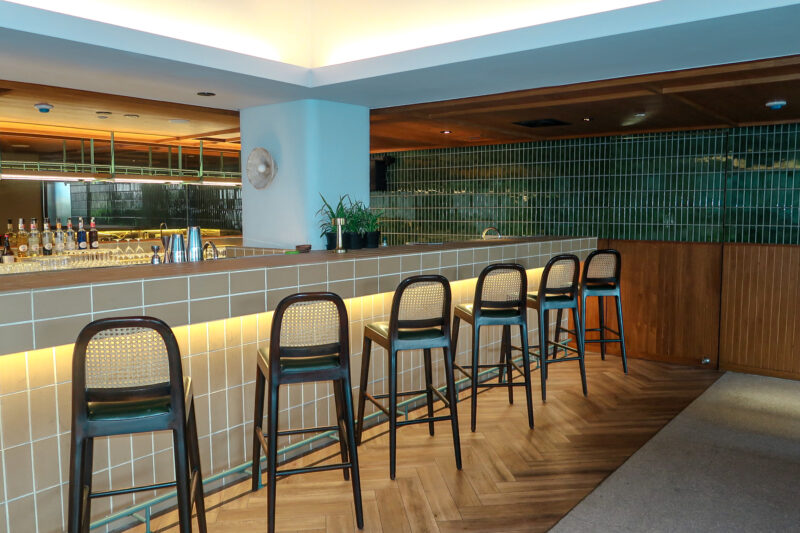 But I chose a spot in the outdoor area, where it boasts a serene greens atmosphere. More neutral-coloured snug furnishings are placed facing a 360-view of Kuningan's vista over rows of lively house plants. I was lucky to be here on a not-so-air-polluted Jakartan day since the view was clear and bright. It's extremely quiet up here. The congestion below on Jl. Denpasar Raya seemed like a parallel universe. 
The sky was astonishingly slowly losing sunlight. I had to remind myself that it was only Thursday, thus I didn't want to have anything demolish my energy for the next working day. 
"What do you recommend me to try for a metropolitan sunset gazing session?" I asked the mixologist. Soon, he returned with Sour, a striking yellow drink comprising batch house spice rum, GYO sour solution, along with citrus and his twist of a foam made from chickpea, not eggwhite. "Our cocktails use premium spirits from Japan which are notably lighter. I hope you enjoy it," he said. My first sip exuded a light, refreshing sensation. I took my Sour towards the edge of the space, where the appealing scenic vista was.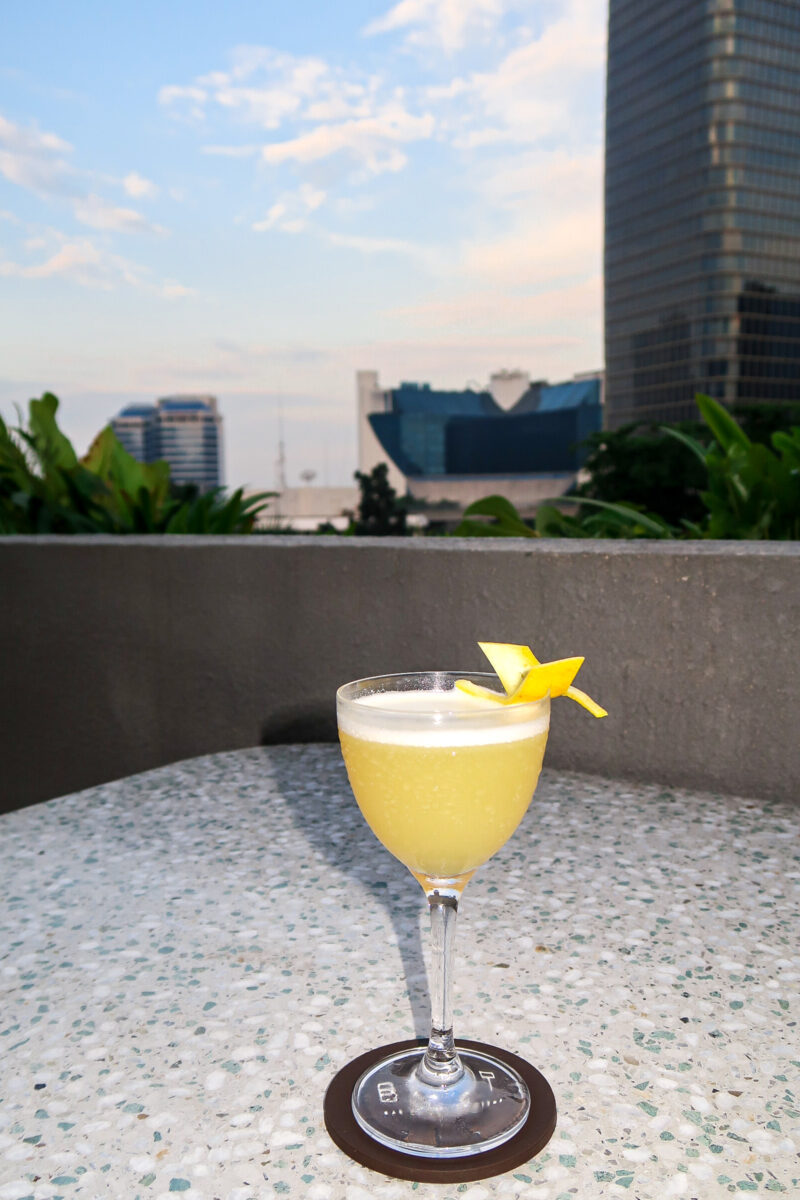 As the night fades in, the dimmed indoor area sets the mood for a slumber party. Meanwhile, the skyscrapers outdoors are glistening in fluorescent lights. Time to get another cocktail!
"This is Cobbler; it's infused with batch wild cherry whiskey, sherry wine, orange and pineapple," explained the gleeful mixologist. Tasting tropical and again, light, this cocktail emits a well-blended sourness and earthiness.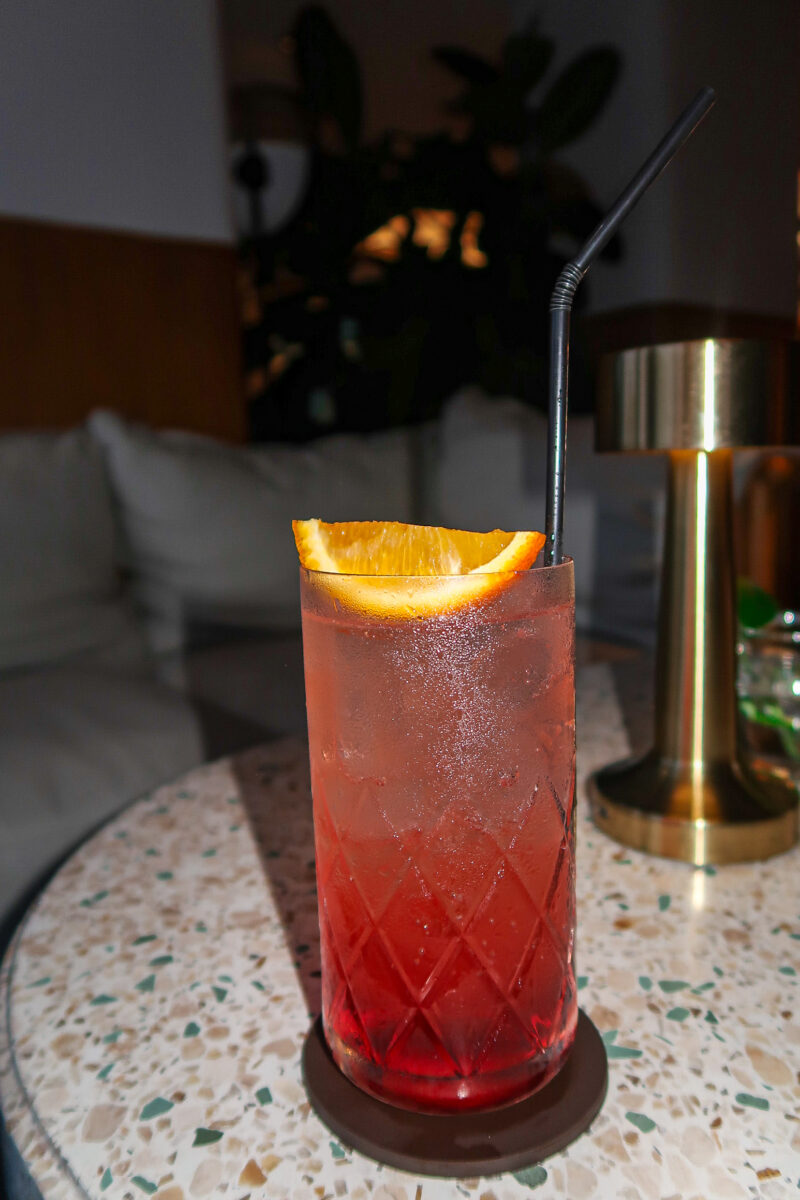 "I should munch on something," I thought to myself. Indecisive to choose from the menu, I ordered a plethora of finger bites such as the tahu lada garam (crispy salt pepper and chilli tofu); chicken skin with local sambal; beef and red bean nachos; potato skin alongside a parmesan, mozzarella and cream cheese dip; croquette comprising potatoes, vegetables and four types of cheese (goat, feta, parmesan and mozzarella); as well as my favourite, the lamb curry pizza slathered in feta, goat and mozzarella cheeses atop. 
Luck seemed to be in my favour this night because every Thursday, a live acoustic band performs classic English and Indonesian songs to guests. With my Cobbler in sight and my hands busy rotating from the finger bites, I tuned into Jean Acoustic serenading my after working hours exhaustion away. As for Fridays and Saturdays, collective DJs would do the bidding.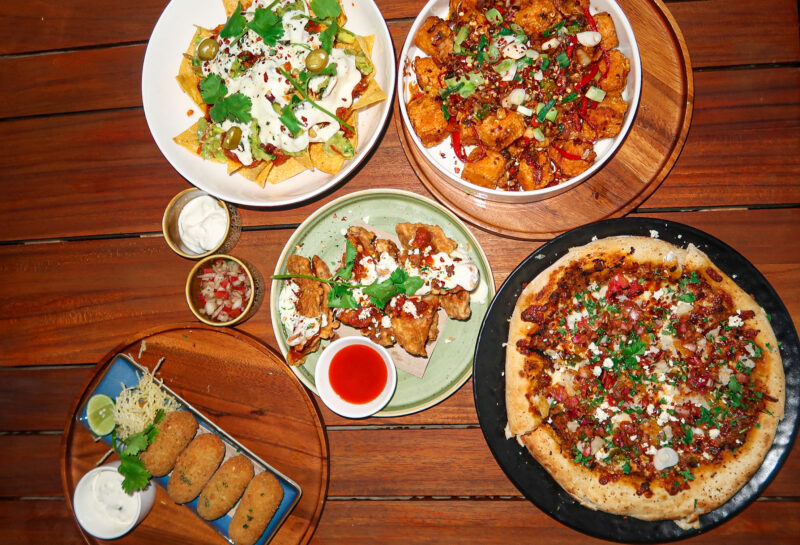 Onto my next drink was another recommended refreshing cocktail – High Ball (batch savoury white spirit and grapefruits apple sour soda. Somehow, after three drinks, I felt light-hearted. Perhaps that's what the mixologist intended to make me feel after seeing my sorrowful aura.
My watch indicated 10pm, bearable enough for me to hit my bed. BART Kuningan opens from 4 to 11pm weekdays and from 5pm to midnight on weekends. At least 40-80 patrons sitting and 100-120 standing are more than welcome to relax after a busy day while enjoying premium beverages and bites. 
Have a seat in this laid-back rooftop cocktail bar, or get on your feet and sing along or dance to the rhythms of the entertainment. As alluring as this rooftop cocktail bar was for me, you can take your friends or your lover for a much-needed quality time. The mature crowd from nearby offices, residences and lifestyle centres seek to relax together, including with you. 
A cocktail here starts at Rp139,000++. Join me for another recharge at BART Kuningan!
BART Kuningan
Address: ARTOTEL Casa Kuningan Rooftop Floor, Jl. Denpasar Raya Blok A/13 Kav 02, Kuningan, South Jakarta.

WhatsApp: +62 811-9217-997

Instagram: @bart_kuningan