Jakarta's Sunday brunch game is on point, and new entrant Spectrum at the Fairmont is hoping to get in on the action.  
We humans have always been innovative things. We have a long list of important inventions under our belts, all of which have furthered our interests and generally contributed to the common good. The steam engine. The iPhone. Penicillin. Brunch.
Think about it. When else is it acceptable to consume – in no particular order – oysters, pancakes, steak, Champagne and coffee in one sitting? For brunch (little sister to lunch, big brother to breakfast) is truly a fabulous invention. Something of an emergent Sunday tradition in Southeast Asian hotels, it simultaneously allows your inner fat kid to run free, whilst you get slowly sozzled and catch up on a week's worth of gossip with friends and family. What else is there in life, really?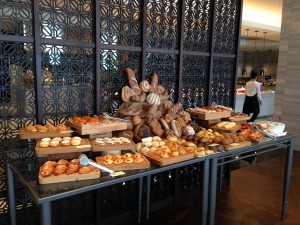 It was with pleasure, therefore, that we visited the new Fairmont Jakarta Hotel's Spectrum restaurant, for their Sunday special. The Fairmont, in Senayan, has been open for six months, and there is a distinctly sophisticated, suave feeling to the place, with dark woods and cool greys in the restaurant. Between noon and 3pm, Rp.595,000++ will get you free reign of the Spectrum buffet, including mojitos and unlimited soft drinks. A pretty good deal as brunch goes in this city. But who are we kidding, what you're really here for is the Rp.1.2m++ free-flow beer, red, white or sparkling wine. Although their wine list (including by the glass) is pretty good, at today's prices it's probably worth going for the package if you're going to drink more than one.
To the food. What can a hotel really do to differentiate itself these days? You've got kiddy-friendly at the Shangri-La, Indo-chic at the Dharmawangsa, and all-out extravagance at the Mulia. So where on the spectrum is the Fairmont?
At first glance, it's the same classic brunch buffet stations: fruit, eggs, seafood and meats, salad, waffles and pancakes, noodles and dessert. At any hotel brunch buffet, you expect to find competent, freshly-cooked versions of all of these at least. But there needs to be something more to titillate today's taste buds and scare off the competition – and Spectrum provides that.
To begin with, the basics themselves are pretty good – but they should be. There's not really any excuse for less-than-perfect eggs, smoked salmon, and pastries. It's when we get to the more interesting stuff that the restaurant shows its quality. Spectrum's chefs bring around special freshly-prepared amuse–bouche, such as foie gras morsels, or a really delightful pumpkin 'espuma' (warm, foamy soup) squirted into your glass at the table – this was so good, we had two. You can also pick up little hors d'oeuvres from the buffet – we had some delicate, fresh crab bites with a light watermelon jelly to start us off.
Indicating the hotel's popularity with north Asian customers, there is also an excellent sushi station. The freshest fish is whipped into sashimi before your eyes, served with the proper accompaniments of ginger, wasabi and sauce. Continuing in the Asian theme, we saw congee, noodles, ayam bakar, dim sum, and Peking duck to name just a few. The Indian selection, including a wonderful dal makhani, was great – this black, buttery, rich lentil dish is perfect when mopped up with naan bread. The tandoori chicken was delicious: very soft, but still expertly chargrilled on the outside.
If you're in more of a Western mood, look no further than the prime-rib, sliced to your liking. You can do this American style with mini baked potatoes and barbeque sauce, or full-on Brit with Yorkshire puds and gravy. No prizes for guessing which one I opted for. Though not quite my mum's, the Yorkshires were a very welcome little taste of home, and the gravy well-flavoured. Also in the Western theme (via Mexico) were chicken tortillas and guacamole – another unusual find at hotel brunch buffets, which tasted authentic. There's even pizza and pasta if that takes your fancy.
The real clincher for Spectrum, though, is their chargrill station. Here, amongst an array of many other meats, fish and crustacea, you can have a beautiful, plump lobster expertly grilled to order and brought to your table. For a moment I thought my toes were in the sand on Jimbaran beach. This, for me, was one of the main things that sets Spectrum apart.
The desserts were ever so slightly less impressive than I expected, consisting mostly of a range of mini cakes, jellies and mousses. But to their credit there's a great selection of local sweets, including a little glass jar of bubur injin. The homemade ice creams and sorbets were also good; I tried the guava.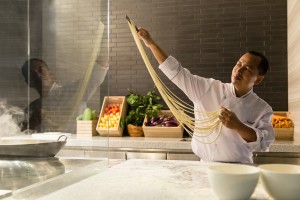 So, after a mammoth feast lasting nearly three hours, we felt we had done Spectrum's brunch offering justice. Whether it was for the good of humanity or not remains to be seen (my waistline thinks not) – but either way we ended the meal in agreement: brunch, especially in Jakarta, is a superb invention and should be indulged in as often as possible. Next time, give Spectrum a go. You won't be disappointed.
Spectrum – Fairmont Jakarta
Jl. Asia Afrika No.8, Gelora Bung Karno, Senayan, Kebayoran Baru, Jakarta 10270
+62 (0) 21 29703333