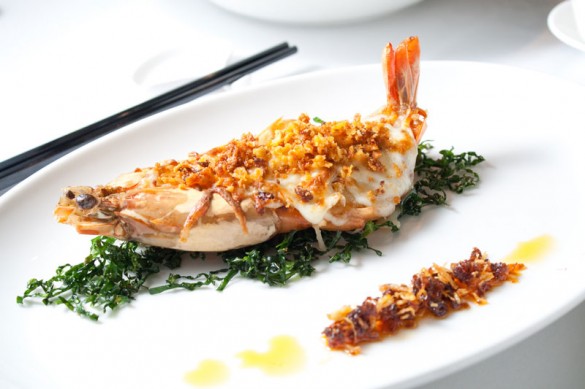 Jakartans who take their love of food seriously, rarely settle for a meal in a mall. Restaurants located in malls offer convenience, but nothing more. The service is horrible, and the food is bland at best. But ask anyone in the know to rattle off their top five restaurants in Jakarta and odds are none of the names you hear will be within spitting distance of a Forever 21.
What restaurant-goers are looking for is a personal experience, something they can share with the Chef. They're fed up with trends and fads. They expect fantastic food flanked by extraordinary service packaged inside a naturally sophisticated and welcoming dining area. They want a table at Xin Hwa in the Mandarin Oriental Hotel.
The Mandarin, located at the southern lip of the Hotel Indonesia traffic circle, is known around town for housing Lyon, one of the city's most celebrated French restaurants, but newly acquired chef Jeff Lee is helping Xin Hwa step out of Lyon's shadow by serving signature dishes, which without compromising traditional Chinese elements, showcase raw ingredients and boast rich, instantaneous flavours.
"Every chef in this industry has their strengths and I feel like mine lies in balancing tradition and innovation," says Lee who fell in love with food decades ago in a traditional Chinese kitchen before working his way up the restaurant ranks and racking up more than 15 years of experience in five-star international hotel chain restaurants."My philosophy is not to abandon traditional Chinese cooking, but to create new innovative ways to experience a dish. Innovation and tradition are not opposites. The key is to understand them both, and through appropriate modifications make dishes more interesting, and easily accepted by a great number of people."
Lee promptly provides evolved re-interpretations of traditional dishes without losing the soul of the dish in translation. This, along with fantastic service and warm, inviting lighting that draws in clientele set Xin Hwa apart from Jakarta's long line of traditional Chinese restaurants.
"I think all Chinese food is amazing, and offers a lot of combination of herbs and methods of cooking," says Lee, who firmly believes that it's only after understanding of the most basic elements of a dish, as well as a variety of raw materials should a re-interpretation a dish be considered. "My favourite signature dish would be the oven baked tiger prawns with cheese and spicy XO sauce. This dish has a strong and pleasant taste.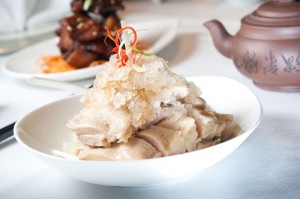 Meanwhile, across the mezzanine in the Mandarin, executive chef Thierry Le Queau, speaks of Chef Jeff, whose steamed black cod with homemade green ginger puree, a re-interpretation of a traditional recipe, is quickly becoming one of Xin Hwa's most popular dishes, with sizzling certainty.
"In Jakarta's gastronomic scene, Xin Hwa stands as an ambassador of a Chinese cuisine," says Le Queau. "The restaurant itself is ground-breaking considering that most see it as going against typical colours and table arrangements you would find in a traditional Chinese restaurant."
Le Queau believes that Lee's strength lies in his ability to embrace authentic cuisine that appreciates health and transmits a personalized cuisine without losing sight of tradition.
"Chef Jeff's cuisine speaks of the authenticity at every bite yet with a modern presentation," says Le Queau. "Lee takes pride in bringing a luxurious but loyal Chinese cuisine with a modern twist to Jakarta. He sources the best local and imported ingredients to reinvent it into full out of the world flavours."
But not everyone is convinced that Xin Hwa deserves a spot atop a list of the city's best Chinese restaurants.
"The new chef's recommendations offer more modern Cantonese cuisine. But the old menu is still available with many Szechuan dishes," says Petty Elliot, the acclaimed Jakarta-based food writer who recently paid a visit to Xin Hwa. "Chef Jeff Lee combines European ingredients, like cheese and goose liver, with classic Chinese ingredients, for example, oven baked tiger prawn with cheese with spicy XO sauce, Wok fried goose liver and cauliflower with Chinese yellow been sauce.
"I also tried the fried rice with salmon and asparagus," says Petty, who agreed that the service was impeccable and the ambiance proved impressive. "The salmon and asparagus are so fresh, it's a pity the whole dish lacked tastes of garlic or ginger and lacked overall flavour."
Petty, the author of "Papaya Flower, Manadonese Cuisine, Provincial Indonesian Food," also sampled the deep-fried beef strips, shredded ginger with honey sauce and roasted sesame seeds, which she said offer a texture akin to pork crackling and tasted great, but one bite was enough.
And in the end, this being Jakarta, it's best to go out and form your own opinion of whether Chef Jeff's audacious spin on established cuisine is innovative or insipid. Either way, remember, whether you choose the chilled drunken chicken topped with "Shao Xing" wine shaved ice or fragrant black sesame fried rice with crabmeat and asparagus sprinkled with fish roe, one thing is for certain—you're not in a mall.