Lizzy Hawkins is Director of Trade and Investment at UK Trade & Investment Indonesia, a part of the British Embassy, which aims to help British businesses succeed in Indonesia. She talks to us about her time here so far, and what makes the Indo-British relationship special.
Lizzy, tell us a little about your background. Where are you originally from?
I grew up in a pretty village called Lilleshall in central England. My mum worked as a nurse and my dad was in the army, based at the local army base. I went to the local high school before studying history at Cambridge University – probably the closest thing to Hogwarts I'll ever experience. All in all, a very happy and fortunate upbringing.
What drew you to a life in the civil service?
After working in trade associations doing government affairs and communications, I decided to stop lobbying and start law-making! I joined the Department for Business Innovation and Skills (BIS) in 2009. It is a fascinating privilege to work in the British Government. It's much less about making laws now: over the past ten years there's been a real shift towards finding more innovative solutions to avoid regulatory burdens on business and individuals. We've been sharing our experience with the Indonesian Government and they're encouragingly interested.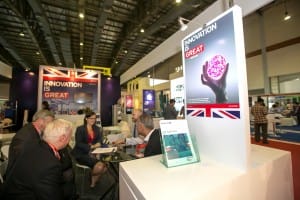 What is your role at UKTI all about? How do you go about getting done what needs to be done?
My team and I exist to help British businesses succeed in Indonesia. There are two sides to that: getting out and meeting people to find out about opportunities for British expertise; and then getting British companies excited about those opportunities, before finally helping them when they decide to take the plunge. We identify potential partners or distributors; sound out their interest in a company; make introductions to key decision-makers, and sometimes help businesses overcome obstacles. Recently we've been working closely with the British Chamber of Commerce, giving British companies a ready-made network of experienced companies and potential partners to learn from.
What are some of the British businesses you work with in Indonesia, and what industries are they chiefly from?
The UK is the fifth-largest international investor in Indonesia and many of the British companies here are well-established names like Prudential, Rolls Royce, HSBC, Standard Chartered, BP and Unilever. Recently we've been pleased to see a lot more British companies waking up to the Indonesian opportunity. Over the past couple of years we've seen different companies from Premier Inn, Linguaphone and Aviva (with their Astra Life JV with Astra) to Triumph Motorbikes set up here.  I would love to see more! We are particularly keen to promote emerging opportunities for UK expertise in infrastructure design, healthcare and telecoms – all areas where the UK has a lot to offer to complement Indonesia's existing capabilities.
What makes the relationship between the UK and Indonesia special?
In a remarkably short time Indonesia has become a democratic, tolerant country with a commitment to improving the lives of its citizens.
Those are values that are central to the UK and the fact that we share them is at the root of our relationship. We work hard to find areas where we can complement each other and learn from each other's experience. The fact that the UK is the home of the Premier League, Mr. Bean and James Bond doesn't hurt either!
What do you think the future holds for British businesses in Indonesia? What challenges do they face?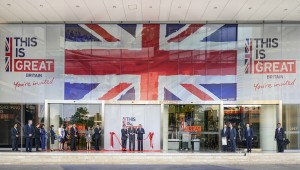 More and more British companies are recognising that Indonesia is the third pillar of Asia alongside China and India. So we'll see more British businesses forming partnerships and succeeding in Indonesia. We're working with the British Chamber of Commerce to get more British companies to consider opportunities outside Jakarta, for example in Bandung and Surabaya, too. I am optimistic that the Indonesian Government's drive to develop infrastructure and reduce bureaucracy will improve the business environment and boost growth even further. The big headaches for British businesses are the same as those faced by all businesses: choked infrastructure; unclear and burdensome regulation, and sadly ongoing issues with graft. That's why the British Embassy is working with partners across the Indonesian Government to help address these issues.
Tell us about a particularly memorable day at work.
It's a tough call! One of the best things about this job is that no two days are the same. I think my most memorable day was the Sunday when Boris Johnson, Mayor of London, visited Jakarta. We were all up early to see him and the Ambassador off to cycle up Jl. Sudirman with the President and Governor Ahok on Car-Free Day, and then I went with Boris' business delegation to meet them for breakfast at the Presidential Palace. The most memorable thing about it was that, for protocol reasons, the entire delegation was dressed in sports attire because that's what the President was wearing – I never expected to visit the Presidential Palace in a t-shirt!
What's your favourite thing about living in Indonesia?
It's a tie between the incredibly friendly people and the stunning places you can visit. I've seen orangutans in rainforests, washed elephants, swum with manta rays, cycled down volcanoes – nowhere else in the region can you see such a range of spectacular places.
What's the most challenging thing you find about your role or about living in Indonesia?
The fact that you never know – when you start something – if it's going to be a breeze or unexpectedly, maddeningly difficult. That unpredictability is also one of the most delightful things about living and working here. Whether it's the traffic, sorting out a licensing issue, or trying to fix the Internet, you can never be quite sure what's going to happen – which means life is never dull.
Thank you Lizzy. To get in touch with the UKTI Jakarta team please email [email protected]