Are you yearning to experience an exhilarating meal accompanied by fresh cocktails to colour your scrambling day in Jakarta?
Indeed, a myriad of restaurants and bars are at your disposal. Rather than going FBI-mode on your socials, here's a shortcut for you: Shu Cuisine and Bar.
Before I go on, I need you to be aware that the food at Shu Cuisine and Bar isn't for the faint-hearted. Gastronomes, or food enthusiasts in general, have to be on their experimental A-game here. But please, don't be discouraged! Jakarta is after all a one-of-a-kind foodie's haven, serving all sorts of authentic international and local cuisines. You wouldn't want to miss out, would you?
Fixed in the heart of Jakarta is the grandeur of the mall Plaza Indonesia. You'll need to head up towards the fourth floor, then search for a Starbucks. Follow the boutiques across, you'll find a corner of red walls. An automatic sliding door transports you into a whole new world; dozens of light bulbs hanging, glistening in the red and dark gold colours adorning the foyer.
Accents of Sichuan heritage divide the space into the favoured tables by the glass windows showcasing Jakarta's epic skyline on the left, while the bar and more dining tables on the right give off an intimate setting. Decide whichever suits your fancy!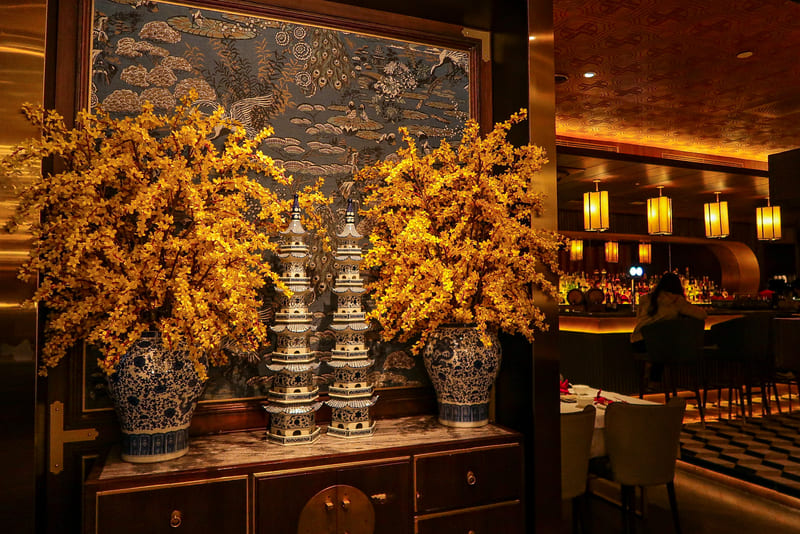 Shu Cuisine and Bar has a casual ambience that encourages visitors to loosen up – or what kids nowadays say "chill". It's idyllic for togetherness whether it be hang-out sessions with friends, dates with lovers, quality family time, or business meetings fitting 45 pax including the bar corner and 55 pax for standing parties.
The decor is highly influenced by modern Chinese traits with pops of black, red, and gold twinkling the space, giving a feel of opulence meets idle as dimmed yellow fluorescent lights set the mood to leave everything behind because you're here to satisfy your taste-buds and soul.
Challenge yourself with some spiciness!
I opted for a table by the window for a late lunch and some drinks. I was ready to relish a modern twist of authentic Sichuan cuisine made with the finest imported ingredients, prepared by the Sichuan native Head Chef. Communal eating is no stranger to Indonesians – it also reflects many Chinese cultural values. Sharing plates allows people to build social bonds in their community. Generous servings on the table provide a chance to prioritise others by serving them before oneself.
Start with the crowd-favourite, a massive serving of grouper with pickled vegetable soup. Its creaminess blends well with the generous amount of fresh grouper fish. Only two beef dishes are on the menu. Get the country-style stir fry beef. The tender, almost melting beef cuts are surprisingly not terrifyingly spicy – as long as you don't bite the chilli. If you're craving well-cooked pork, then order the sliced pork belly with spicy garlic sauce. Each bite is addictive; you'll forget the spiciness.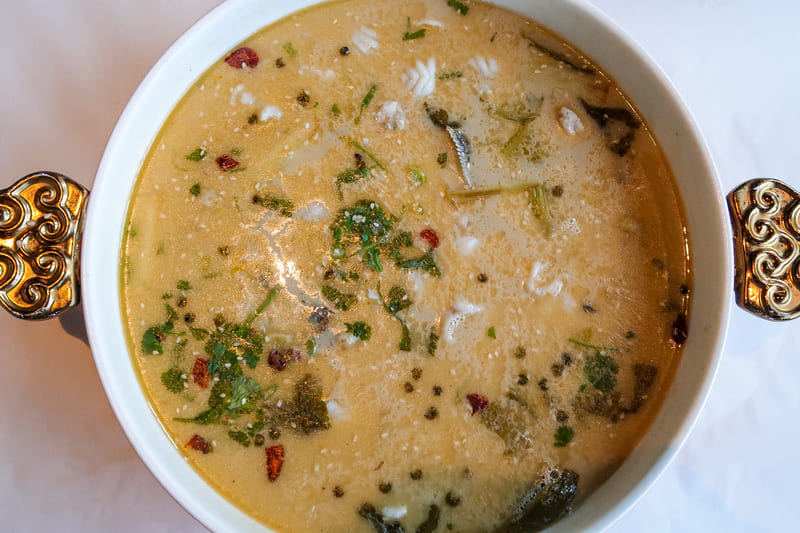 Here comes the experimentation! The Sichuan-style BBQ grouper is a ride. You won't need to worry about it getting cold as it's plated on a dish warmer. So is the Sichuan mala fried chicken chilli sauce. Both dishes are on a relatively higher scale of spiciness for those not used to consuming chilis. I couldn't contain the heat. The endearing Sichuan-style fried cabbage, however, was a worthy complement and balanced those dishes.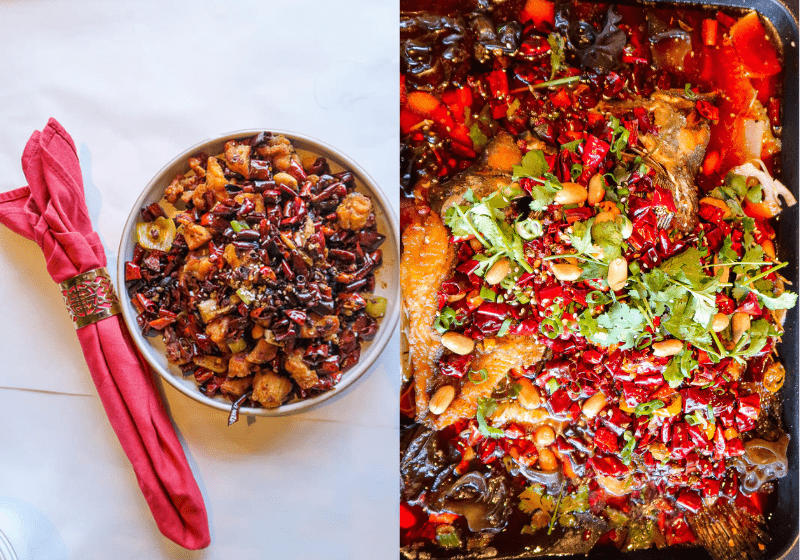 House cocktails pairing breezes those two dishes as well. I ordered a couple of the signature cocktails: Madame Soong Mei-Ling and Crouching Tiger. After each bite of the BBQ grouper, I sipped on the Madame Soong Mei-Ling – unusual dry gin, lemon, black pepper extract, saline, and yuzu honey citron. When that was swiftly finished, I turned over to the Crouching Tiger – activated charcoal, fresh lemon juice, dry gin, melon liqueur, gome, and honey aloe vera tea.
One word: Satisfying! I've only tried two out of the seven signatures but I can sense the well-blended freshness that doesn't take away the dishes' flavours.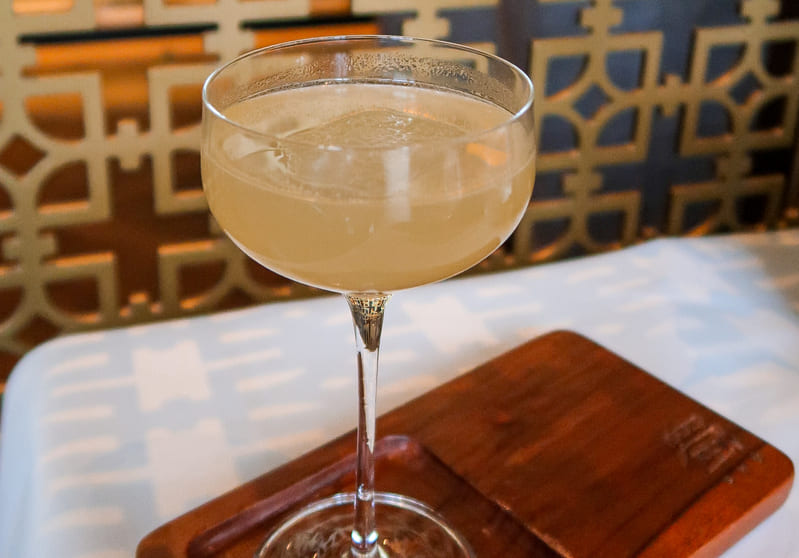 Other delectables on the menu such as the pigeon truffle, roasted duck truffle, and roasted chicken are only served on weekends due to their preparation time. Shu Cuisine and Bar doesn't mess around with quality.
Downtime Drinks
I decided to dwell a little longer here. All types of alcohol are available, including spirits, wine, and beers. You can always try the other signature cocktails, or have a classic cocktail, but Shu Cuisine and Bar has an irresistible offer of "Pay 2 Get 3 Breeman Craft Beer" from 3 to 10pm throughout the week.
I moved over to the bar corner for a more harmonious energy while indulging in both the light and dark variations.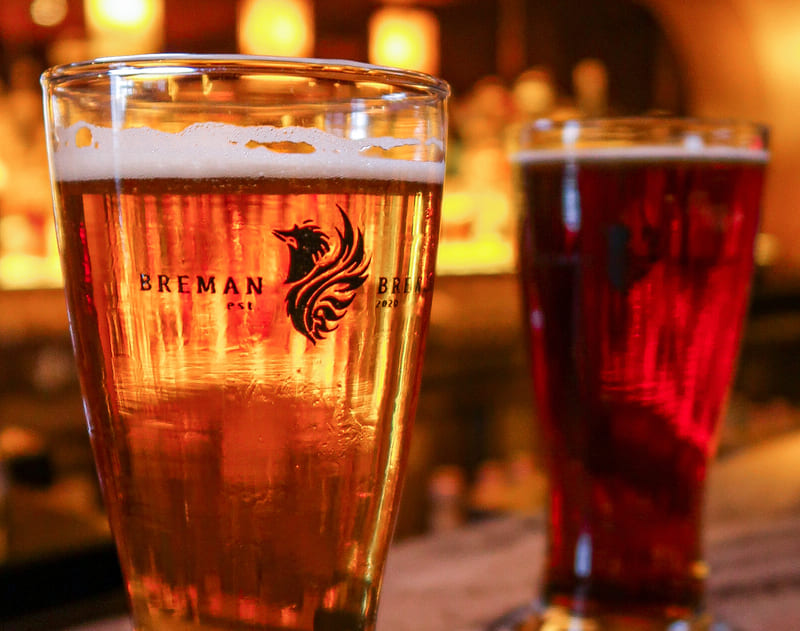 Jakarta's skyscrapers started to dazzle. Conversations soon will subside as you and your party sing along to live music and DJ performances before this one-stop entertainment hub closes at 10pm. Open from 11am, you can absolutely book special occasions lasting through to midnight.
Shu Cuisine and Bar's food starts from Rp78,000 onwards, while the signature cocktails are Rp138,000 and the classic cocktails are Rp148,000. Engaging and intimate downtime is for you to reap here. Will you join me on another gastronomical experiment?
Shu Cuisine and Bar