When I first set foot in Applebee's at Plaza Senayan Mall, I was taken by surprise when I saw the hip décor and modern atmosphere. Gone were the bright and playful family-oriented furnishings from my suburban childhood memories in California.
The Applebee's I knew has completely transformed into a stylish grill and bar over the years. However, it retained the kind of friendliness and scrumptiousness from the early days that provided some reassurance, much like seeing and bear-hugging an old friend from long past.
Americans are quick to recognize the famous red apple branded restaurant in every community and rely on the hearty, lip-smacking bar snacks and comfort food to satisfy appetites for each member of the family. In high school, I recall there wasn't a week that would go by that my friends and I didn't abscond from campus activities to the Applebee's down the road and gorge on boneless chicken wings and fried mozzarella sticks. The Applebee's staff would always give us the booth in the back, where we could hide away from watchful adult eyes as servers brought refills of our favourite drinks. I suppose we never found ourselves in much trouble as we spent our afternoons laughing and eating since there were more debauched activities in which we could have immersed our teenaged selves.
I explained all of this to my husband as we sat at this new restaurant, as he did not understand the cultural significance or share the same references from some of the menu items that made me giggle with delight. He, being a Kiwi, never grew up knowing the wonders of a neighbourhood Applebee's. Perhaps it was also the location at Plaza Senayan in which this particular restaurant is found that brought the flood of memories back; after all, it was tucked discreetly away in a cul de sac on the fifth floor, away from the hustle and bustle of the main mall.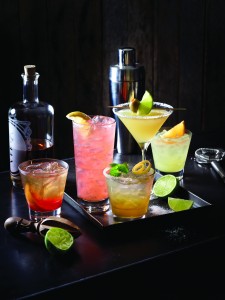 The dedicated bar is fully stocked to provide quality cocktails and beer, with skilled bartenders who are eager to satisfy any beverage request. On this occasion, we ordered the Red Apple Sangria and a Classic Margarita. The fruity sangria came in a bulbous glass almost as large as our heads. This particular concoction could have easily served two people, but my husband happily finished it in due time. The margarita was tart and bright; there is nothing more refreshing than a good margarita on the rocks served in a glass with a heavily salted rim.
Muted television screens displayed sports in certain areas of the dining room, playing to the lunchtime crowd of families and office workers on their midday break. There was a platform with turntables and speakers, which was interesting.
I never knew Applebee's to be so trendy, but there we were, asking about the Friday night DJ and chatting about the music he would be spinning.
The food menu was a little booklet of classic and new Applebee's fare. Those longing for quesadillas, steaks, baby back pork ribs and chicken wings will still be able to order them here in Jakarta. However, there was also a variety of other flavours and dishes to explore. We ordered the Pork Chop with Apple Chutney and Brisket Beef Burger. Everything about the meal was fine-tuned, in only the way that some flavours can bring upon a nostalgic sensory journey. Our thick-cut, bone-in pork chop was grilled on open flames, tender and juicy with a Cajun kick. It's paired well with sweet apple chutney. The brisket burger was as immense as it was delicious. Slices of juicy Australian beef brisket were piled high with red cheddar cheese, jalapenos, tangy BBQ sauce and slaw, topped with a perfectly fried egg. One definitely required wet naps to wipe away the dribbles of sauces, but it was an extremely satisfying burger. That it was also created by William Gozali, the winner of MasterChef Indonesia 3, is a testament to the creativity and ability to attract the young, local market of this new Applebee's concept.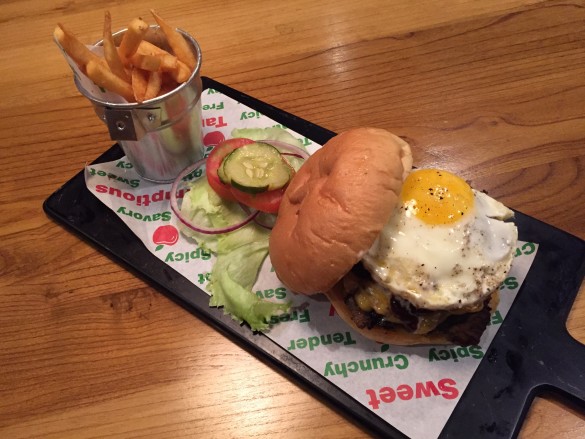 Although Applebee's in Indonesia seems to be a cooler and hipper version of what I remember all those years ago, I am willing to bet that people still go for the friendly faces, the relaxed ambiance and solid meals.Families with young children sat elbow to elbow with young couples on dates. Small groups of office workers chatted away whilst munching on the special lunch combos that were a bargain for a create-your-own-two-course meal and fountain drink. It all made me feel spritely again: young, carefree and happy to be tasting a little bit of Americana, even though I was all the way on the other side of the world, albeit this time a little older and wiser (and not shunning my academic responsibilities).
Applebee's Grill and Bar
Plaza Senayan Mall, Floor 5
Jalan Asia Afrika, Senayan, Jakarta
Telephone: 021 2970 4981 ext. 544
Hours: 11.30am – 11pm