1849 saw the imagination of the populace captured by the California Gold Rush, turning wise men into fools, honest men into bandits and gamblers attracting lawlessness, but inevitably making millionaires of men. It not only played a significant part in the shaping of the United States of America, but provided the backdrop to a quiet revolution by Levi Strauss that was to transcend any fashion trend before or after.
Levi Strauss left Germany along with his mother and sisters to start a new life in America, joining his brothers in New York to work alongside them in the family-run business Strauss Brother & Co. On deciding to open a West Coast branch of the family business, Levi was chosen to head the expansion in San Francisco. He opened the branch as Levi Strauss & Co., selling dry goods, general household and everyday items such as linen, combs, purses and clothing imported from the family's New York store.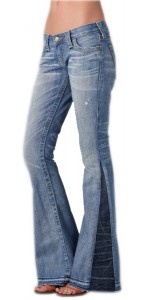 Long after the millionaires, fools, gamblers and bandits had either dispersed or halted, counting their money as they revelled in their success, Levi Strauss would eclipse any fortune a nugget of gold could ever imagine.
Legend has it that Jacob Davis, a tailor who purchased cloth from Mr. Strauss, hit upon the idea of using rivets to strengthen the stress points where tears could occur in trousers, making them more durable. Davis approached Strauss to becomes partners and acquire a patent for his idea, obtained in May 1870.
In 1890, the iconic Levi 501 (so named because of copper rivets in the design) was born, having started its life as a workman's overall. 501s have become the most successful branded item of clothing to date. Levi jeans served as work-wear before and during WWI, and in 1960s America became the choice of cool teenagers.
The smouldering James Dean was never seen without his 501s. The Fonz in Happy Days wore his rolled up avec white t-shirt and leather jacket. Marlon Brando in the 1953 film The Wild Ones made denim cool with middle-class American teenagers who wanted to be like him. And so the jean as we know it began to take over our lives.
Today the market is saturated but we still can't get enough! It is now acceptable to wear jeans and a nice top to a fairly swanky eatery, bar or soiree. With a cornucopia of superiorly clever denim you will always look glam rock.
I have to confess I am a jean junkie and own about thirty pairs in different sizes depending on cut, style, Lycra content and any adipose tissue I happen to be carrying on my thighs, hips and stomach!
When you are buying jeans, check the label to see if the Lycra or roica is 2% or more, then slip two sizes down! Yes, you can! If you are a 29, try the 27. The sales assistant may give you that look that says you will burst at the seams, but take no ruddy nonsense from them. Just try and buy. They will fit better and will mould to your shape. If you have a muffin top, spanx it and swing top it!
Pear-shaped gals, go for a mid-rise to elongate your legs. Long, tall Sallies, go for a high-rise and straight leg and stick on some killer heels, tower above and give them something to talk about. Apple-shaped beauties, you carry your weight around your middle, so get your gorgeous self into a pair of straight legs or stiletto jeans as they showcase your best assets – les legs!
Curvy babes, get your mouse and click on Levi's Curve ID section and be flattered. Those of you with generous honey dew melons and hour glass figures, slip into some flares or wide legs—likewise you cute petite things—and accessorise with heavy duty, clumpy, not-taking-any-prisoners wedges!My advice to you ladies is to own denim pour l'homme. In my opinion they look sexy and make you look nonchalantly cool. Don't get me wrong, you can do femme denim, just be selective! Ease on down Jean Street to G-Star jeans and head to the men's section. Their tapered range is simply fabulous and hard-wearing. Wear them low on your hips with either a white shirt or racer back tee, a humongous buckle belt and some killer boots or a silk blouse with billowing sleeves, slicked back hair, skip-sized earrings and behemoth ring and look stupendous! G-Star's A-Crotch jean is a bow-legged monster marvel, based on style worn by cowboys. This is flattering and gives you a slimmer silhouette. Did I mention G-Star's Lynn Zip Slim catsuit? Yeah, buy that in the ladieswear section online!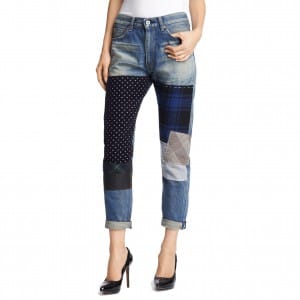 Rag and Bone do sexy-urban-sharp. Their skinnies are on the right side of skinny and do not make your legs resemble juicy fat sausages, and their distressed jeans have the right amount of tears and fray. Buy into being a Rag and Bone girl, they have everything you need to be urban chic extraordinaire. Find them online.
Junya Watanabe's vibrant, splashy, vivid picturesque jeans are Mad-Hatter-crazy yet stylish. His signature patchwork denim are eclectically electric and will just about compliment anything! Wear the tartan patchwork jeans with a clashing waistcoat, layered necklaces and cuffs, setting it all off with any shoe by Isabel Marant or Mr. Louboutin's Pigalle Follies Suede. Available at Papilion Duo at Pacific Place, Jakarta.
Frame, theirs is a soft denim with stretch that moulds to your skin and are super comfortable. Invest in their Le Skinny de Jeanne distressed mid-rise in both black and white. Find them online.
My favourite pair of flares has to be True Religion's Carrie Love and Haight flare jeans. They will be your best friend and not punish you when you reach for the pies and cocktails. Available at Galleries Lafayette and Club Culture, Jakarta.
If you have the cash to splash, Ashish's sequined, distressed, low-rise boyfriend jeans are simply a paragon of sartorial excellence – to die for! Find them online.
Denim has come a long way since starting life as work-wear. Mr. Strauss could never have imagined the legacy he would leave behind. 10 November, 2014 saw the first ever Global Denim Awards hosted in Amsterdam, bringing together designers and denim manufacturers, showcasing innovation, anticipation, ambition and desire. Denim is a timeless style staple, as well as a fashion chameleon that will be in our wardrobes for many more years to come.