With the urgency and joie de vivre of a couple in their first throws of passion, fashion's love affair with the 70s and bright colours continues. 
Monochrome is probably the easiest and flattering of all style trends to adopt.
It will make you look effortless and chic. We all have something black or white in our wardrobes – all you need is an update of sorts. Get ready to swathe yourself in lush velvet. I am rather fancying having an outrageous huge lapel 70s style suit made in hot Mexican pink velvet!
Get over to Iroo, who have made great strides in offering some key pieces that will see you through the season at very affordable prices. You will look as though you are dressed in upscale designer clobber; just accessorise cleverly.
Iroo has an impossibly chic and tantalising tuxedo-inspired monochrome shirt. If the Rat Pack had an honorary female member, this would be the shirt of sartorial choice. It is sexy yet masculine with a collar that mutates into a scarf; leave a button or two undone, showing off a sexy bra while throwing the scarf around your neck. Tie the scarf in a pussy bow or let it hang in an urbane manner. Use it as a jacket or team it with a pair of luxe tracksuit bottoms, platform trainers, monochrome shoes or flat gladiators and that all-important celebrity favourite – a fedora! "I know I look cool" is what you will be conveying.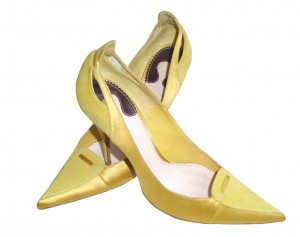 If you suffer from chromatophobia or worse, xanthophobia, then get a hypnotherapist now! The colour yellow is currently big news!
Although is not everyone's cup of tea, yellow can be worked into your wardrobe by way of accessories. There is a smorgasbord of shades to bask in from Mikado yellow, chartreuse, citrine, jonquil to sunflower yellow – there is a hue for you!
Fly down to Pacific Place and hit the ground running in pursuit of something yellow! Galeries Lafayette houses a shedload of labels and there you will find the most gorgeous of yellow ensembles on offer. One from the French brand Sandro is a sexy and versatile dress. It has the obligatory cut-out bits to show some flesh and takes it one step further with two side slits. It can work for a wedding, tea, cocktails or a raucous night out!
If showing your leg does not appeal, then show your fashion mettle; look no further than the luxe sports/trouser suit combo by Zadig and Voltaire. It ticks all the right boxes. It comes in an eye-watering, screaming happy yellow! This getup is nonchalantly flattering and chic. Dressed up or down, you will still turn heads. Be brave and splice it up with a fuchsia pink or lime green top. Right in the middle of that entire colour mosh pit, cause an explosion and throw on a pair of Vagachina mules by Christian Louboutin, Coline metallic snake effect gold mules by Giuseppe Zanotti or anything by the zany cordwainer Sophia Webster.
Alternatively, add a huge yellow artificial flower to your shoes of choice to make it au courant. I own a vintage pair of yellow Chloe courts and monochrome Alexander McQueen heels, bought many fashion moons ago, knowing they would come in handy at some point! I call these purchases my PFBs (Present Future Buys). I will be dusting off these two oldies, resuscitating them and giving my platforms a brief but well-deserved rest!
Later on in the year the trends hustle back a decade to the 60s. So you can still rock the monochrome/stripe look. Get your black jacket and change the buttons to cool white and voila, you will be Autumn/Winter 2015 right on trend.
The gold rush is looming, so be ahead of the curve and add an element of gold into your wardrobe as this is still a relative 70s disco theme and will take you way into the festive season when the bells chime into 2016! Saint Laurent 2015 did it the best so take your cue.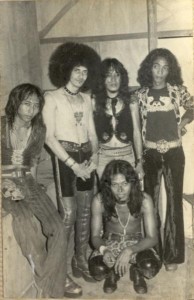 Suits are big next season, so find a tailor and get yourself suited up. Wear the trousers now with your platforms and a monochrome shirt or a yellow top. If you want to be a little outré, get a two-tone pin stripe suit made. Try these combos: dark stripe in the front, light stripe at the back, dark grey/light grey together, or jet black/charcoal. You will look mighty fine. For real sophistication, mix it with an Iroo style blouse and add a fedora to give you an air of Michael Jackson's 'Smooth Criminal'. Check out Ralph Lauren tailoring for Autumn/Winter 2015 and be inspired.
Arty and vintage prints are in with a 60s vibe for later in the year. Get an A-line skirt made with a vivacious batik print, patchworked with modern prints, and hit the road with your platforms and your suit jacket. No rules here! Work your flares with your suit jacket too and add a velvet scarf tied round your crown, giving you a constructed boho look as you dip your toe into the velvet trend.
Remember I mentioned animal prints a while back? Well get ready to roar, as leopard will be huge in the latter part of the year. Immerse yourself in a fever of jungle hysteria, unleash those prints now and smash it up with your Mikado yellow. Watch the hoi polloi admire you.
Do not forget that kimono, another trend which is rather timeless. You can throw it over all your clobber and look cool. Wear it as shirtdress and cinch it in at the waist. Use oodles of velvet to make your very own obi and make for a modern sexy geisha. Vamp this outfit with platform boots, chunky trainers, impossible wedges or pencil-thin stilettoes. Dress your noggin with a trilby. Alternatively, grab a beret and splash it with tulle, making shapes while attaching broaches to give it some suave and sparkle.
Deep in the 70s funk heyday, we had our very own cool-looking Jakarta rock band, God Bless. They were rocking the style like no other, with one member sporting an uber dawg on fro! Make them your reference on how to do style.
Well, I suppose you had better get a move on then. Fashion waits for no one!