In a bygone era, the colonisation of Africa and Asia brought bountiful riches of unimaginable grandeur and beauty to Europeans. Kings were indeed sovereigns who lived to the full, ruling vast empires and the lives of their privileged subjects. The days of Empire epitomised the sheer unashamed flaunting of opulence, decadence and wealth. Films like Out of Africa and White Mischief captured the times when trophy hunting was de riguer for the upper class and royals alike. The carcasses of exotic creatures such as lions, zebras, leopards, tigers and crocodiles would be brought back, stuffed and placed proudly for all to see.
It is the beautiful patterns of these skins that lent themselves to decorative furnishings and then, eventually, to prints on materials that we have grown to love today. We simply can't get enough! It is crass-cool and so over-the-top—here to stay—transcending all trends.
There is something decidedly sexy, sophisticated and downright trashy-yet-respectable, about animal print ensembles. From leopard to snakeskin, we want it on our bags, shoes, belts, dresses and shirts! I have to confess, although these prints are synonymous with vulgar inelegant individuals, I simply love them. They add a certain something to your outfit, I think.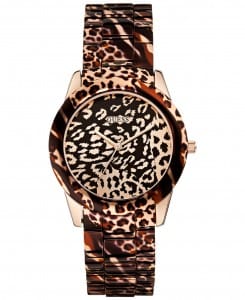 I own a heavily discounted Marc Jacobs strapless snakeskin print dress, courtesy of Net-a-Porter – their sales are a shopping addict's dream! The dress fits perfectly and can be worn to a raunchy, debauched party or a respectable wedding in the Hamptons! See how clever animal print is? Being rather brilliantly imaginative and canny, I hit upon the idea of turning this dress into two! I went out and bought a few metres of clashing animal-print chiffon and asked my lovely seamstress to add a delectable detachable train. As you can imagine, it evolved into a delightful alchemy of sexy jungle prints. It rocks.
The king of trashy-respectable is Roberto Cavalli; he of super-octane sexuality with dresses slashed here, there and everywhere, exposing flesh in a sensuously provocative way. His collections are a smorgasbord of opulent polychromatic prints in bejewelled chiffon with every range bearing an animal print somewhere, even if in abstract. Ladies-who-lunch, rock chicks, the bourgeoisie and even mere mortals love his use of animal print. Others plagiarise the look. In St. Tropez, where yachts are laden with lithe, beautifully-proportioned bodies, free-flowing vintage champagne and all the decadence money can buy, you will see a skin print and 90 percent of the time it is Mr Cavalli's – well, on his yacht anyway!
You can use scale prints to roughen, toughen and add edge to your outfit. A simple pair of black ankle-revealing trousers and a crisp white shirt teamed with growling snakeskin heels, a lick of red lipstick, slicked-back hair and you are done. The skin just takes the look to a whole new level.
I own a multitude of skins in the form of watches, shoes, dresses, scarves, jackets and bags! My favourite is a hideously beautiful pair of scary skyscraper Louboutin heels. They make me feel Amazonian and all I have to do is team them with a simple dress and I am kick-ass! I have a beautiful kaftan with a snakeskin hue of blue and pink and it always draws compliments.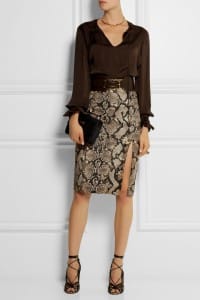 Prints can be worn in a complementing way. A leopard print shin-length trouser, black shirt tied at the waist, killer heels and a red silk scarf as a belt is all that you will need. Dive into your prints with abandon; you can street it, power dress it, casual it – any which way you please.
Go bold, trust me you really can do head-to-toe print – mix pony with python, clash leopard with cow. Dare to be different – prints never go out of fashion and each season all it needs is a little updating! Team a pair of vivid red or black trousers with an animal print shirt and funky print trainers – check out Elena Lachi's Carioca trainer shoe. Cool personified.
If you are of the curvy variety, then hunt for a pencil skirt in python skin and wiggle à la Marilyn Monroe – the boys will watch you go by and drool. If you are brave then Diane von Fürstenberg (DVF) has a gorgeous and flattering snakeskin catsuit, and smashingly sexy it is. Hurry though as I recall there were only a couple left and it may be that you will have to trawl the net to find one.
If you are no wallflower and possess a wickedly mischievous side, then a whole trouser suit in python, leopard or tiger print could put you head and shoulders above the pack!
If the idea of prints makes you want to run screaming from the safari, then try small items like a watch – Glamrock do belts, scarves and bags that will keep you looking wild!
If you want to look hot-to-trot and dazzle the fashion troop then take a leap, scale those heights and ambush the animal-print party – looking like a seductive, venomous vixen.
Get timeless glam and seriously feral-cool.