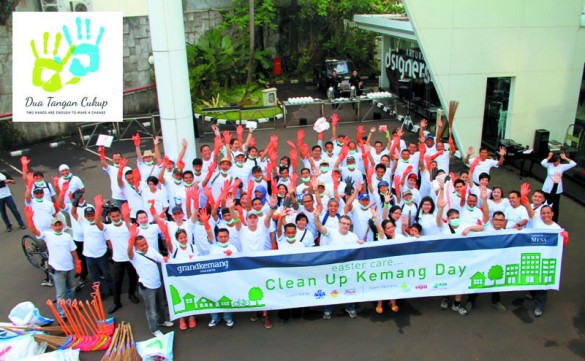 On April 19th, Grandkemang Hotel (part of Mesa Hotels and Resorts) and Clean Up Jakarta Day joined forces to clean up Jl. Kemang Raya in Kemang, South Jakarta. 140 volunteers showed up to start picking up rubbish from 7-9am along the main roads from Grandkemang Hotel to Jl. Taman Kemang, up to McDonalds and back. Volunteers included staff of Pop Hotel Kemang, Arion Swiss-Belhotel Kemang, Fave Hotel Kemang and Starbucks, as well as Clean Up Jakarta Day enthusiasts and the staff of Grandkemang Hotel. 120 sacks of rubbish were collected in the space of two hours.
The aim of Clean Up Kemang Day was to raise awareness about the problem of littering in one of Jakarta's trendy areas, which surprisingly still has a lot of litter on its sidewalks, as well as educate volunteers about recycling. Volunteers separated waste as they collected, into recyclable and non-recyclable sacks. The recyclable items were collected and taken to Jakarta Green Project for further sorting and selling to recycling factories, profits of which will go towards supporting the Jakarta Green Project, and the non-recyclable waste was collected and disposed of correctly.
"We always clean everything in the hotel, so why don't we start doing something to clean up our community?" says Tamie Sri Utami, Director of Marketing at Mesa Hotels and Resorts. "Picking up rubbish made us feel like we have to be more responsible over what we throw away. We were so surprised to have volunteers from as far away as Cikarang, Ciputat and Depok who came all the way to Kemang at 6.30am to clean up with us."
What's your Dua Tangan Cukup action? Send them to [email protected] and we'll share them here to inspire others!