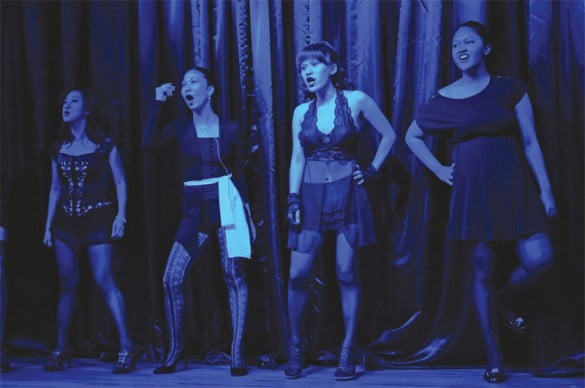 Musical fans of Jakarta had all the reasons to be thrilled last weekend as Jakarta Players theatre troupe beautifully and cleverly brought Broadway to Java. The eclectic cast of Indonesians and Expats alike gave a brilliant performance. I laughed, I clapped, I sang along. Chapeau!
Broadway Ke Java, a Musical Revue, is the creation of four Jakarta Players Directors; Ariana and John Thurow, Keith Allerton and Rose Fredson, with the original concept and script of Ariana, along with a cast of 25 talented actors, dancers and singers. This is the first Musical Revue of Jakarta Players' history and certainly not the last one.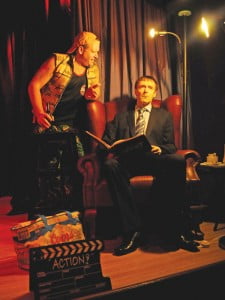 The play began with two passionate, yet very different theatre connoisseurs. A prim and proper London critic who attempts to educate his audience about the classical, artistic beauty of musical theatre and a down-home red-neck American wearing construction boots and drinking Coors Light, who thinks Broadway is a little more gritty. The comical duo heatedly argue their respective sides using beloved Broadway songs to prove their point along the way.
The review consists of sixteen Broadway songs from as many musicals. Some very popular ones such as Summer Nights from Grease and Time of My Life from Dirty Dancing, as well as other lesser known such as Big Ass Rock from Full Monty and I Still Believe from Miss Saigon. The choice of songs was very well balanced going from sad to happy, from dark to cheery and from controversial to fleur bleue.
The rhythm was perfect, each song being introduced by an entertaining dialogue between the attaching duo of narrators. Among others, songs interpreted were: Master of the House from Les Misérables, Life's a Happy Song from The Muppets, Seasons of Love from Rent, Elaborate Lives from Aida and Moving Too Fast from Last 5 Years. I particularly loved the interpretation of the Cell Block Tango from Chicago with an Indonesian twist and the over-the-top and hilarious interpretation of If You Were Gay from Avenue Q.
There was serious talent on stage, as actors were taking turns as lead singers in different sets and songs. Among many coup de coeur, I was touched by the beautiful interpretation of the Miss Saigon Vietnamese young women. But on top of all this talent, the most remarkable thing about this play is how much fun these actors have on stage. It makes you want to join them.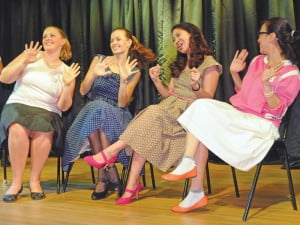 Even though Jakarta Players is a non-profit troupe, the mise-en-scene had nothing to envy to bigger budget productions. Costumes and make-up were great. Decor was minimalist but sufficient with this overwhelming talent on stage, the black curtain was the perfect backdrop to put all the attention on the cast. The lighting was also very well done and beautifully changed the ambiance of every song.
For those who did not get the chance to see this show, Jakarta Players normally stages three to five shows per year and the next one, Joseph and the Amazing Technicolor, is planned to hit the planks in February. Jakarta Players open their doors to new talents. The audition will be held at Fez Bar on December 1st.
The Jakarta Players is a non-profit multinational community theatre group that provides English language entertainment for Jakarta's theatre-loving community. All profits go to Habitat for Humanity.
Website: http://jakartaplayers.weebly.com