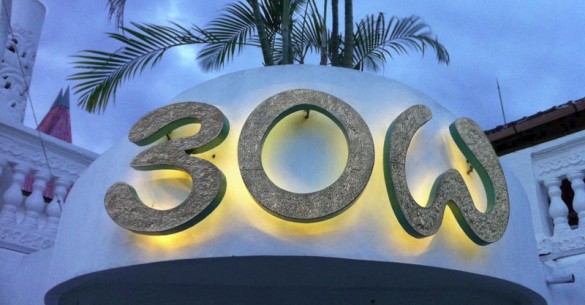 Every time I pass Jalan Batubelig I am drawn to a place called Bow. This two-story building with garden wall has no way of telling what kind of place it is; all I can see is their sign (written as 3OW) – a big smiling emoticon on its glass door. But as I enter the smiling door, the tempting aroma of foods from its open kitchen invites you to go further in…
Young smiley staff greet you by bowing, and I am surprised to see radiant green paddy fields from its windows — a little secret that is well kept behind this restaurant. Decorated with a Mediterranean touch, big Arabian lamps, chalk boards, mosaic tiles on the walls, and warm lighting, I feel like I am in someone's dining room in the Middle East.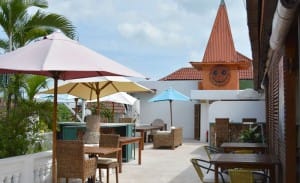 The first floor is air-conditioned, furnished with rattan chairs and comfy couches. It is also completed with a fake chimney to make you feel cosy and warm, despite the fact that it's boiling outside. Upstairs, the restaurant's ambiance is completely different. It has a real Bali atmosphere where guests can enjoy a balcony overlooking the rice fields with volcanoes visible as a backdrop when the sky is clear.
During the day, this space is perfect for a nap after lunch, especially when the breeze blows slowly. The owner told me that many of his guests feel this restaurant is like home; many have fallen asleep on the couches because it's so comfortable.
The idea behind Bow is to give something to accommodate everyone — air-conditioned spaces, outdoor areas, big screen TVs displaying cartoons and toys for children. And this doesn't end at their settings as the menu provides choices of foods that also reflect this flexibility and creativity.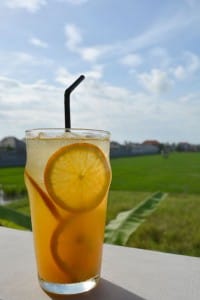 Open for 12 hours, from 11am to 11pm, Bow caters for all day dining from brunch to dinner. The menu is inspired by the owner's travel tales and experiences of living abroad, with foods from several countries that bend the ordinary dining concept of serving foods based on a certain cuisine. From Brazil's Fejioada to Haiti's Grillot Pork and the Mediterranean's Mezze, you could travel the world at Bow in one day. Bow is also a haven for brunch hunters. When many restaurants in Bali only provide brunch on the weekends, at Bow every day is Sunday.
Fresh fruits or vegetable salads, choices of eggs from Mexico's Huevos Rancheros to Eggs Benedict, everything comes fresh and in a generous portion. They also serve fresh homemade breads and bagels served with selections of salmon salsa and asparagus or roasted veggies, and pita breads.
For vegetarians or those who prefer healthy-eating, a choice like grilled eggplants mixed with vegetables and topped with melted cheese in coconut soup and spinach, is very tempting. Rich in creamy flavours and vitamins, not only did this dish please my taste buds, it also made me feel good. For carnivores, the Hungarian's pride Goulash made from Australian prime beef in thick stew can be a good choice for dinner, especially if you pair it with a glass of Pinot Noir that would only set you back Rp.75,000 a glass.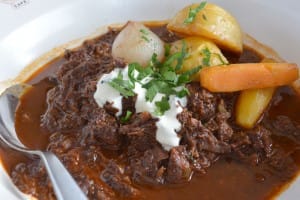 Seafood lovers will be pleased with calamari stuffed with oats and rice in rich tomato sauce. And its perfect match is Bow Mary, Bow's version of the bloody mary made from tomato and celery juice, garnished with peppers, prawn and cherry tomato on a stick, priced at Rp.75,000 only.
The best thing about Bow is the price — everything costs less than Rp.100,000. Some foods also have two options of prices where customers can opt for a smaller portion with a cheaper price, so no food will be left behind. They also have promo menu available with special prices.
With such affordable pricing, it's quite surprising that Bow can serve food of such a high standard. I asked the owner about this, and he answered that he only takes a small profit and wants to make this restaurant accessible for all types of customers, from teenagers to families, from staff to ambassadors. Everything is fresh and the ingredients are wellsourced. It's a place to relax and meet friends over good food, and to celebrate the fact that every day is Sunday in Bali.