When one thinks of Melbourne, it's the small lanes tucked away off the main streets that creates the charm of the city. Small coffee shops, eclectic boutiques, tattoo parlours and hole-in-the wall bars add a refreshing 'edge' away from the hustle of the big, brash malls and stores that populate this urban sprawl. It was therefore refreshing to find a little bit of Melbourne's laneway culture tucked away in the heart of fast-growing Seminyak.
Seminyak today is a far cry from the place it was just a few years ago, with the main streets now populated by many of the big western brands that line thoroughfares crowded with pedestrians and the traffic oozes like thick molasses along the clogged arteries.
Gang 14 is perhaps not the sexiest name for a small street off Jl. Raya Seminyak, however one has to take but a few steps into this little street to be away from the noise, the crowded pavements and those intrusive big box stores. It is a virtual oasis of calm.
Take a charming, rather run area, add a benevolent landlord, ten or twelve small traders from all walks of life, sprinkle in a dash of creative spirit and voila! A funky new area is born. You won't find the big brands lining this charming little street, rather it's an Aladdin's cave of homeware stores, restaurants, coffee shops and a tiny bar that goes by the name of Jealous Lovers.
A second St. Lukas outlet also live here, building on the success of their flagship store in Batubulan and it was this shop's owners who encouraged me to come down and meet their fellow traders.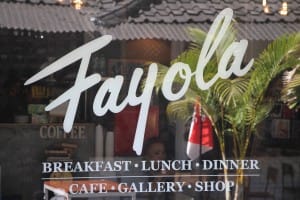 The street itself is made up of two story buildings lining each side of the laneway and the traders have worked together to make the 'common' areas a pleasant retreat from the noise and traffic of Raya Seminyak. What I like about Gang 14 is that the traders themselves are a virtual league of nations all having landed in this tiny spot on the island, bringing with them a vibrant and charming slice of life.
Walking from store to store I am welcomed with open arms and offers of food and drink from those running the small warungs and coffee shops. Their enthusiasm is boundless and one can see that these people are determined to make it in the cutthroat hurly burly world that Seminyak has become.
I start my mini tour by stepping into Warung Jogi, run by an ex pro surfer Andre, who hails from Jogjakarta and is of Dutch and Javanese decent. An unfortunate viral complaint, that cost him an eye, ended his surfing career and so he and his wife decided to take the plunge and offer up traditional Javanese cuisine in this little laneway and, so far so good. I come away from their restaurant with a 'do it yourself' packet of Wegang Uwuh, a health drink made up of leaves from the trees that shelter the graves of the kings of Jogjakarta. It bodes well for the rest of my tour!
Across the lane, the effervescent Presi ushers me into her all-day dining emporium that carries the Brazilian name Fayola, meaning lucky. Her parents hailed from Ambon and Manado and she washed gently ashore on Bali eight years ago and promptly married and Englishman! This is an all-family business with mum in attendance when she is in town.
Next door is the tiny speakeasy with the rather catchy name, Jealous Lovers (named I think after Jealous Lover, a famous racehorse from Victoria), run by Mace and his long time partner Catherine. Leaving behind the rule driven environment of Melbourne three years ago, they have set up camp at the end of the lane and a more charming watering hole would be hard to find.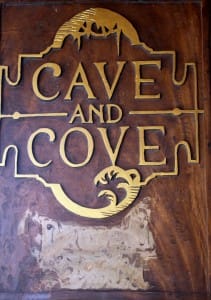 It is tiny; put about 10 patrons inside and the place would be considered packed! Mace has probably one of the more laid back people I have had the pleasure to meet and this flows through to the ambience of the place. And, if after a few whiskeys from the well-stocked bar, you decide to get a tattoo, take the stairs to the second floor where a minute tattoo parlour will ink you up.
Cave and Cove is another tiny homeware store that designs and manufactures their own jewellery, rugs and a host of other items, run by a Canadian, Cole and his wife Sabrina. The two met in Jakarta four years ago and drifted south to Bali and started a family and this charming little business. Cole hails from deep in the mountains of Canada where the winter temperatures drop to a chilly minus 60 degrees Celsius, so one really can't see them heading north anytime soon.
I wind up back at Saint Lukas and a final chat with owners Leo and Liz, whose small store always seems to be filled with laughter and creativity. They design their own brands and are constantly reviewing, changing and discussing new designs for t-shirts, caps and the like.
Their infectious spirit embodies just what this 'secret' little lane is all about and having spent just one afternoon there, one can feel that this group of 'gypsies' who have set up camp in Gang 14 will add some much needed charm to the ever expanding Seminyak.
If you are out and about in this part of the world, don't miss it, as if you never go, you'll never know.
Gang 14, Jl. Raya Seminyak, Bali