There will be 25 filmmakers flying to Bali on 10th May for the largest and most culturally diverse gathering of indigenous filmmakers in history. The 3-day event will attract over 900 people to the 2 venues – Njana Tilem Museum and Paradiso Theatre in Ubud. This will be a powerful, inspirational, and collaborative event where local Indonesian filmmakers will meet award-winning international film industry leaders who have dedicated their careers to supporting, protecting, and empowering indigenous culture through film.
Indigenous Taiwanese filmmakers will meet film industry leaders from the tribal lands of Quebec, Canada, and 13 other countries. You, the audience will have the opportunity to meet all 25 directors at the festival's Grand Opening Night on 10th May, a fitting prelude to a wonderful weekend-long film marathon.
Over three days, 40 films will be screened from Ecuador, Panama, India, Nagaland, Australia, Canada, USA, Taiwan, Papua New Guinea, Malaysia, and from regions of Indonesia including Kalimantan, Sumba, Papua, Malukus, Bali, and Lombok.  These documentary and feature films include a focus on indigenous wisdom, connection with nature, alternative solutions, land rights, success stories, forest preservation, and use of technology to support indigenous interests.
"The Bali International Indigenous Film Festival seeks to educate and empower indigenous cultures across the globe through film."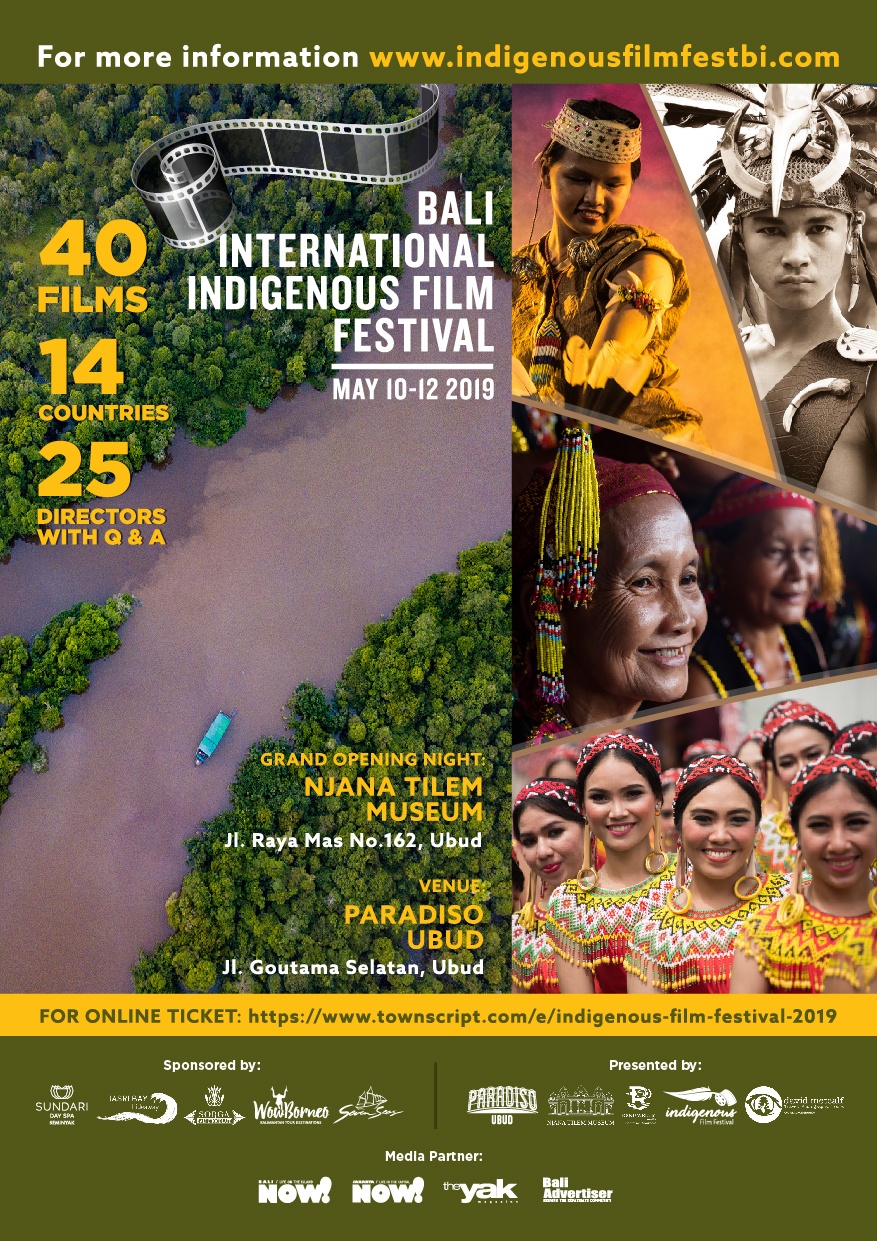 The Grand Opening Night on 10th May, in Mas, Ubud will be held in the spacious grounds of the beautiful Njana Tilem Museum.
There will be a meet and mingle opportunity from 5 pm, so grab a wine and dinner, and meet the 25 directors.  A traditional welcoming ceremony will open the event, followed by a traditional dance.
The main feature film will be presented by the film director followed by a Q & A session. This will be followed by two short documentaries, also with Q &A sessions. Get ready for an incredible night!
Over three days, a total of 20 Indonesian films and 20 foreign films will screen with 25 individual Q &A sessions, allowing for revealing and inspiring discussion directly with the filmmakers.
WHEN:
10th May           Opening night Njana Tilem Museum, Mas, Ubud at 5 pm -11 pm
11-12th May     Paradiso Theatre – Ubud at 10 am – 11 pm
WEBSITE: www.indigenousfilmfestbi.com
TICKETS : www.townscript.com/e/indigenous-film-festival-2019
Facebook: www.facebook.com/BaliIndigenousFilmFestival/
Instagram: www.instagram.com/indigenous.international