When you see a Kain Ikat you may think to yourself, "Hmm, that's pretty. Maybe I'll buy that for Mum." If you stop and take a close look at one of these works of art, you'll notice how extremely intricate they are, and if you take a time out to chat with Sharon Lumantobing, founder of the Artisan's Table, you'll realise how much work and effort and years of learning went into making that one traditionally woven material and how some of these traditions are dying off, at a faster rate than we'd care to know.
The Artisan's Table was started three years ago when Sharon went searching for local artisans, craftsmen and women to give them the opportunity to earn an extra income in the hopes of saving traditional methods of crafts-making which includes using natural dyes. Chemical dyes are readily available and much easier to use, wiping out traditional methods of using leaves, bark and even certain fruits to create colours. When Sharon finds artisans still using these traditional methods, she gives them a market by selling their unique items in Jakarta every two or three months for a period of two days at her open house.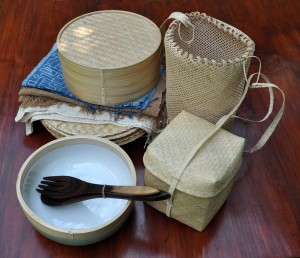 Currently, she is working with 40 artisans, all over the age of 40 and living in poverty, some in hard to reach regions of Indonesia. Each artisan brings individual and unique hand-made crafts to the table. "All the products are functional with everyday uses," Sharon tells me. Items include tablecloths, selendang (shawls which can also double up as table runners), napkins, ceramics, sunhats, baskets, batik, ikat, and lurik. The point is to be able to use all these things in your everyday life.
Batik is a cloth that traditionally uses a manual wax-resist dyeing technique, originating in Java. Lurik is derived from a classical Javanese word lorek, meaning stripes, or pattern. Although the weaving of Lurik is technically very simple, the colour combinations and the careful arrangement of the stripes and squares produces enchanting motifs. The defining characteristic of Ikat is the dyeing of patterns, by means of bindings, into the threads before cloth construction, the weaving of the fabric takes place. With all of these clothes, no two pieces are the same and are all great as gifts.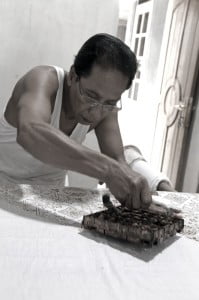 Sharon tells me of an interesting story of one of her artisans from Bali who, after the Bali bombing of 2002, went back to his village to try and revive its economy by making naturally dyed batik. He didn't follow traditional batik designs of Java and began designing whatever he wanted. The results are beautiful and unique creations, bringing out imagery of Dutch colonial tiles, floral patterns and other uninhibited creative ideas.
"Artisans are lovely, passionate people. What they do is self-expression as well as an art form." Sharon loves being surrounded by all the beauty and if it means she supports these people, she's happy. UNESCO designated Indonesian batik as a Masterpiece of Oral and Intangible Heritage of Humanity in 2009 and insisted that Indonesia preserve this heritage. Sharon has had a great effect in preserving this cultural heritage and her efforts should be applauded. Come along to her next open house and support the local artisans of this country. You'll also get great gifts each with a story to tell!
Open House dates coming up: April 13th and 14th 9 am – 2 pm
Visit the website for more info: http://theartisanstableshop.com