Our expert epicure continues an undercover operation to bring you the truth about Jakarta's dining scene. No spoon is left unturned in the quest for honest, balanced reviews, from long-established favourites to the hottest new tables in town.
This month, north-Asian naughty, Akira Back.
Sitting pretty in southern Setiabudi is an eye-catching building, MD Place, owned by the illustrious MD Corp of soap-opera fame. It's not particularly high-rise, but is a pleasant purple colour, and has the faint whiff, courtesy of its tessellated window structures, of being inside Spiderman's armpit. In this slightly surreal setting is a slightly surreal, semi-celebrity-chef restaurant, Akira Back.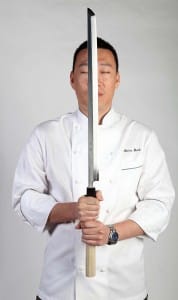 Chef Back is Korean but grew up partly in Colorado, with an affinity to Japan. One professional snowboarding career later, Back found himself studying culinary arts, competing on Iron Chef and doing sushi stints at Nobu (see what I mean about surreal?). His Las Vegas location, Yellowtail, opened in 2008 and is highly praised. Similarly, since opening in 2014, the Jakarta operation has enjoyed plenty of success. I can partly see why. Firstly – and this is worth mentioning up front – the service is actually good: friendly, knowledgeable, proactive and not too in-your-face.
There is great variety on the menu, which depends on fresh seafood and top-quality meats. You can choose from larger sharing portions, sushi and sashimi platters, and main courses too. Edamame (Rp.45,000) are a good, simple start while you peruse the list and sip a sake or Sapporo (Rp.100,000) – I'm always pleased to find the dry, refreshing Japanese beer on offer.
When faced with a mammoth menu, a good place to start is to try whatever it is the chef seems to be famous for. In Back's case, it's a Japanese backbone funked up with Korean and Latin elements. Signature dishes are helpfully denoted on the menu, and we started with one of the most famous.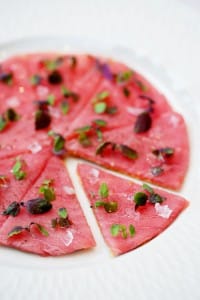 Tuna pizza (Rp.235,000). What?! Yes. A seeded wafer base was smothered with ponzu mayonnaise and slivers of red onion, then layered with beautifully cut, thin, fresh tuna sashimi. On top were 'micro' shiso leaves and liberal dribbles of truffle oil. Two things here. One: if it's not 'micro' or 'foraged' these days, forget about it; and two:
I've noticed something of a geographical, culinary phenomenon in these parts. The further north you go in Jakarta, the more truffles appear on the menu. By the time you get to the top of Rasuna Said, you might as well bathe in the stuff. In the mysterious case of the tuna pizza, this is an incredibly good thing. It was – to my surprise – not at all a train wreck of a dish, but absolutely delicious, even though I couldn't quite pick out the ponzu. Light, delicate, and extremely moreish.
Another sharing portion, Grilled Octopus (Rp.195,000), was very well cooked: soft and nicely charred on the outside; fresh and plentiful. The sauces were two: salsa verde, which was not bad, and chipotle, which packed a punch. The dish was adorned with Chicken Chorizo Gyoza (little fried dumplings), which were unusual but not unsuccessful. Overall this was a spicy little mama.
AB Tacos (Rp.185,000) used Wagyu beef, stuffed neatly inside mini hard-shell corn encasements, atop finely diced red onion, with spicy tomato ponzu sauce and a fried jalapeno slice on top. This dish was a real Tokyo-meets-Tijuana taster, and good for bar snacks or as a little appetiser. Despite all those zippy flavours though, I was starting to find they slightly merged into one, and admittedly had hoped for something a bit more from the tacos.
So far, the chef's fusion overtures left little room for straight-up Japanese, so with that in mind we ordered some sushi rolls. But these were not your average Californians. Pop Rockin' Rolls (Rp.165,000) were very interesting indeed. I have never – and probably will never again – come across sweets inside food, let alone sushi. Popping candy, for those poor souls unaware, are the naughtiest of sweets. Only if you had been extra-specially good (or her day had been extra-specially bad and it wasn't yet bed and G&T time) would your mum let you buy them on a Friday afternoon from the corner shop. Yes, it is a bit gimmicky but something about the sweet, lemony, pop-in-your-mouth morsels tasted good with the spicy crab inside. A big portion too, expertly rolled by the guys in the open kitchen.
The main course of Wagyu Rib Eye (Rp.490,000) was fabulous. The little slivers of meat were cut into sashimi-size bites; very soft but nicely chargrilled on the outside. The wasabi butter sauce turned out to be a very delicate flavour; in fact the wasabi was tricky to pick out, but this wasn't a problem. Alongside was – all together now – truffle potato puree (Rp.90,000) with real pieces of black truffle. Here Chef Back is flexing his culinary muscle, showing off more classic mains against his Vegas-showgirl starters and sharers.
Desserts were surprisingly Westernised but nothing if not inventive. '30 Second Tiramisu' (Rp.75,000) was a deconstructed version of the old favourite. There were spherical chocolate balls and quick-cooked pieces of sponge, with a Kahlua sauce pour over at the table. I have to say I didn't quite get it, and it was ever so slightly a case of style over substance, but not enough to complain about. Honey-Yoghurt Panna Cotta (Rp.65,000) was a little more straightforward but also had that Back-esque zing courtesy of raspberry-flavoured pop rock candy.
Maybe he caught me in a rare good mood, as I usually find fusion for the sake of fusion irritating – but not here. This kitchen applies Japanese rigour and uncompromising emphasis on quality to all its ingredients. This may be why, like most Japanese joints, it's expensive. But don't worry about that. Wherever Akira Back swerves to avoid any sense of normalcy in his menu, he makes a hairpin turn and delivers on taste, class and that sense of the surreal that permeates this successful restaurant.
*** ½ Back it up
Cheque please!
Food: Rp.1,815,000
Drinks: Rp.270,000
Service: 10%
Total: Rp.2,196,150 (inc. taxes) for two
Akira Back
MD Place Lt. 12, Jl. Setiabudi Selatan No. 7, Setiabudi, Jakarta 12910
+62 (0) 21 7196160