The energy was high as I stepped onto the premises of Jakarta International EXPO Kemayoran, Jakarta. The 10th annual Java Jazz Festival was in session and it sure brought a big crowd. This year's special show performances were the ever-so-energetic (and perpetually drunk) Jamie Cullum – who treats the stage and his piano as a dance floor – on Friday, and the graceful Natalie Cole on Sunday. The last day of the festival didn't show signs of slowing down as the excitement for a climactic finale brewed.
As many made their way in on Sunday, bands were playing on the centre outdoor stage, pumping up concertgoers' excitement. The venue was divided into a couple of indoor stages and an outdoor stage, as well as a couple of rooms on the upper floor of the main building and a couple of smaller café-oriented stages.
For some reason, show schedules were not printed out as fliers on that last day of the festival; the only way to check for performance venue and time was to consult the directory map at the information desk. The time was 4.45pm and the schedule showed that performers like Joey Alexander was about to wrap up his performance in 15 minutes or so. I wasn't going to miss out on the chance to watch a 10-year-old jazz piano prodigy in action, so I rushed to the room he was playing in. Lo and behold, Joey was playing with renowned Indonesian bass player, Barry Likumahuwa; it was a fusion of genius and madness. Catching the last 10 minutes of that performance was quite an experience; Joey's talent is out-of-this-world. Before Joey Alexander Trio's final number, Peter Gontha, the man behind Java Jazz Festivals since its birth in 2004, made an appearance and congratulated Joey for being a star in Indonesia's jazz industry. Joey signed off with an endearing, "Thanks for watching, everybody."
The thing with jazz festivals, or any festival for that matter, is the waiting period between seeing one highly sought-after artist to the next; the tendency to wander around and exploring lesser-known names is high. I, for one, am glad for the waiting period as I had the chance to experience the artistry of a band I've heard of but have not paid considerable attention to – Snarky Puppy. For a name that seems unfamiliar to most, Snarky Puppy's performance drew a sizeable crowd. The seven-man band that hails from New York and Texas didn't expect such a turnout at the show. A band whose genre is more funk-fusion than pure jazz, Snarky Puppy's signature style is their groovy beat and interesting licks. Devoted fans sang along and danced to their songs. As it turns out, Snarky Puppy is a force to be reckoned with.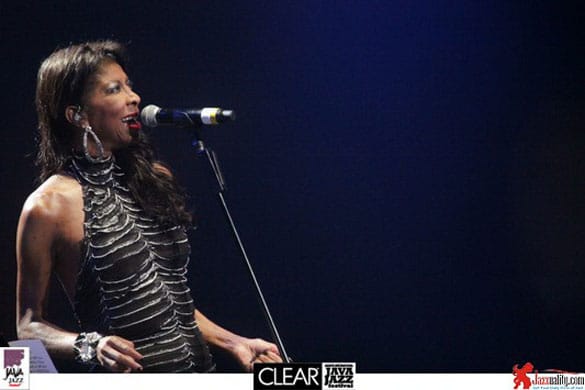 Around 7pm, the crowd thinned out from some of the stages and saturated the special show venue, all in anticipation of the great Natalie Cole. Others, like myself, chose to see the American up-and-comer Allen Stone instead. The powerhouse singer showed incredible musicianship as he went from the upbeat and funky song titled 'Satisfaction' to slower blues-oriented ballads like 'Million'; an all-around stellar show. Attendees who went to Stone's Friday performance were stunned at the amount of energy there was on stage at his Sunday performance. "People had a more laid-back approach on Friday, they were sitting down and were more relaxed, but today's crowd was much more enthusiastic," said Trina, an Allen Stone fan who went to both shows. Allen's set consisted mostly of songs from his upcoming album; his soulful Marvin Gaye-esque influence is deeply rooted and clearly apparent even in his newer tunes. Towards the end of his show, Allen sang a bluesy rendition of Bob Marley's 'Is This Love' and the crowd went wild!
Winding down from the highly explosive Allen Stone show, I went to a more intimate one featuring Jonathan Butler. The seasoned singer-songwriter and guitarist, who's also well-known in the gospel music circuits, played a set of R&B and jazz songs, some more funky and upbeat and others were perfect to accompany a slow two-step dance. Butler's horn section – one trumpet and one saxophone player – coloured his show with their skilful solos and playful riffs. Butler called to the stage a lady he met the night before to join him; it was Maya Hasan, Indonesia's famous harpist. Maya joined Butler and the band on her harp playing two songs, one of which was titled 'Do You Love Me'. Butler joked around and directed the words 'do you love me' on this song to Maya Hasan as he expressed how beautiful she was and pretended to woo her. The audience laughed as Maya blushed. Butler's raspy yet strong voice is reminiscent of old Motown singers; smooth and soulful.
The very last show of the day, and the final one for the whole festival, was India Arie's. Fans of India Arie would know that her deep alto voice and beautiful, tasty riffs are the bread and butter of her music. However, watching her singing live is a whole different experience compared to simply listening to her records. India is truly an engaging performer, taking her audience on a journey throughout the show. She started her set by announcing that this is a "songversation", a term she used to describe the interactive nature of her show and the title of her latest album. India proceeded with her well-known songs such as 'Video', 'Brown Skin' and 'Cocoa Butter', all the while giving a chance for all her band members and background singers to have solo singing parts – and they all have impressive voices! India's music has imprints of African as well as Middle Eastern influence amidst her R&B sound.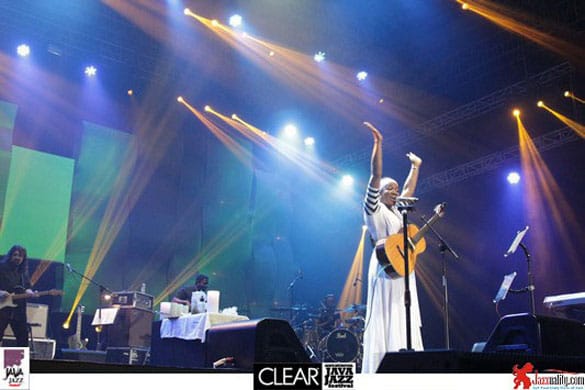 India brought audience members on a spiritual journey when, in between songs, she explained the background behind writing them. She quoted James Baldwin's "Love is a battle, love is a war, love is a growing up" and stated that most of the songs she wrote are on love – love of yourself, of others, of your body, of your inner power – and that the purpose of her music is to spread love and positivity. India's mum made an appearance and displayed her vocal prowess on the closing number, a snippet of 'Soulbird Rise'. The night ended with an encore performance of 'I Am Ready for Love'. A well-deserved climactic finale, India was. Her performance, and essentially Java Jazz Festival as a whole, came to a close at around 12.30am.
For those who feel that Java Jazz Festival is not sticking true to its jazz origins, remember that jazz was the predecessor of many other genres. And like the evolving jazz music, we can only hope that the Java Jazz Festival will bring us even more local and international talent next year.