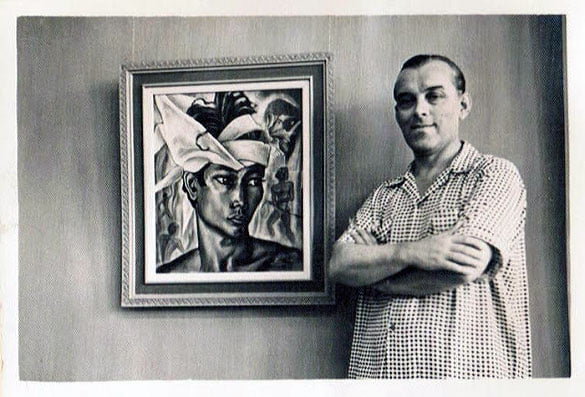 If you happened to be one of the few tourists wandering on Jalan Kaleran, Ubud (in those days there were no street names) in 1956, you would have certainly noticed the prominent sign announcing the residence and studio of Dutch artist – Auke Sonnega; Painter of the Indonesian Scene – standing just outside Puri Kaleran, north of today's Terrazzo Restaurant. Little known today during his stay in Bali and Indonesia, Sonnega would produce hundreds of works in several distinct styles both stylized and realistic. By far the greatest of these are large bold canvasses often dealing with distinctly mystical subject matter mirroring the artist's personal spiritual journey.
Born in 1910 in Friesland, Holland, a centre of straight-laced Calvinism, Auke's parents were shockingly freethinking for their era. Unable to find solace in the Dutch Reformed Church they made the radical choice to join the Theosophical Society only a few years after Auke's birth. Originally founded in New York in 1875 by the mystic Madame Blavatsky, the Society with their stated goal of seeking the wisdom of the Hidden Masters to help all humans achieve spiritual enlightenment played a seminal role in the introduction of Eastern philosophy in the West. From an early age Auke and his siblings attended the Society's Lotus Classes organized to awaken children to their spiritual potential. The experience would leave an indelible spiritual mark on the young artist.
This would culminate in 1929 when a major crisis engulfed the society after Jiddu Krishnamurti, the anointed heir apparent of the Society dramatically rejected the organization's hierarchy to be appointed the messianic "World Teacher" of the Order of the Star. In an emotionally charged speech given at an international gathering of the Society in Ommen, Holland on August 3, 1929, he would dissolve and order and declare:
"I maintain that truth is a pathless land, and you cannot approach it by any path whatsoever, by any religion, by any sect. That is my point of view, and I adhere to that absolutely and unconditionally. Truth, being limitless, unconditioned, unapproachable by any path whatsoever, cannot be organized; nor should any organization be formed to lead or coerce people along a particular path… This is no magnificent deed, because I do not want followers, and I mean this. The moment you follow someone you cease to follow Truth."
Only 19 years old, the youthful Sonnega, who attended the meeting was swept away by Krishnamurti's message and wrote, "Krishnamurti had set me back on my spiritual feet… I abandoned the Movement and decided thenceforth never to join another".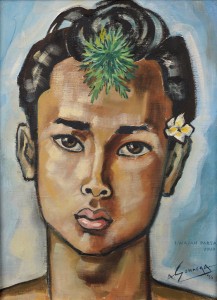 The impact of his deep spiritual tendencies would only manifest itself in his art many years later. After graduating from the Utrecht Academy of Art, Auke would work as a textile designer in Holland's buoyant art and crafts industry. Saving his money he also decided to join his sister who was living in Batavia. Five years later in 1935 he boarded a ship for the East with his only material indulgence, a Harley-Davidson motorbike. During his first years in Indonesia he worked an advertising studio and toured the islands during vacations. Although he visited Bali he would not settle there until many years later.
Auke's idyllic life would come to an abrupt halt with the Japanese invasion in 1942. Imprisoned in a camp he and his friends would suffer near starvation and cruelty described in graphic detail by his close friend, author Willem Brandt in the short story "And the Darkness Comprehended it Not". His privations would also evoke a deep spirituality, an awareness of the transitory nature of life. Upon release he pursued fully his wish to dedicate his life to art and freedom. One of his most beautiful works from this period is the "Yellow Blossom" (1942), a single male figure surrounded with a basket of flowers on his head surrounded by an aura of yellow light framed by a dark bamboo forest that has been compared by some to the work of Walter Spies.
Voyaging across the archipelago, Sonnega would paint in the mountains of Sumatra as well as Java and Bali. In 1951 he would meet the English linguist Husein Rofé in the Tampaksiring Guest House. Husein would subsequently introduce him to the charismatic Indonesian spiritual teacher Pak Subuh Sumohadiwidjojo in Jogjakarta. In the next years Rofé played a critical role in introducing Subuh's teachings to spiritual leaders like John G. Bennett and the followers of the Russian mystic G. I. Gurdjieff and the establishment of more than 80 Subud Movement centres around the globe.
Subuh's teachings and exercises (latihan), which evoked extraordinary insight upon those who practiced it, also exercised a profound and immediate effect on the subject matter and visuals seen in Sonnega's paintings. Most of his spiritual works, such as "Dewa Thintya" (1954), were inspired by Bali and stand out in stark contrast to his more commercial stylized portraits of enigmatic pretty Balinese girls produced as a steady source of income. He also produced numerous portraits of men, not surprisingly since he was decidedly gay, to the delight on the opposite side of the spectrum.
Although he is much better known, Arie Smit's arrival in Bali was a direct result of Sonnega. The two would meet in 1947 after Arie Smit sought Auke out after reading an article he had written. Auke convinced Arie to leave the Dutch colonial army and live out his dream of being an artist. Arie, who looked up to the stylish and extremely poised and organized Sonnega, first travelled to Bali with Auke. There is also evidence of direct artistic influence especially their portraits of young men.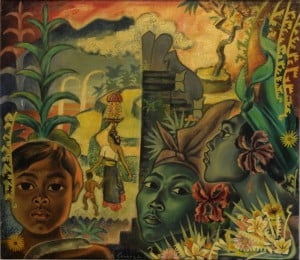 One of the most intriguing reoccurring themes in Sonnega's best paintings is the gamelan. These include bold canvasses like "Gamelan Gong Gede" (1947) and "Gamelan Abstraction" (1957). Auke, who wrote several articles on Balinese gamelan, was viscerally impacted by Balinese music. He would later write, "The air was vibrating with the clash of cymbals and the gamelan orchestras played…frenzied and bewitching Balinese music…" Determined to express the same tonality and intensity in his paintings he began experimenting with increasingly psychedelic colours and compositions.
Sonnega's colourful tropical life would suddenly come to an end in 1958. In spite of the fact that President Sukarno was an avid collector of his paintings, he was forced to choose between renouncing his Dutch citizenship or to leave Indonesia.  His friends Arie Smit and Han Snel stayed behind. Back in the cold climes of his native land Auke failed to regain his artistic and personal equilibrium. After a long illness he would tragically pass away in The Hague in 1963. Only 53 years old he was largely forgotten until the 1990s when his paintings began catching the attention of Indonesian collectors.
For those who wish to learn more and willing to sift through a rather random collection of facts and Franglais, scattered amongst an appalling layout there is a new book on the subject – Auke Sonnega; Artist of the Enchanting Tropics. Unfortunately like many of these books his greatest work is weighed down by scores of minor works the inevitable consequence on a commercial venture that sells places to willing collectors much in same fashion as parking places are sold in cities.