Living and raw food diets, juice cleansing programmes and detox retreats are gaining popularity not just in Ubud – where the "Eat, Pray, Love" phenomenon originated – but also the rest of the island. There is no question about it, Bali is attracting an increasing number of health conscious foodies, and the raw food movement is just one part of this trend.
Not to be confused with living food, defined as food that's still growing or is consumed within 15 minutes of being harvested, raw food is simply uncooked food, with any produce heated above 106 degrees Fahrenheit falling into the category of "cooked". This temperature is also that at which most enzymes (substances that aide in the digestion process and body function) in food start to die. So the more "alive" a plant is when it is being eaten, the more enzymes, vitamins and minerals – or "life force" if you will – it contains.
With this distinction in mind, here are some of our top picks for raw food restaurants in Bali.
Alchemy – Ubud
Billing itself as the first 100 percent raw vegan café and juice bar in Bali, Alchemy is a hub for health enthusiasts, and features not just a café but also a holistic clinic and a health food shop. All dishes here are made from scratch, using only natural, high quality ingredients minimally processed to preserve as much nutritional value as possible. With most vegetables grown at an organic farm in the hills of Jatiluwih in Tabanan, Alchemy is assured a delivery of fresh vegetables every two days.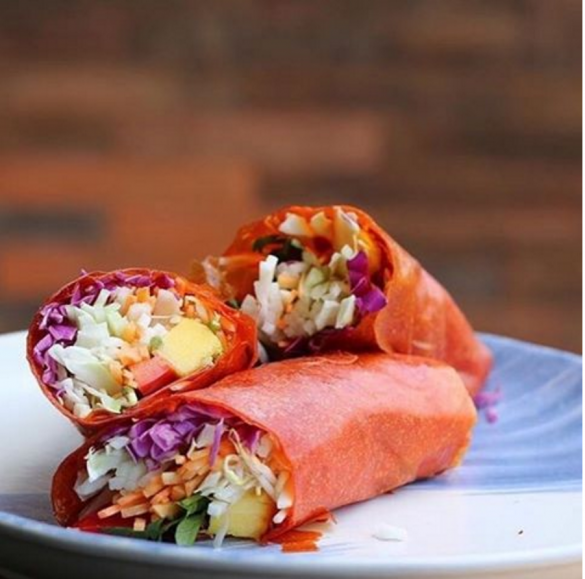 While Alchemy is known for its huge salads – the restaurant features a four-metre salad bar as well as numerous options on the a la carte menu – Verena Kosasih, Alchemy's marketing manager, claims that the restaurant's most unique dish is the banoffee pie. She says, "The combination of rich caramel, with slices of banana, and coconut whipped cream is decadent and satisfying for anyone craving something sweet. It is Alchemy's best-selling dessert."
Kosasih adds that what makes Alchemy's food stand out among Ubud's raw food pack are the endless hours and effort that go into testing and perfecting the restaurant's recipes. "Our dishes are rich in taste, and satisfying both for carnivores and vegivores. Most of our customers say that it is hard to believe our food is made without meat, refined sugar, dairy or gluten."
Alchemy is based around the philosophy that a raw food diet does not necessarily have to be an all-or-nothing affair. Kosasih says rather than encouraging people to give up all their favourite indulgences, she would start with implementing a few healthier habits and choices. She explains, "Every time you add something wholesome, you automatically push out something that is not."
For more information visit, http://alchemybali.com
Divine Earth – Kuta
Divine Earth's menu consists of 100 percent vegan and 70 percent raw food. While the dishes are eye-catching, the emphasis is on using the most flavourful and nutrient-packed ingredients available. "We source our produce from environmentally conscious farmers, both locally and from abroad when necessary," says Divine Earth's proprietor Liat Solomon. "We are extremely picky about where our food comes from, and we travel extensively to source it from organic and sustainable suppliers."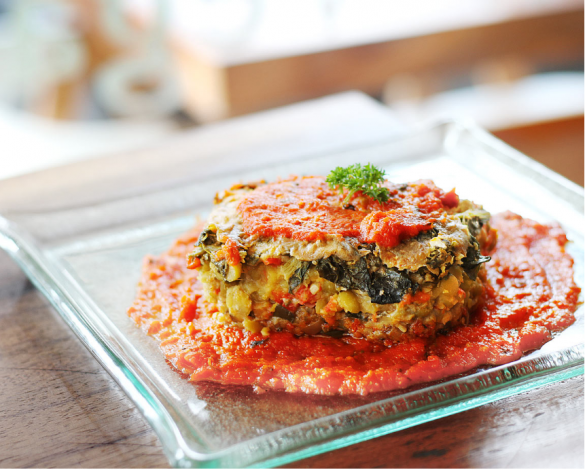 The restaurant's menu features a wide selection of international dishes, from sushi and samosas to pizza, moussaka and a range of raw vegan desserts. Solomon, who is a macrobiotic counselor, has put a lot of effort into ensuring that each of the restaurant's dishes is nutritionally balanced. "While the best-selling item on the menu is Divine Earth's raw veggie burger, which is characterized by a variety of colours and textures, our most unusual dish is probably the smoked coconut sandwich," she says. "Although not unusual to look at, the sandwich confuses some people. It tastes just like a regular BLT but contains smoked coconut meat dressed in our homemade barbeque sauce and cashew cream."
So can people enjoy raw food even if they do not like vegetables and salads? Solomon seems to think so. "The best way to start is with raw food that has been processed and prepared to imitate cooked food. Start with things that remind you of what you eat normally such as the raw or nut burger, sushi or crepes," she says. "Taste is just like a collection of muscles that can be trained and will develop over time, making it more palatable to try more unusual dishes further down the track."
For more information, visit www.divineearthbali.com
Seeds of Life – Ubud
The founder of Seeds of Life, Ben Richards, is quick to point out the benefits he has experienced since switching to a raw food diet around ten years ago. "There is a life force within the distilled waters of fresh living organic fruit that really affects the body's chemistry. Also the hormones – fruit contains the hormones of the earth – really help to balance the body in a very subtle yet dynamic and profound way. You literally come alive with the energy of the food," he says. "All of this is because the inner terrain is being cleansed and reawakened."

At a first glance, Seeds of Life appears just like any other restaurant in Ubud, but its menu consists solely of raw food dishes. Some even contain high quality herb powders to maximize the health benefits. Ben says that currently the restaurant's most popular dish is the Mexican lasagne made with a beetroot base, mango salsa, cashew sour cream and raw corn tortillas instead of pasta sheets. Better still, the venue is home to a Taoist Tonic herbal 'cocktail bar' that serves fermented health drinks and tonic cocktails.
While Ben says that he has worked in the food industry for the past 27 years, many of them at five-star hotels in Australia, he is quick to highlight that Bali is well on the way to becoming one of the most exciting places in the world for health-conscious foodies. "Chefs and restaurateurs are really taking our knowledge to a new level. We keep pushing each other to new heights," he says. "People still come to Bali wanting one-dollar meals. You get that, however, the game is changing. It's game on."
For more information, visit www.theseedsoflife.net