To inspire bride-and-groom-to-be couples planning to tie their knot in Bali, three of the island's top-notch caterers present some delicious ideas to delight your guests. From traditional to international flairs, here are some exquisite catering concepts that can impress your guests in your nuptial ceremony:
Pasar Malam
If tradition is the theme of your wedding, perhaps Pasar Malam (night market) can be the perfect concept for your wedding catering. This unique concept, brought by Bali Good Food, brings the ambience of Indonesia's traditional night market into a wedding.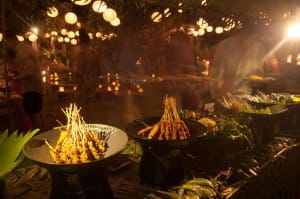 Bali Good Food is a boutique restaurant company, which recently was praised for providing catering to the cast and crew of the movie Eat Pray Love during shooting in Bali.
With carts made from palm leaves and bamboo, set under a romantic fluorescent dim, the Pasar Malam concept aims to let guests enjoy the intimacy and simplicity of the traditional night market.
"We want to capture the authentic atmosphere of the Indonesian night market and introduce that to the guests," says Ida Bagus Rai Antana, Personal Assistant to the Director of Bali Good Food.
Indonesian food lovers will be spoiled with a wide range of the nation's culinary treats in six of its live-cooking stations, providing choices of seafood BBQ, satay, noodle and rice wok, desserts, and not to mention the special suckling pig.Enjoy the authentic taste of Manado's best ayam rica rica (hot and spicy chicken cooked in coconut oil with lemongrass and lime), gado-gado Betawi (steamed vegetables in sweet peanut sauce cooked Betawi style) or Balinese foods like delicious lawar salad (steamed vegetables mixed with shredded coconut) with no worry as the foods are MSG-free and the vegetables are sourced from BGF's own pesticide-free farm in Kintamani.
If a feast is too much, perhaps choosing Indonesian Specialty Canapés like tahu isi (fried soy bean cake filled with vegetables), semar mendem (sticky rice and chicken wrapped with a sheet of thin egg), otak-otak (fishcake roasted in banana leaf) or lemper ayam (sticky rice filled with shredded chicken wrapped in banana leaf) can be a great way to tempt your guests in your most memorable day of a lifetime.PT Buana Giri Fortuna
Jl. Sekuta 29A Sanur, Bali
+62 361 285777
baligoodfood.com
International Mix Menu
Bringing fusion into your wedding is a good idea, especially if your guests come from all across the globe. Chef Oswald Fernandes from Dijon Bali will be more than happy to craft foods for your wedding into an absolute art that suits your taste and imagination. In Dijon, quality is assured as best as possible by limiting the event to one per day. Customers are treated like a family member; each consultation is like sharing your visions and dreams to your closest family.
From Asia to Mexico, there is nothing that Chef Oswald can't do to bring the magic to your wedding. A sample of his wonderful creations includes fine imported ingredients that are infused with local spirit.
"I want to incorporate the local culture into the foods, and introduce the real inspiration of the island," he says.
Like the lamb shank, for example. He recreates this French pride with rendang seasoning to give a distinctive kick, and he does a similar thing to the scallops, by adding peanut sauce to the plates.
Or if that is too posh and you need something more casual, how about giving the burger a different look by replacing the patty with BBQ chicken strips, caramelized onion and pepper?
If you want your menu to be more distinctive, you can try asking him to cook many of the world's inspirations. He would love to bring you a bunch of ideas and create colours into your preferred choices, whether it's buffet, set menu, or canapé. Maybe fresh Asian coleslaw with Japanese-inspired dressing for the starter, Australian lamb racks for main and tropical-inspired palm sugar crème brûlée for that perfect ending. Let your wildest imaginations free, even if you want to bring Peru and India together at the table. The chef will capture it all and create foods that can satisfy your guests. The sky is the limit.
Dijon Bali Catering
Jl. Sunia Negara No. 33
Suwung Kangin, Pemogan – Denpasar
+62 361 863-7000
dijon-bali.com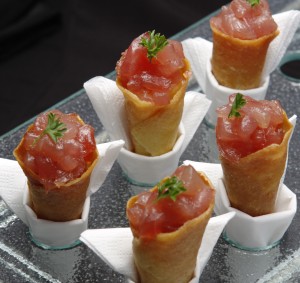 Stand-up Cocktail
Relax, chill, and mingle with your guests after tying the knot, and let your guests enjoy the best of the tropical weather while being entertained with canapés, cocktails and wine from Bali Catering Company.
Share your happiness with your family and close friends over a glass of cocktail, wine, or bubbles; BCC will bring the casual fun of the buzzing atmosphere in a cocktail lounge to celebrate your commitment.
For the next 3.5 to 4 hours, flowing canapés, with varieties ranging from cold, hot, to choices of cheese platters and sweet treats, and one additional live-cooking station of your choice, will entertain your guests. The couple can choose inspirations of western style or Indo-Chine to theme the foods.
There are about eight cold menus to start the flow, with options like tuna and mozzarella tartare, Vietnamese rice paper roll, salmon tartare with sour cream and broccoli sprout, duck foie gras with walnut raisin bread, basilic chicken and vegetable medallion, and sliced prawns with soba noodles in Japanese dressing.
Eight hot flowing canapés will follow after. Inspirations from Middle East like Moroccan lamb kefta topped with tomato salsa, to Thai's most favourite snack, fish cake with mango coriander salsa, will become the guests' best companion during the wedding. Your vegetarian guests will also be pleased with mini spring rolls and vegetable samosas, or deep-fried Japanese tofu, along with other delicious temptations.
Choices of cheese platters will be the next delight, followed by sweet temptations like exotic fruit panna cotta, apple tatin style, caramel cream or Asian's most favourite desserts like sticky rice with mangoes, tropical Indo-Chine fruits with crème de cacao fountain, banana cake with pandan vanilla sauce, and maybe Asian's version of lemongrass crème brûlée.
Choose a live-cooking option from satay stall, foie gras station, or oyster bar. For couples that plan to get married in 2015, tapas menu will be available in family or pass-around style for another option. Refreshments like cocktails, wine and sparkling will be part of the package.
Bali Catering Company
Jl. Petitenget 45, Kuta
+62-361-780366
balicateringcompany.com