Puteri Indonesia 2016 Kezia Warouw will be gracing the stage in a stunning garuda national costume at this year's celebration of the world's most prestigious beauty pageant, Miss Universe 2016, which will be held at the Mall of Asia Arena in the Philippines on January 30.
Inspired by the garuda, a mythical bird-like creature used as the country's emblem, the fully handmade gold-colored costume was created by East-Java-based designer Dynand Fariz and was made to represent Indonesia's national philosophy of 'bhinneka tunggal ika' (unity in diversity).
The idea for the design came up during the Jember Fashion Carnival led by Fariz last August 2016. It consists of copper plates and sparkling stone ornaments and weighs a whopping 20 kilograms. Given the intricacy of its details, the grand ensemble took two months to complete.
Fariz strategically added the sparkling stone ornaments on the Garuda wings so that they could reflect the spotlight. He said that the wings of the Garuda will give off its own energy through the "placement of lights, made to shine from the wings."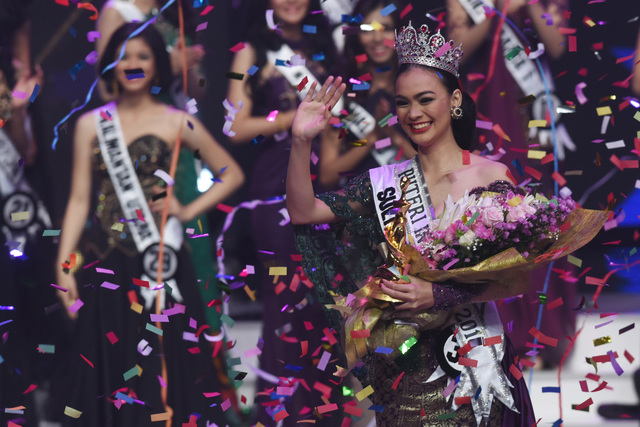 Several other renowned local designers will also contribute to Warouw's outfits for the prestigious event such as Anne Avantie, Aditya Dwicahya, Ansoe, Yosep Sinudarsono, Arturro, Poise 24 and Reves dan Batik Sephora.
Joining the roster is Ivan Gunawan who has prepared six gowns—one of them representing the theme tenun Toraja, a traditional woven fabric from Toraja, South Sulawesi. Gunawan thinks that the gown's terracota color will make Warouw's beautifully tanned skin stand out more.
The 25-year-old beauty pageant titleholder will also be wearing Gunawan's 'Kejora' dress that weighs 10 kilograms and has thousands of sparkles or 'stars' spread across the costume.
The country has won Best National Costume only once. In 2014, Elvira Devinamira bagged the award after fans voted via Twitter. Devinamira wore a winged ensemble that was inspired by Central Java's Borobudur temple and was created by seven designers that included Didit Maulana, Alleira and Avantie.
Image credits: Tribun Kaltim, Rappler