"… the sight of stars always sets me dreaming…"
– Vincent Van Gogh –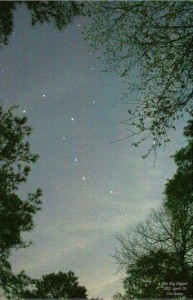 The front terrace of Jakartass Towers faces east and that is where we sit on the cloudless nights of a full moon. On May 6th and 7th, it appeared to be exceptionally large. Of course, it hadn't actually grown in bulk, but was both full and at its perigree, its closest point to Earth, at 27,000 kms less than its average distance of 384403 kms.
On the 7th, I called to Our Kid and 'Er Indoors to come and witness this rare event. He came out, but she said that she'd already seen it on television!
And therein lies the root of most of our urban problems: we've lost touch with the reality of the cosmos, of which Planet Earth is but an infinitesimal speck.
We may grumble, but do little, about the pollution brought about by the rapid urbanisation of Jakarta's floodplain. Anyone flying in during daylight hours can see the overlaying film of smog over the city caused by too much traffic.
Returnees from the countryside can smell the city, a pungent mix of unfiltered exhaust fumes, clogged up rivers and drains, street food stalls, kretek cigarettes and the many and varied meals cooked at roadside warungs.
Apart from those of us with hearing problems, we all suffer the stress of noise, ranging from the neighbour's incessant dangdut played at level 11, to Hell's Cherubs who've removed the mufflers from their motorbike exhaust systems, and to the distorted amplification from the myriad mosques dotted throughout our communities, a pet peeve of Vice President Boediono.
But, as my opening suggests, there's another kind of pollution which affects us all yet is rarely recognised. Jakartans, ask yourselves when you last spotted a star twinkling in the night sky. Wherever you were, it wasn't here.
Frequent localised power cuts are a valid excuse to leave the confines of one's home and to sit outside. Alternative light sources such as candles, oil lamps and switched on 'smart' phones aren't necessary because it is possible to make out conversational companions. They are visible thanks to the light reflected from the cloud covered night sky.
Isn't it sad that that in our towns and cities, the light from deep outer space, which has travelled for many millions of years from the distant stars and galaxies above us, ends its journey blocked high above the ground as a result of the light from humans?
According to a 2008 report from the Alliance for Rural Electrification, some 80 million Indonesians lacked any access to electricity, yet urban areas cast their beams to where they are not needed. What a waste of fuel and human potential!
Of course, it's not just Jakarta which has this problem. The one observatory in the country, the Bosscha Observatory founded in 1928, which comes under the umbrella of the Bandung Institute of Technology (I.T.B.), is unable to operate effectively because of nightblight, the interference from the bright lights of the city below and encroaching housing and tourist developments.
Earth Hour, the global movement to encourage folk to switch off their lights for one hour a year, is but a start. A lot more can and should be done.
The only lights which need to point skywards at night are those delineating airport runways. The rest of us need light where we are, on the ground. There are easy solutions to this problem: adjust energy-saving street lamps, security lights and spotlights so that they point downwards. Similarly obtrusive illuminated advertising hoardings could feasibly be switched off at night, vehicle inspections should regularly check that headlamps do not beam upwards, and curtains could be mandatory.
………………………………………………………………………………………………………………………………….
Astronomy, the study-science of the universe, is necessary knowledge for navigators in the event of GPS apps going offline. It is also needed to determine, through the sighting of the thin crescent of the new moon, the start of the Muslim fasting month, while the timing of the five daily prayers is set by the position of the sun.

Space fans have the option of visiting one of the three planetariums in Indonesia: the Jakarta Planetarium, in Taman Ismail Mazurki (TIM), built in 1964, the Indonesian Navy Academy Planetarium in Surabaya, and the Planetarium Jagad Raya in Tenggarong, East Kalimantan founded in 2002. Offering access to both the public and school groups, they all have an educational value.
However, sitting in an enclosed darkened room with ceilings dotted with lights is but a vicarious experience compared to the intensity of emotion which envelops you when you gaze into the immensity of the cosmos.
………………………………………………………………………………………………………………………………….
Astrology
My Websters dictionary defines astrology as a "pseudoscience based on the notion that the position of the moon, sun and stars affect human affairs and that by studying them one can foretell the future."
Astrology determines the Javanese calendar and which Star Sign we're born under. As a typical Aquarian, I never read mine but do I accept that the Moon, which governs the ocean's tides, can have an affect on humans. After all, depending on one's age and intake of liquids, we are over 55% water and generally go mad once a month.
………………………………………………………………………………………………………………………………….
Night sky photos acknowledgements
Earth from the sky: http://growglobally.org/wp-content/uploads/2010/11/night-sky.jpg
The sky from Earth: fr. http://blog.askyfullofstars.com/
Night sky in Bintan: http://photos.derickrethans.nl/asia05-bintan/aai
Websites
Earth Hour http://www.earthhour.org/
Southern Sky – http://langitselatan.com/ – an astronomy site in bhs. Indonesia
Planetariums http://www.aprsaf.org/data/w_sea_data/March3%20Presentations/3_12Hidayat.pdf
Indonesia's astrology chart: http://www.celestialinsight.com.au/articles/57.html
History of Indonesian astronomy: http://dhani.singcat.com/files/under_a_tropical_sky.pdf
………………………………………………………………………………………………………………………………….