In order to celebrate 100 years of Maria Callas, the famous soprano singer of the 20th century, the Italian Embassy, the Italian Cultural Institute Jakarta and Ciputra Artpreneur are proud to present a magnificent opera concert entitled "Tribute to Maria Callas".
This opera concert features opera singers from Italy and Indonesia along with Jakarta Concert Orchestra and Batavia Madrigal Singers and will be held on 7th October 2023. Performance I will be held at 2 PM and performance II at 7 PM at the Ciputra Artpreneur Theatre.
Maria Battaglia, Director of the Italian Cultural Institute Jakarta. "Maria Callas represents not only opera songs in Italy but also throughout the world. Callas has walked the stages of prestigious international theatre stages from Milan to New York to London, becoming a true icon and legend of opera music. Her singing and interpretive abilities were so extraordinary that she was unmatched by any other soprano. The Tribute to Maria Callas concert aims to celebrate the centenary of Callas' birth in 1923. For the first time in Indonesia, tribute was paid to the Divina, as she was nicknamed, by director and friend Franco Zeffirelli."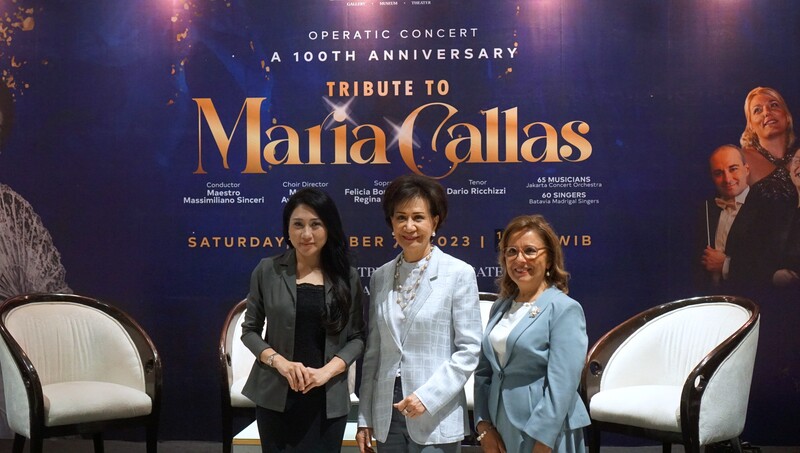 "The musical compositions presented are very varied, featuring arias from Callas' most famous operas such as Norma, La Traviata, Turandot, and Cavalleria Rusticana. This is a very important event to strengthen collaboration between the two countries, Italy and Indonesia. We would like to thank Indonesian and Italian singers and musicians who will be working side by side in the next few weeks for this event. Through this concert, we want to present Bel Canto, which is part of the Italian tradition, to Jakarta, so that the Indonesian people can witness the abilities of the musicians and choir and see how they interpret it and most importantly remember the great character throughout the centuries, namely Maria Callas," said Battaglia.
Rina Ciputra Sastrawinata, President Director of Ciputra Artpreneur, said that efforts to bring Italy and Indonesia closer together were formed through intensive collaboration with the Italian Cultural Center, where previously Traviata Artemis Danza (2015), I Bislacchi, A Tribute to Fellini (2016), and Pavarotti Forever Tribute Concert (2017). Not only that. The desire to exchange arts and culture was also held in the form of an art exhibition entitled Beyond The East: A Gaze on Indonesian Contemporary Art (2011). This exhibition was held at MACRO Testaccio, Rome, Italy and collaborated with international art critic and curator, Prof. Achille Bonito Oliva and curator Dominique Lora.
Thanks to her idea, Mrs. Rina received the Ordine della Stella d'Italia Classe Cavaliere award from the Italian government. "Extremely proud, because in the performance on 7th October 2023, top-class artists from Italy will collaborate with top-class artists from Indonesia, namely Avip Priatna and Regina Handoko, involving the Batavia Madrigal Singers Choir and the Jakarta Concert Orchestra. In our opinion, this is a show not to be missed. Also for artists, this is a very good platform to exchange experiences," emphasised Mrs Rina.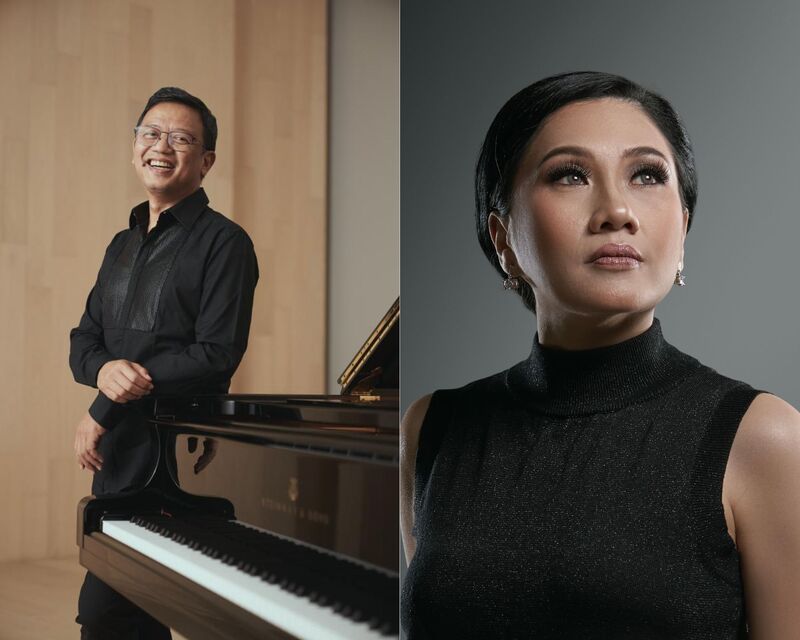 Regina Handoko, the soprano singer, said that performing Maria Callas's songs is both a privilege and a challenge for any opera singer, including her. Regina herself said, "Maria Callas has extraordinary vocal technique, emotional depth and interpretive abilities. So, performing the songs requires a perfect combination of vocal technique, expression, and a deep understanding of the character being sung. It has been an extraordinary journey and a great honour for me to be able to perform the songs of the greatest soprano of all time. What is more interesting, as well as a challenge in this collaboration, is from a technical perspective. We rehearsed for a very short time, namely five days for the conductor, orchestra players and choir and only three days for the soloists.
This concert program is very interesting because it is a world-class collaboration, namely Italian and Indonesian musicians. Conductors and singers from Italy are specifically present in Indonesia, specifically at Ciputra Artpreneur Jakarta, to present an international standard opera performance. Of course, the audience will get an unforgettable experience."
This magnificent concert presentation dedicated to a diva will take us on an enchanting journey with a selection of Callas' most beloved opera works, such as compositions by Rossini, Bellini, Verdi, Puccini and Mascagni. The presence of soprano singers from Italy and Indonesia, Felicia Bongiovanni and Regina Handoko, and Darioo Ricchizzi, a tenor singer from Italy, also enlivened the orchestra led by Maestro Massimiliano Sinceri and Choir Director Maestro Avip Priatna.
This is the first time that Italian and Indonesian opera singers, together with 65 musicians from the Jakarta Concert Orchestra and 60 singers from the Batavia Madrigal Singers and Choir Director, have united and played together to present an extraordinary musical combination.
Tickets are available in five categories. Starting from:
Bronze for Rp300,000
Silver for Rp475,000
Gold for Rp750,000
Platinum for Rp1,100,000
VIP for Rp1,475,000
There is a special price with a 20 percent discount during the Early Bird period of 20th-24th September 2023. Tickets can be purchased at loket.com.