Despite Indonesia's strict drug laws, a local community named Lingkar Ganja Nusantara (LGN) believes marijuana can become legal and transparently regulated in the archipelago.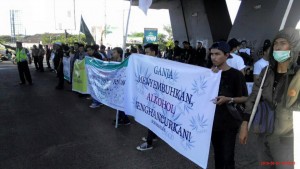 Saturday May 7 was not ordinary for many people. It was the first Saturday of May, which meant the Global Marijuana March (GMM) took place in cities around the world. Cannabis-related demonstrations, rallies, meetings, and discussions are held each year as part of GMM. Indonesia has the strictest cannabis laws in the world. Last year, the nation grabbed headlines after 14 drug traffickers were executed by firing squad, and the government vows it will continue killing offenders in 2016. For these reasons, it's hard to imagine a pro-marijuana event ever taking place in Jakarta.
But as it turns out, the archipelago has its fair share of pot activists, namely a community called Lingkar Ganja Nusantara (The Archipelago's Circle of Cannabis). Initiated as a Facebook Group in 2009 under the name Dukung Legalisasi Ganja (Support Cannabis Legalization), LGN was subsequently founded in June 2010, following the group's first participation in GMM.
In an interview with Indonesia Expat, Dhira Narayana, head of LGN, says the group aims to raise awareness on cannabis issues. LGN advocates for and distributes information on the benefits of the plant. It aims to help local authorities someday regulate marijuana for medical uses in the archipelago. But first, LGN needs to persuade policy makers, and this can only come from joint research initiatives involving the government. Fortunately for Narayana, LGN and the nation's health ministry are currently doing exactly that.
Prohibition of marijuana, often called 'ganja' by locals, has a long history in Indonesia. As noted by a number of Dutch authors concerned with the nation's colonial period, marijuana was regularly mixed and smoked with tobacco, particularly in Aceh where the plant was widely grown.
The use of marijuana in cooking and herbal remedies for diabetes was also applied in that region. Not limited to Sumatra, marijuana was also grown and used for medicinal, recreational, and spiritual purposes in other parts of the country, namely Java and Ambon. At the time, marijuana was treated as an ordinary plant and used for various daily needs.
However, the Dutch government made the herb illegal in 1927, which ultimately changed the game for local pot smokers. A maximum fine of 3,000 Antillean guilders or a short-term prison sentence was implemented to prohibit the cultivation, possession, use, and distribution of cannabis. But despite gaining independence from the Dutch in 1945, Indonesia still kept the colonial ban on marijuana in place.
In 1976 — following the 1961 UN Single Convention on Narcotic Drugs — the Indonesian government passed a law in which a life sentence for dealing and trafficking marijuana was introduced. In 1997, marijuana was considered a Schedule 1 drug (medically useless with a high potential for addiction), and some violators of this law faced the death penalty. Currently, Indonesia adheres to a more recent law created in 2009, in which marijuana is still considered a Schedule 1 drug. The death penalty may still be applied, but authorities may also apply other penalties such a four-year prison sentence.
Despite being a strict country when it comes to smoking grass, the use of cannabis is relatively high in Indonesia.
According to a report from the National Narcotics Board, there were nearly two million marijuana users in Indonesia in 2014, making it the most commonly used illicit drug in the country.
In 2015, the board eradicated 64 hectares of marijuana plantations across Indonesia, and seized more than 1.1 million grams. The same year, a convict faced the death penalty after 129 pounds of pot was found in his house.
Nevertheless, Indonesia's strict laws don't stop LGN from trying to convince authorities and society that cannabis is beneficial, and should be legal and regulated. After years of lobbying, LGN finally has progress to show. "We are now conducting scientific research with the Indonesian Ministry of Health. Our demand for research was granted by the ministry in 2015," explains Narayana.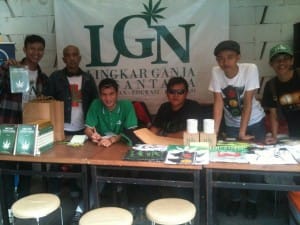 LGN makes no secret of its plan to use the research as a tool to push policymakers toward legalization. Narayana says, "For now, our focus is marijuana regulation. Compared to other countries, Indonesia is lagging behind when it comes to marijuana-related research […] somehow, the authorities act as if they've already mastered all the knowledge on marijuana, and have been spreading the same doctrine since 1976."
In addition to conducting research with the nation's health ministry, LGN is also reaching out to the public, which includes visits to universities like Unsyiah, Universitas Gadjah Mada, Universitas Indonesia, Universitas Brawijaya, and Universitas Hasanuddin.
Narayana says public discourse and education to raise awareness is considered important for the future legalization of marijuana. But according to LGN, the social stigma of cannabis has also become one of the group's main obstacles.
"In 2012, we were intercepted by FPI [Islamic Defenders Front] and told not to hold a screening of educational films about marijuana in Bandung," says Narayana. "In Jakarta, someone who wore Islamic clothing gave me a death threat."
But that doesn't always happen, he says. "I have never faced any resistance from villagers when discussing marijuana. For example, villagers in Mangiran, Bantul — they can receive the idea and believe that marijuana is beneficial. But they just worry about the misuse of it," says Narayana. "I believe that society has actually heard about the benefits of this plant. I also believe that the relationship between Indonesians, nature, and God is the key to understanding that nothing in this world is created in vain. The problem is the media and the government always report that marijuana is illicit, according to law and religion."
This year, LGN tried something different to win Indonesian hearts and minds. Instead of simply marching in the GMM, or holding a rally, LGN organized environmental activities which included cleaning up trash and planting trees in Jakarta. Narayana explains:
"We choose these activities because we want to prove that we are capable of looking after our environment, not only marijuana plants. If we can take care of the environment well, then hopefully we will be able to [legally] look after and manage marijuana in the future."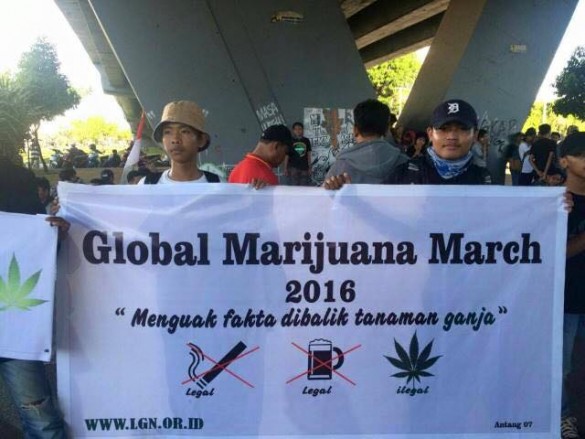 Currently, LGN has around 30,000 members, with millennials acting as the group's largest assemblage. Outside of Jakarta, LGN organized events for GMM 2016 in five other cities: Padang, Jogjakarta, Surabaya, Gresik, and Makassar.
While it seems that LGN's efforts are still far from the realization of legal pot farms in Indonesia, Narayana remains optimistic about the future. In the United States, recreational marijuana is fully legal in Alaska, Colorado, Oregon, and Washington. For medicinal purposes, it is legal in 24 states. When asked whether marijuana will ever be legal in Indonesia, Narayana says it's just a matter of time.