Didier Chekroun, aka DJ El Didion, has been in Bali for about 20 years. He started as a fashion designer, but is now a well-known star of the Bali nightlife scene.
When he is behind the turntables somewhere in a local club, it's 100 percent guaranteed the night is going to be hot and steamy on the dancefloor. El Didion is also among the very few legal, foreign DJs operating on the Island of the Gods. This accomplished French musician tells Indonesia Expat what it takes to be up almost every night to entertain the very demanding crowds of Bali's party people.
Have you always been into music?
Yes, I played bass guitar in different rock bands when I was young. I've also had a record label specialised in electro music in France. Back then, I performed in many festivals, mostly in Europe and Asia. I got my stage name El Didion in 2004 when I travelled around South America. People there couldn't pronounce "Didier" correctly and it turned into "Didion", so I became El Didion. Here in Bali, people call me "El."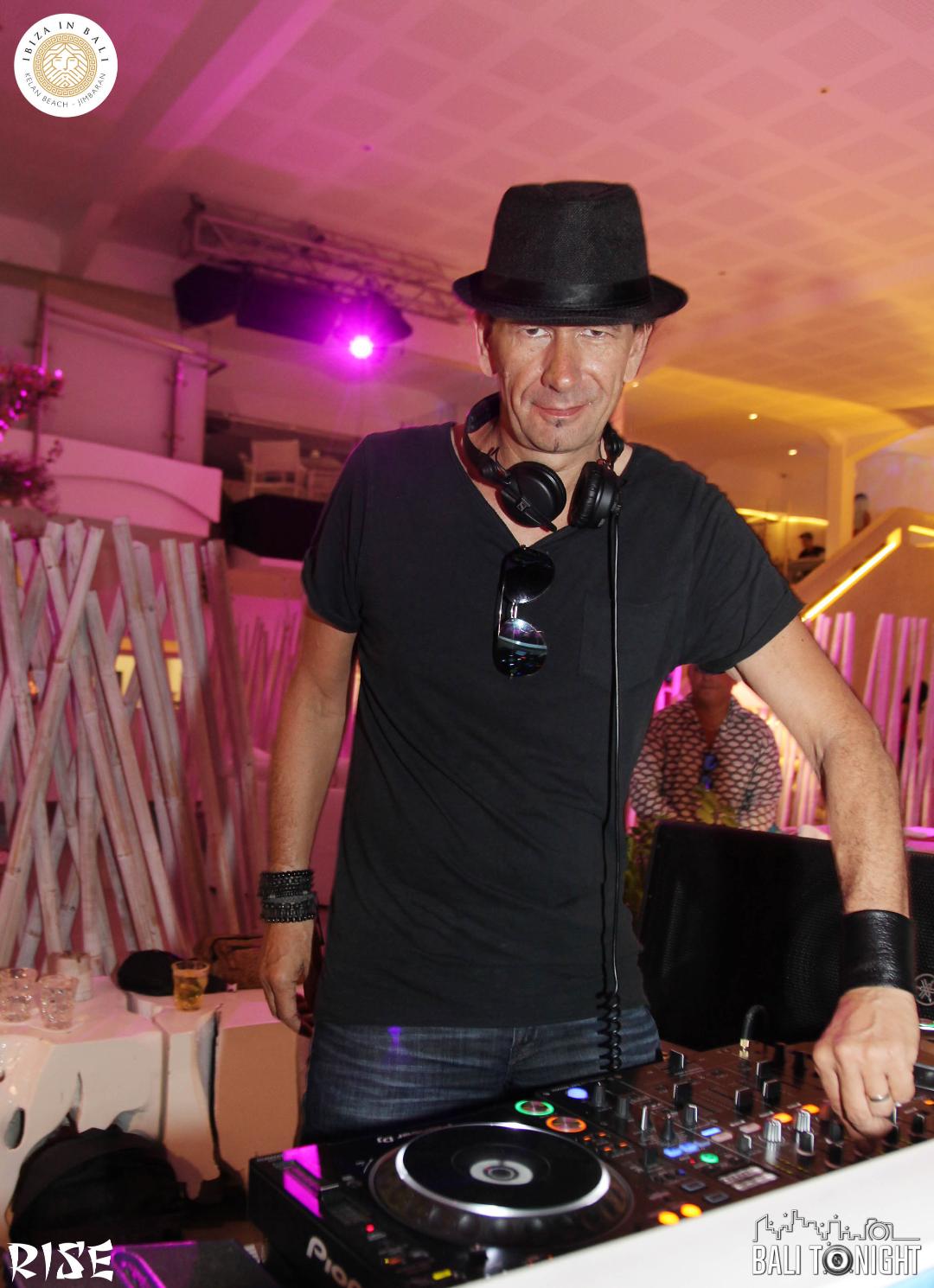 What music do you play?
I play different styles of house, like deep, tech, Afro, or progressive, plus melodic techno. When you perform nowadays, you have to mix tribal, ethnic, and industrial styles; it's a complete trip that you offer to the audience. Thanks to innovative technologies, the way I mix has changed now.
Many burdening manipulations don't exist anymore, making things a lot easier for a DJ. You have Rekordbox, a program that makes a thorough analysis of each track you play: chords, tone, BPM speed, loops. All of these details appear now on the large screens of your decks. In a way, we now use our eyes more than our ears. Everything has been simplified, maybe over simplified, allowing almost anybody to do the job. But if you're a bad DJ, you stay there, just merely using what the program offers. If you're a real musician, you use this opportunity to go for a more elaborate mix, with more melody and richer harmonics.
How would you describe the Bali nightlife? Does it belong to the world stage?
Yes, more and more, I would even say it can be labelled as the "Asian Ibiza" now. All the big names in beach clubs have set foot here, such as OMNIA, Ibiza in Bali, Ulu Cliffhouse, Café del Mar, and Finns Beach Club. The music played is of great quality and can be compared to the tunes played in Ko Pha-ngan in Thailand or Goa in India.
It's very different from what we can hear in big Asian cities like Hong Kong, Jakarta, or Kuala Lumpur, where it's more commercial and mainstream. In Bali, you can jump from Old Man's where they play very mainstream stuff, to Island Beach Bar, where dark techno reigns. Funnily enough, it's the same crowd hopping from one place to another. You have to understand one thing about Bali nightlife: the stars are not the DJs, it's the places! It's a party-goers' island. For a big party in Bali, people will fly in from all the big regional capitals. It's not unusual to play in front of a thousand people audience at such events now.
You play in Bali as a foreign DJ, this means you have all the legal permits to do so, right?
Of course, you can't play here without being legal because immigration staff are making lots of checks. They like to deport people, I would say. You can't even play for free if you're a foreigner.
It's a pity, because it's blocking what we love as musicians; jamming, mixing together, and stuff like that. DJs holidaying in Bali don't even dare to join in for a free set. Immigration officials are perceived as being very nasty here. I've been doing this for two years, so yes, I have a KITAS specially for DJs, valid for six months, which costs me about Rp20/22 million. I think there are about 200 DJs working in Bali, and roughly 20 percent are foreigners.
Do you get along well on the scene?
Yes, there is a good spirit in this profession. Solidarity is not just a word, but a reality. All the clubs are competing and it puts a lot of pressure on DJs, so we need to come together as one. Local DJs are paid less than foreigners yet they don't have the extra burden of legal permits. Clubs tend to prefer international names too. But Indonesian DJs are good, technically they're at a high level already, I guess because there are plenty of DJ schools here.
El Didion, where can we dance to your music?
I play almost everywhere. I often start towards sunset at Tukan Beach or 707 Beach Berm. Every Saturday, I play at Ibiza in Bali. On a weekly basis, I also play at Opera, Red Ruby, Jungle, and Who's your Daddy. I do seven to nine sets a week. See you there!