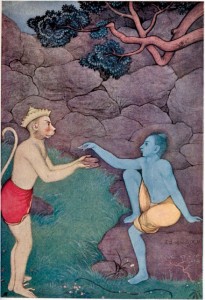 In understanding Balinese literature, we must start with a religion and mythology founded in India over 3,500 years ago. The Ramayana and Mahabharata epics have played a gigantic role in Balinese art, theatre and letters. The Mahabharata, with 100,000 couplets is the longest poem in the world, telling the story of a tremendous 18-day-long battle fought between two family groups in the legendary state of Bharat during India's Vedic Age (1500-500 BC). Translated into the high language of Kawi in the Middle Ages, Bali's rich classical literature is largely based on this Indian masterpiece.
The Ramayana, containing 18 books and 24,000 verses divided into 500 songs, is about the Aryan hero Rama (Vishnu reincarnated) who defeats the wicked King Rawana of Ceylon who has stolen his consort and is generally troubling the world. The Ramayana provides the inspiration for Balinese dance dramas such as the Kecak and Legong. Written over 2,000 years ago, this epic is as old as Homer's Iliad. The poem also incorporates the same legend; the abduction of a great beauty followed by a terrible war to rescue her.
One of the greatest and most influential works of Indonesian literature is Sutasoma, which relates the life of a prince born as one of the incarnations of Buddha, a Bodhisattva. Throughout Buddhist Asia there are many variations on the story of how this divine being subdued the all-devouring demon Purusada. Sutasoma is comparable in both complexity and scale to that of the Ramayana. Episodes from the poem are often alluded to in Balinese literature, regularly recited and studied in contemporary Balinese wayang theatre and frequently seen in Balinese temple sculpture.
Another of Bali's most enduring classics is taken from the story of Calonarang. Acted out in a powerful dance drama, this is the struggle of King Airlangga to save his kingdom from destruction by the widow-witch Rangda. This famous literary work continues to exert a strong influence in modern-day Balinese culture. The character of Calonarang demonizes of the mystical powers of female seers that have taken place in patriarchal cultures across history. Anthropologists and drama historians see the drama's central character Rangda originally as a maternal figure, the personification of the witch par excellence, the wise and eternal old crone. Historians claim that she was the legendary Queen Mahendratta from an 11th century East Javanese kingdom.
Some of Bali's oldest "books" are sacred lontar palm leaf manuscripts produced from the 16th century onward. The Gedong Kirtya library in Singaraja houses a collection of 4,000-odd lontar books which record the literature, mythology, calendars, horoscopes, folklore, rituals, black and white magic, medical science, genealogies and histories of Bali. There are also handbooks on law and ethical codes, holy incantations, village regulations, how to care for horses, singing doves and fighting cocks. The most precious are kept in a special air-conditioned room.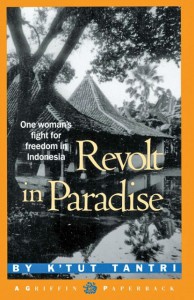 Novels of the Modern Era
A dozen or so modern books are essential reading in the understanding of the extraordinary changes that have taken place in Bali beginning early in the 20th century. Several books deal with the initial clash of civilizations that resulted from the first European incursions into Bali. First published in 1937, A Tale from Bali by Vicki Baum is a fictionalized account of the horrific ritual suicide, which took place in colonial South Bali in 1906 when Dutch soldiers slaughtered the Royal family of Badung and their followers.
After hearing a recording of Balinese gamelan in the late 1920's, a young Canadian-born composer living in New York dreamed of one day visiting the source. Among the world's first ethnomusicologists, Colin McPhee arrived in 1931 at a time when Bali was undergoing a prolific explosion of the arts. He lived on Bali for eight years until the very eve of World War II. His book A House in Bali was the first narrative of the island by a classically trained musician. The book is referred to frequently in academic monographs as a classic, not only of literature, but of musicology and ethnography as well.
An American traveller's experiences in Bali in the late 1920s covering daily life, village customs and temple festivals, are masterfully told in Hickman Powell's timeless classic Last Paradise. Island of Demons by Nigel Barley is a fascinating historical novel about Walter Spies – a famous ethnographer, choreographer, filmmaker and painter – in Campuan in the 1930s. Our Hotel in Bali is the story of two Americans who arrived in Bali in 1936 and opened a hotel on Kuta Beach, the first Bali-style hotel at a time when tourists were just beginning to arrive on the island.
Other important works cover the post-war nation-building period. Dancing out of Bali, first published in 1954, tells the story of a young Englishman, John Coast, who has just been released from a Japanese prison camp. In 1952, he and his Javanese wife brought a Balinese dance and gamelan troupe to Britain and the USA to huge acclaim. His book is a remarkable personal adventure that would be of interest, not only to Balinists, but also for all readers.
K'tut Tantri in her book Revolt in Paradise tells the gripping story of British-born artist and adventurer Muriel Pearson, known in Java as Surabaya Sue and in Bali as K'tut Tantri. The most exciting chapters chronicle her experiences during the early years of Bali's tourism industry and Indonesia's struggle for independence.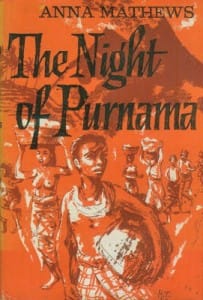 The Night of the Purnama by Anna Mathews is an evocative description of village life in Iseh in eastern Bali at the time of the catastrophic eruption of Gunung Agung in 1963. During the following six months it poured out ash, lava and volcanic bombs, burying whole villages, destroying rice fields, killing nearly 2,000 people, and bringing terror and famine to hundreds and thousands more. In more recent times, William Ingram in his book A Little Bit One O'clock has written a heart-warming and insightful account of an expatriate American living with a Balinese family in the 1990s.
As for children's literature, A Club of Small Men by Colin McPhee is the true story of men and boys from ages six to 60 who created a gamelan group in Sayan village in the 1930s. Also worth picking up is Balinese Children's Favourite Stories, which contains 12 tales for kids aged four to eight, some based on Aesop, others are authentically Balinese, with paintings illustrating the stories. Gecko's Complaint is a folktale about fireflies with colourful and charming pen and ink drawings by Sukanada. Sadri Returns to Bali portrays the 10-day Galungan festival through the eyes of a former child dancer, a joyous time when the gods come down to earth to visit and be entertained.