Stakeholders are sceptical about whether Bali can accommodate the high number of foreign arrivals that will be caused by the new visa-free policy.
Despite concerns about the current state of Bali's infrastructure, Indonesia's resort island is set to receive a surge of foreign tourists in light of the Government's decision to allow entry without visas to 47 more countries, including Australia – the biggest tourist market for the province.
In the wake of the new policy, Bali's provincial administration is expecting to attract four million more foreigners this year, with an even more ambitious target of 30 million overseas tourist arrivals by 2029, as outlined by the province's tourism roadmap for 2014 through 2029.
Bali Tourism Office head Yuniartha Putra says he's optimistic the target can be achieved. Between January and June this year, the island saw an 11 percent increase in foreign tourists, compared to the same period last year.
"Up to June 2015, the total [number] of foreign tourists coming here already reached around two million," says Putra. "Meanwhile, our target until the end of 2015 is four million foreign tourists." Among other factors, Putra attributes the growth to a weakening Indonesian rupiah against the US dollar as well as the Government's visa-free policy.
In June, Jokowi signed an agreement to waive visa fees for 30 more countries on top of 15 nations which already enjoy the privilege. Now, the Government will extend its visa-free policy to another 47 countries come October, bringing the total to 92.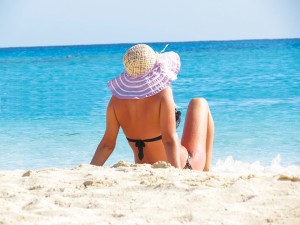 In early 2015, Indonesia also went ahead with visa-free policies for Chinese, Russian, South Korean, and Japanese tourists, as those nations represent large markets for Indonesian tourism. An increase in the number of visa-free countries was needed to achieve the target of 20 million overseas visitors by 2019, or 450,000 additional foreign tourists per year.
Famous tourism observer, Dewa Nyoman Putra says the number of inbound tourists from China, Japan, and South Korea showed significant growth in the first semester of 2015, thanks to the new policy.
According to data from the Bali Tourism Agency, the number of tourists from those countries during the first six months of this year grew by more than 10 percent. The number of Chinese tourists increased by about 29 percent to 340,711, while the number of Japanese tourists rose to 104,127, an approximate 12 percent spike from the year before.
Under the new regulation, visitor visas will be doled out for a stay period of 30 days in Indonesia. These visas may not be extended or converted into any other type of permit.
The law also stipulates only immigration units located at five airports and four seaports are allowed to issue visa exemptions. Currently, the airports include Soekarno-Hatta International Airport in Jakarta, Ngurah Rai International Airport in Bali, Kualanamu International Airport in Medan, Hang Nadim International Airport in Batam, and Juanda International Airport in Surabaya. The seaports are Sri Bintan Pura International Port, Tanjung Uban International Port in the Riau Islands, Sekupang International Port, and Batam Center International Port.
Tourism Minister Arief Yahya says the Government hopes to attract up to 1 million additional tourists this year as a result of the new visa-free policy. Yahya says the increased number of foreign tourists will create an additional foreign exchange income of close to US$1 billion.
In order to maximise the benefit of the visa-free policy, the Government is also planning to set up independent tourism agencies in five places other than Bali. They are Lake Toba in North Sumatra, Lombok Island in West Nusa Tenggara, Flores in East Nusa Tenggara, and the Thousand Islands regency near Jakarta. The agencies will be managed by the central government as opposed to regional governments.
"Lake Toba has to be the Monaco of Asia. The management could not be under a regency or governor," says coordinating maritime affairs minister Rizal Ramli. "We have to manage it and establish [a] Toba Tourism Authority."
Regardless, most of the inbound foreign tourist growth is still slated to happen in Bali, as it's already one of the most popular travel destinations in the world.
Tourism experts, however, question whether the island's infrastructure can realistically accommodate such a large number of visitors.
Bali is likely headed for an electricity crisis earlier than experts predicted, as low output from several key power plants is expected to curb supply amid soaring demand. State-owned power company PLN warns the decline in the electricity reserve margins on Java and Bali will likely reach an alarming level by 2016. This is significantly earlier than the previous forecast, which went beyond 2018.
Ngurah Wijaya, chairman of the Bali chapter of the Indonesian Tourism Businesses Association, reminds the administration not to focus only on the number of tourists, but to also ensure the tourism industry is developed in a sustainable way. Welcoming more tourists means the island needs to supply more water and electricity, and provide better facilities and infrastructure, he says.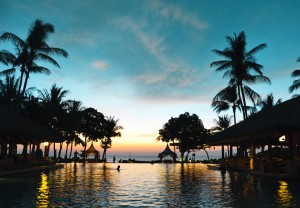 Bagus Sudibya, an advisor of the Bali chapter of the Indonesian Tour and Travel Agents Association, shares similar concerns about the sustainability of local tourism development.
To measure the "carrying capacity" of a tourist destination, he says, one needs to compare geographic size with the existing population. In the case of Bali, the island has a land area of 5,659 square kilometres and a total population of approximately 4.2 million. According to him, the target is attainable so long as the resort island improves the quality of its infrastructure.
However, as it stands, Bali is unable to accommodate such a large number of visitors, says Sudibya. This is especially true if tourism development is restricted only to certain areas. Regardless of whether the island can handle a sharp increase in tourist arrivals, Bali Governor Made Mangku Pastika expresses optimism that Bali can pull in 30 million foreign visitors by 2029.
He references Singapore as an example, a city-state which has been able to accommodate 37 million tourists each year despite being smaller than Bali. However, he fails to cite the fact that Singapore has world-class infrastructure.
Putra says the provincial administration will work closely with the island's nine regencies to implement a sustainable roadmap. "We will discuss further with the regency administrations, especially on how to improve the quality of tourist sites and infrastructure in each regency," he says.
To fund infrastructure development in the province, Governor Pastika implores the central government allocate more funds to Bali, saying additional funding can be sourced from tourism revenue in the future.
"This [additional] funding is important to be reinvested so that we can maintain our culture and environment," he told the media. "[It would] increase the quantity and quality of infrastructure to support the tourism sector as the biggest source of revenue for Bali."
The current law states fund allocation from the central government to a regional government can only be for the sake of natural resources, like the forestry and mining sectors, for example. "That's not rational and not fair because the fund allocated for Bali is relatively small compared to the amount of revenue generated from tourism in Bali," Pastika said. He added that Bali tourism generates annual revenue up to Rp.47 trillion (US$3.3 billion).