We only have one body; therefore, we should be taking care of it, not intoxicating it. Living a fuller, happier life is everyone's wish but external factors tend to interfere.
CEO and President Director of PT. Sewu Segar Primatama (Re.juve), Richard Anthony sat down with Indonesia Expat to discuss the importance of health and the glorious benefits of cold-pressed juices.
What was the inspiration and aim to start Re.juve?
I used to live in Singapore and also travelled a lot. My weight fluctuated and ballooned, compared to now. I started adopting a sustainable healthier lifestyle as soon as I realised the importance of my health and managed to reduce my weight from 84 kg to 71 kg. Then, I moved back to Indonesia and frankly it was very difficult for me to find delicious and healthy food and drinks at the time.
Six years after my return home in 2007, I was given the challenge to start a company based on agriculture or fresh produce under PT. Sewu Segar Primatama. Studies were conducted, but we couldn't immediately decide on the product. Starting with a bigger mission is vital. For Re.juve, its mission is to build something that can help customers live a sustainable healthy lifestyle to the fullest, or what we like to call a happier life. Therefore, this product we were creating has to be good and beneficial for everyone, revolving around three main factors: delicious, healthy and honest.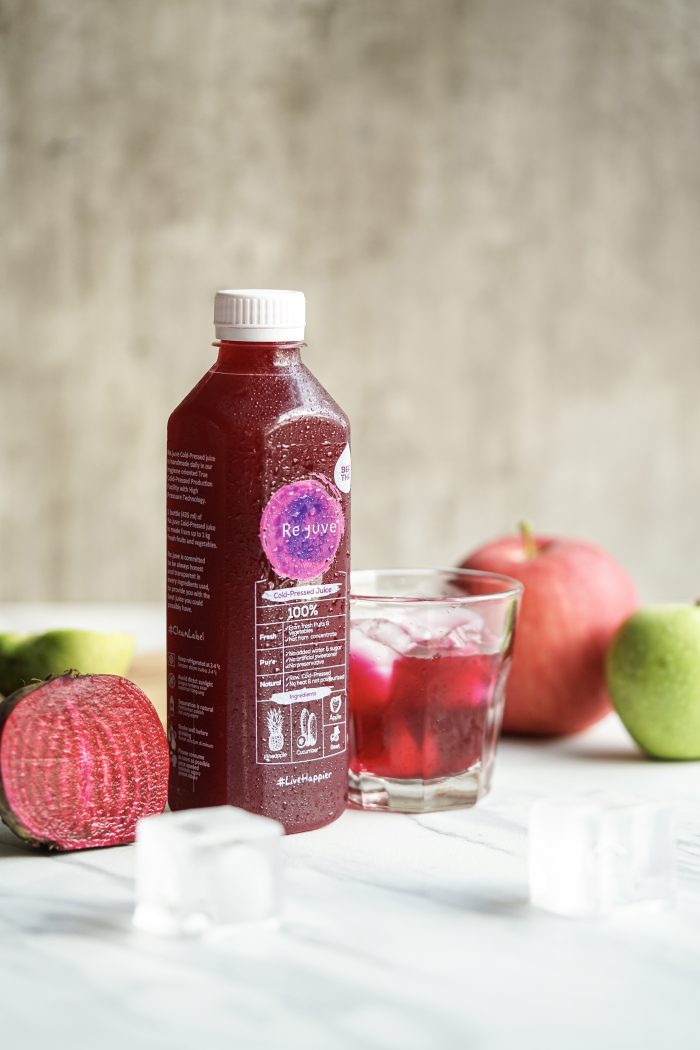 Why did you choose cold-pressed juices as the product of Re.juve?
Juices can be consumed at any time of the day, and anywhere you are, so it can become part of our lifestyles. People drink juices because they want to get all of the vitamins, antioxidants and nutrients from the fresh fruits and vegetables. Conventionally making juice requires an extractor or a blender; a machine that'll slice fruits and vegetables a thousand times a minute, but this produces heat which destroys most of the vitamins, antioxidants, and nutrients. Also, very high rates of oxidation happens as the extractor or blender rotates a thousand times, which is bad for the quality of fresh produce. By using a blender or extractor, none of us will get the necessary goodness, taste and nutrition from the fruits and vegetables. This isn't aligning well with our mission to provide the freshest and purest ingredients for the public.
After some more research, it turns out that a cold-pressed juice is categorised as healthy, as long as it's pure and natural (made from only fresh fruits and vegetables without additional water, sugar and preservatives). Cold pressing is a technology where it crunches slowly and doesn't produce heat, which means there will be no oxidation. As a result, all nutrients, vitamins and even the freshness of the ingredients remain, while also having a longer shelf-life.
How do you process a cold-pressed juice?
Re.juve's juice production is done in a sealed room to minimise air contamination. The room is also chilled at an average 10 degrees Celcius. By doing this, bacteria won't grow and the freshness of the products remains. Starting from selecting ingredients, we always look at the quality. No matter what the circumstance is, checking the quality is important. Afterwards, we wash the ingredients with drinkable water that's filtered and sterilised by UV, and then it goes into the bubble wash stage that uses chlorinated drinkable water to wash skin deep for about two to three minutes to kill the bacteria. The next stage is rinsing. After rinsing three times using drinkable and Reverse Osmosis (RO) water, we peel and weigh and then move onto the cold-pressed process. In this process, we use a hydraulic and triturating cold-pressed juicers that pushes the air out – not like a blender or extractor. Now it's time to pour in the juice and finally seal the bottles.
Since late 2018, Re.juve had started using a High Pressure technology (HPP) to increase product safety level further which automatically translated into a longer shelf- life. With HPP, we place a sealed bottle into this machine's chamber filled with chilled water, measured in about five degrees Celsius. The machine starts pumping the water until the pressure shows a maximum of 6,000 bars. Mind you, this is very high water pressure.
We cannot use pasteurised technology for fresh juices or other raw product because the heat will destroy the taste and most of the nutritions. HPP technology gives consumers safety similiar to pasteurized food and drinks, while maintaining the freshness, taste and rich flavours from fresh fruits and vegetables as well as their nutrition benefits.
As a matter of fact, Re.juve is the first ASEAN country to use HPP in an integrated cold-pressed juice production facility. Though HPP's operational and investment costs are more expensive than pasteurisation, Re.juve believes in giving the best of the best, delicious selections for everyone to indulge without any hygienic and health-related concerns.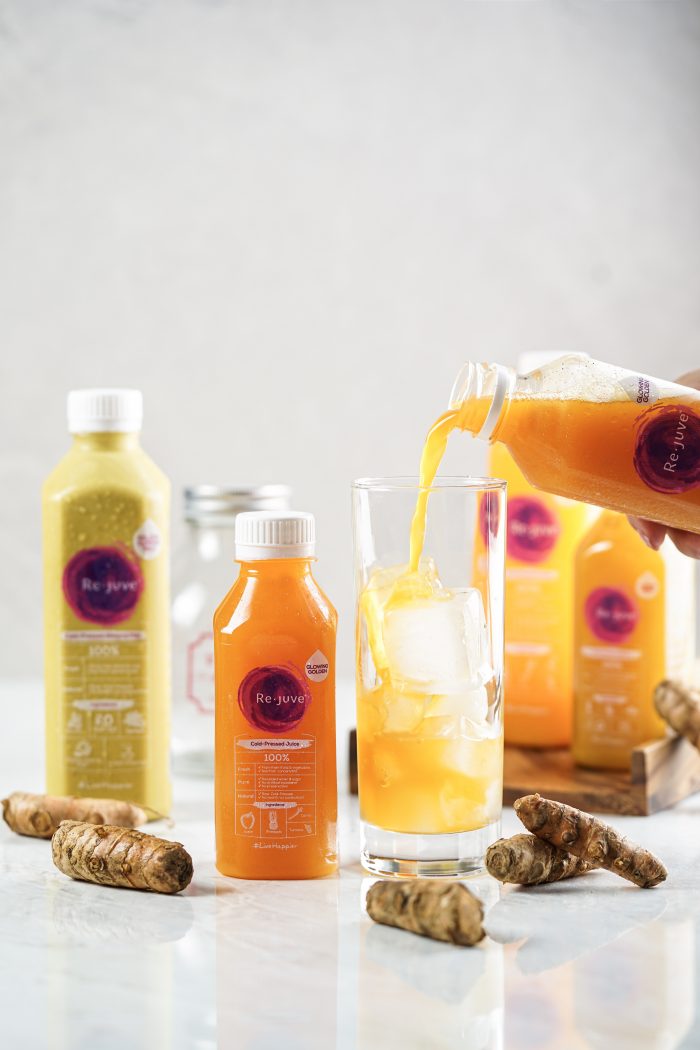 What are the differences between Re.juve's cold-pressed juices and any other juices out there?
All of Re.juve's juices are 100 percent cold-pressed, fresh, pure and natural. We will never add water, sugar, artificial sweetener and preservatives or anything. All of the ingredients are chosen carefully based on the freshness. There's also an organic line of products! You can check out the ingredient list on the labels – it's part of our mission to stay open, honest and transparent with all of our consumers – What You See is What You Get #CleanLabel.
Re.juve was formed in 2014 but it had zero presence then. How did you and the rest of the Re.juve team take Re.juve to today's existence?
Re.juve is a brand with integrity as honesty and transparency are the core values we highly believe in. Staying consistent and committed to our value, while also being flexible have guided Re.juve throughout all of these years. We are an idealistic company, which tends to translate into a stubborn characteristic. That's okay. We mean it when we say, it must be delicious, healthy and made with only fresh and pure ingredients. We never negotiate on drifting away from the company's mission because that just defeats the purpose of our aim to aid the public into a happier, healthier life. Have you noticed that there isn't any strawberry juice? Well, it's not like we never tried to create one; it's just that we haven't found the right mixture to make it tasty without adding any sugar or other ingredients, which will violate our commitment to only produce cold-pressed juices that are 100 percent fresh, pure and natural. So, for now, we have strawberries inside Re.juve's infused water.
Constantly finding innovative ways to grow that enable our customers to make wiser decisions is always discussed among the Re.juve team. See, if you already fill yourself with Re.juve's products, you don't have time to fill your body with "sinful" food/drinks. Be kind to your body.
Creating a happier and healthier life is highlighted by the brand. Why is this important?
We purposely use the term "happier" because, in order to be happy, you must be healthy first. On the other hand, the key ingredients to live healthily comprise of 70 percent nutrition and 30 percent physical exercise. With Re.juve, we want our consumers to live a sustainable healthy life. To do that, they have to enjoy the process since society tends to struggle when it comes to health. If something is nutritionally beneficial for you but it's not something you like or enjoy at all, then it will not work out in the long run. After a while, it will be forgotten. In this case, everything produced and sold by Re.juve must be delicious, healthy and honest.
Seen on Re.juve's Instagram account, posting educational updates to the masses is often done. Is this a part of Re.juve's role in promoting a healthier lifestyle?
Education is key. Re.juve is flexible enough to market its products by suitable ways that directly get attention from specific age groups for instance. If millennials lean on Instagram, Re.juve is there.
Since the beginning, Re.juve never really preferred using top of the line advertisements because ads have less information displayed to the public. Instead, we would rather have talk shows and seminars where the team hands out the products for everyone to try out and see proof of the facts we discussed. These interactions also support Re.juve's honest character to never hide anything from the public. Anyway, mouth to mouth is a powerful advertisement. Slowly but surely, the brand became stronger accompanied by trust and even connection with the customers.
What are the best-selling products from Re.juve?
Asian Green, i.Glow, u.Glow, Beat That, Tropic Golden (Turmeric), Almond Milk, Copacabana, Mocha Latte, Avocacao High, Chocolate High and many more!
Will there be other products besides juices, smoothies, and snacks anytime soon?
Re.juve is not a juice company, it's a lifestyle. You can find a selection of food and beverages at our stores. We have some salads coming in from third parties at our stores. Looking back at our principles, we are always open to provide meals in the future but it depends on the product, the market and customer needs. Sometimes there's a dish that's healthy but it isn't considered delicious, and that detracts from Re.juve's mission. In short, we will only provide customers with F&B that are delicious, healthy and honest.
I get the impression that you are passionate about health. Are you?
I have a passion for a healthier sustainable lifestyle. Sometimes I like to ask my team, do you love yourself? If you do, then why do you constantly feed yourself with non-healthy food/drinks? You only have one body. The more unhealthy food/drinks you consume, the less chance you will get to enjoy life for a longer, fuller time. I sincerely don't believe in diets though. I'll eat everything, especially when I go travelling, as long as it is the best available version of a particular dish. We can do this as long as we have been kind to our body by consuming delicious and healthy foods and drinks in our daily life.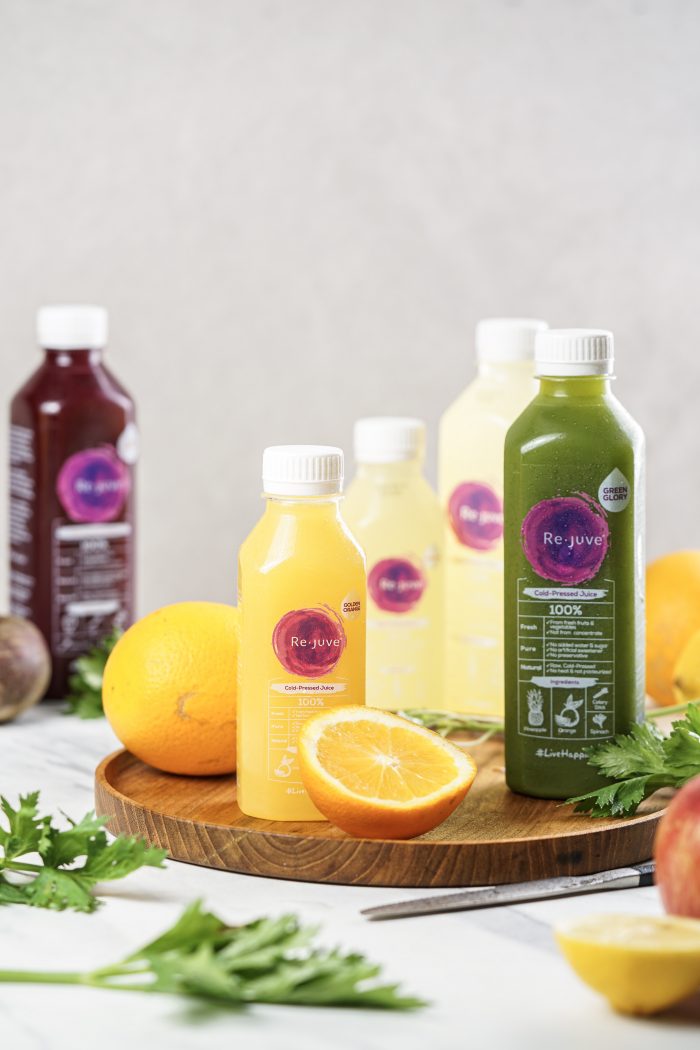 What about your favourite Re.juve drink and snack?
To be honest, I like a lot of Re.juve's drinks. It depends on the occasion because Re.juve can fit regardless of our lifestyles. I like the Asian Green, u.Glow, Super Green, Passion fruit and Tropic Golden juices. After a workout, I like to have the Chocolate High Smoothies since they're packed with 30g protein and 10g fibre from banana, oatmeal, natural peanut butter, whey chocolate protein and fresh milk or almond milk. Re.juve's infused water filled with lemon, mint and/or strawberry is one of my favourites to hydrate my body; it's light, almost zero calories and has a fruity flavour. As for snacks, I like everything but to narrow it down, it has to be the mix munchies and Organic Cacao Nibs and Cashew.
Have you tried out Re.juve's detox programs?
Yes, of course! The biggest challenge is not being able to chew anything; as it was all in liquid form. When we launched the detoxifying three-day juice fast, I tried it and lost 1 kg. To be clear, we never promote any detox programs as a way to lose weight. Detox is self-cleansing and good to give your body and its organs a time to take it easy digesting the healthy and non-healthy foods and drinks we consume daily. These organs already detox on their own but physical environmental factors hinder the cleansing process. Again, Re.juve wants to help people in an honest way. We never say our juices detox your body, but our juices can aid and boost up the conditions of your organs so they can detox properly.
Moving onto you, please describe your background till you eventually became CEO & President Director of PT Sewu Segar Primatama.
I was born and raised in Jakarta. I did all of my education in Indonesia, including my Bachelor's Degree in Computer Engineering, although that wasn't my first choice. I also did my MBA from the University of Melbourne. I spent most of my career in IT until late 2013; nine years in Indofood, 14 months in Guinness Indonesia, and another 9.5 years in Singapore. In 2007, I came back to Indonesia where I joined the Sewu Group as Group CIO until 2013, when I made a very far jump in 2014 to start and handle Re.juve.
When I made that career switch, it was a huge challenge. I didn't have any food and beverage (F&B) retail experience, though I did have senior management experiences for many years. I came into a silver lining of having a bigger opportunity to expand personally and professionally. During my IT days, I was happy to be able to contribute in many ways and got recognised as one of the best CIOs in ASEAN by IDG. Both industries made me happy, but here I get to do and contribute much more because I'm surrounded by a wonderful team that I get to see grow and shine.
With several specialties in business management, analytical skills, etc under your belt, how have these skills influenced your work in Re.juve?
In IT, I often used to analyse in detail since I'm a very logical person. I also negotiated a lot, and that has helped me in making the best deals for Re.juve. As a startup, Re.juve's mission is clear but the execution aspect needed to be flexible. This is where my "agile" experiences in IT help a lot. I truly believe nobody should ever blindly follow a plan.
What is a fun fact everybody should know about you?
Many people say that I am a very demanding person. I don't think that's wrong – everyone is capable of doing something as long as they're committed to it. I consider myself an easy-going person, yet some people think otherwise. My new personal assistant thinks I'm a funny person, although I tend to be reserved with my emotions. Nonetheless, I always look at the process, not just the results. I also like to travel as well as enjoying nice and delicious food and drinks.
What are your hobbies?
I like to play badminton and work out in the gym. I'm quite a competitive person. Usually, I play doubles in badminton against competitive people because that's more enjoyable and allows me to improve my skills. Frankly, I workout at the gym or running just to enhance my stamina to play better badminton (laughs). I also like to watch movies at home or at the theatres. I'd go for action, comedy and any type of movie that has hidden life values to motivate me. I kind of stray away from drama because it's rather boring.
Lastly, what is your personal and corporate ten years plan?
Ten years is a long time. Hopefully, I can still lead and continue to grow Re.juve because I told the team, Re.juve is growing well but we aren't close to achieving our vision and mission yet. Until 2018 we've only catered to Jabotabek. There are expansion plans for other cities and regions of Indonesia. That's why we started using HPP to make Re.juve products shelf life last longer. Re.juve is now also available in Surabaya, Bali, then soon other cities in Java. Probably overseas distribution will be done sometime in the future; once we find the right partner for that.
To be able to see Re.juve products literally in every Indonesian household will be amazing. That's my vision for Re.juve, and help these young talents to achieve their dreams at the same time. By the time I retire, I will prepare someone suitable and capable to continue Re.juve or else, it would be a waste.