While the archipelago has plenty of apps that are clearly for the sake of hooking up or just having a one-off good time, Setipe positions itself as the only one designed for finding 'the one.'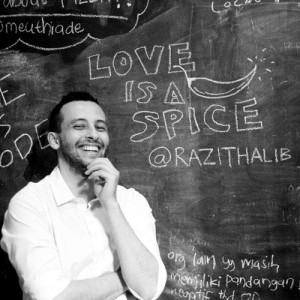 Razi Thalib is a smart guy. But he's also one of the few entrepreneurs in Jakarta who can think with his heart, as well as his mind. Thalib is the founder of Setipe, Indonesia's online matchmaking platform for introductions between locals seeking romance, but the catch is, it only aims to match people for the purpose of having healthy, long-term relationships. In other words, the app is designed to help you find your soul mate.
"Online dating is a difficult industry to crack," said Thalib in an interview with Indonesia Expat. "It has many issues going against it when figuring out a sustainable business model. The main thing that entices people to the industry is that the need is big and it's real – love is fourth in social importance after food, health and education."
The way Setipe works is that anyone who wants to sign up must complete a personality profile by answering a long series of questions. In the past, the number of questions was more than 100 in total, in an effort to weed out users who may not be serious about finding love. Today, Thalib says the questionnaire has been whittled down significantly after the team got a chance to observe enough user behaviour. Only after users commit the time and effort it takes to make a profile can they be matched with another user (only one match per day).
So, very much unlike apps such as Tinder, whereby users act solely on instinct after viewing a profile picture – and make snap decisions by swiping left or right – Setipe is much more of a custom service, based on your individual personality profile.
The underlying theory behind Setipe is that the more things you have in common, or the more like-minded you are with you potential date, the more likely you are to hit it off and start a serious relationship.
Thalib recognizes that online dating has a history of being seen as a taboo in Indonesia. In western markets like the UK or US, online dating is widely seen as just another tool to meet people. In the archipelago, however, some may believe that online dating is only for seedy or desperate people. For this reason, Setipe users remain unknown to the public. The only people who know you're using the app are the users you get matched with. Thalib says this is designed to circumvent any possible social stigma that would prevent users from signing up.
He added, "I do feel like the future of social introductions for matchmaking and dating will primarily be online. Once a person realizes that finding a life partner is about knowing yourself better, what you want in a partner and then going out and meeting as many people as possible, then they'll see tech as the most efficient and private way to get there."
Since the company's inception in late 2013, Setipe has grown steadily, with definite tipping points along the way. In January of 2015, Thalib and his team reported that the app was recently responsible for five marriages in Indonesia.
Thalib says, "About 200 wedding invitations have arrived at the office in the two years since. We believe many more exist but remain unreported. The 200 reported weddings serve their purpose of legitimizing what we do, so there's currently no priority to hunt for more successful couples, one at a time."
Thalib understands the online industry well in Indonesia, having pulled in a seed round of funding from Lippo-backed venture capital firm Venturra Capital in late 2015. As a former VP of Digital Product and Online Marketing at the famous tech company builder Rocket Internet (the incubator responsible for now-giant e-commerce names like Lazada and Zalora), Thalib is always looking for ways to improve Setipe's business model. He says:
"Our intention is to first set up and optimize our online revenue stream that we hope will provide consistent and rising average revenues per user. However, we're also open to exploring other models like offline matchmaking, personality report sales for non-singles and more."
Thalib admits that the business of digital love is tricky due to the fact that once his app matches two kindred spirits (maybe they even go get married), he has to find a way to lure them back and keep using Setipe. So despite it being an immensely valuable service, matching soul mates may seem like a bit of a paradox from a business perspective.
With this in mind, Thalib says, "We're still primarily focused on introductions for romantic relationships but overall the umbrella of 'healthy relationships' can also include other areas like post wedding services and also professional relationships […] Our main assets are the matchmaking tech and also the OCEAN personality profiling, which is a foundation that can take the business beyond just romantic introductions."
The team says Setipe has very few expat users as of yet, but this could change in the future. According to Thalib, Setipe spent nothing on marketing during 2016, yet organic customer growth remains steady. Setipe still needs to find a way to streamline payments, simplify the user interface, and work out some user experience kinks. For this, even though budget and slim tech resources will continue to be a hurdle for the company, Thalib says more A/B testing is needed to figure out how to convert more potential Setipe users.
"We always keep informed about Indonesian e-commerce performance, online penetration rates and youth behaviour online, as well as issues surrounding economic and social trends but no specific data drives us," he explains. "There will always be singles and they will always need help to find love."