US presidential candidate and billionaire Donald Trump is in bed with MNC Group. What could happen to Indonesian relations if he slithers into the oval office?  
We'd like to preface this piece by saying that Republican US presidential candidate and blowhard billionaire Donald Trump will probably not become president. Even if he did somehow manage to leave a slime trail all the way to the White House — and get his disproportionately tiny hands on the nuclear codes — the American government is set up in such a way that he would be rendered impotent on most of his outrageous ideas. Build a wall at the border and make Mexico pay for it to keep "rapists" out? Sure, Donald, good luck getting that bill through congress.
With this in mind, let's consider the imaginary scenario of what might happen in Indonesia if Donald Trump somehow fools the majority of Americans and insults his way to the oval office this November.
As part of a disjointed, and Frankenstein-like, radical conservative agenda that would in no way "make America great again", Donald Trump has called for a "total and complete shutdown of Muslims entering the United States." In the final Republican debate, Trump said, "They're not coming to this country if I'm president." In his mind (somewhere under the furry creature atop his head), Trump believes this would be the answer to terrorism.
Naturally, anti-Trump sentiment and chest-beating has cropped up from Muslim voices the world over. Indonesia has a population of 250 million, the vast majority of whom are Muslim, and Jakarta did its fair share of rabbling in recent months. In terms of business and politics, however, Indonesia has forged close ties with the US on many fronts, and a circus freak of a president would be unlikely to change that.
Despite Islamophobic policy proposals, Trump himself has business interests in Indonesia. Without batting an eyelash at this fact in his campaign, the pandering tycoon is actually pulling in millions from business deals in countries where Islam is the prime religion, including the United Arab Emirates, Azerbaijan, and Turkey. Trump owns golf resorts in Dubai, in partnership with prestigious property development company DAMAC Crescent Properties. The dollar-value of said resorts has not been made public.
Another one of Trump's assets is a luxury hotel in Baku, Azerbaijan, located in the Caspian Sea. Trump clocks his income at US$2.5 million for "management fees" on this hotel. In Istanbul, Turkey, there is a Trump Towers, a 40-storey building full of residential suites for rich people. While Trump does not own the development straight up, the owners have licensed his name by paying annual royalties of US$1 million to US$5 million.
In Indonesia, the Trump Hotel Collection will soon open in Lido, West Java, and Bali, despite two circulating petitions calling to prohibit Trump and his empire from doing business in the country.
The idea of these petitions is that the nation with the world's largest Muslim population should somehow take an eye-for-an-eye approach, and slap a ban on Trump himself. A taste of your own medicine, Donald? The two petitions — set up anonymously on the web — urge Indonesian president Jokowi to expel the billionaire and his businesses from the archipelago. While this notion is entertaining, these petitions are unlikely to yield actual results, having garnered less than 47,000 signatures since December 2015.
In Indonesia, Trump is partnered up with PT Media Nusantara Citra (MNC) Group, controlled by fellow billionaire Hary Tanoesoedibjo.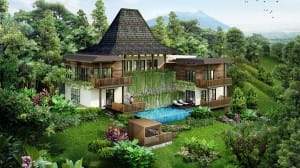 In Bali, Trump will open a six-star hotel built on a cliff, looking out over the temple at Tanah Lot, one of Bali's most iconic tourist destinations. In Lido, Bogor, Trump's resort will be complete in early 2019. It spans 700 hectares and will be made up of three components: a hospitality wing, a golf course, and a theme park. The theme park is set to employ another US firm which specializes in entertainment. Other Trump ventures in Indonesia include a six-star luxury resort, an 18-hole signature Ernie Els championship golf course, a country club, a wellness destination spa, and high-end residential villas.
MNC Land vice president of business development Ivan Casadevall recently told The Jakarta Post that the golf course is already in the development phase, and is expected to become operational by the end of 2016. The country club will become operational in 2017, in line with the unveiling of a new Bogor-Ciawi-Sukabumi toll road, also developed by MNC. Other hotel villas and residential areas affiliated with the Trump name will begin in 2018, projected to become commercially operational in early 2019.
Trump would simply act as an operator brand of these properties, while they would be 100 percent developed and owned by MNC Group. The Indonesian conglomerate acquired Lido Resort in a Rp.1.4 trillion (US$97.8 million) deal from British Virgin Islands-based Charlton Group Holdings Ltd. It paid around Rp.1 trillion (US$74.6 million) to acquire the Bali resort.
An official signing between Donald Trump and Hary Tanoesoedibjo was held in New York City on August 14, 2015. "I am personally very pleased to bring the Trump brand into Indonesia. The Trump family's personal involvement and globally proven success are set out to elevate Bali's expectations for luxury and excellence," Tanoesoedibjo said in a statement.
Even with the knowledge that Trump is running for president and throwing around what can only be interpreted as anti-Islamic statements, MNC Group remains confident about doing business with Trump.
"Business is business. The implication for wider Indonesia, we have to see later," corporate secretary of MNC Group Syafriel Nasution recently told Reuters.
Ari Kuncoro, dean of the faculty of economics at the University of Indonesia, also defers to the maxim that "business is business" when asked about Trump's ventures in Indonesia, but takes a slightly different stance.
"Just change the corporation's name and throw away the word 'Trump' from the title. The management also can say that Donald Trump has been discharged from all business, but the projects will continue on schedule. Business is business, I think nothing [would] change," argues Kuncoro.
If Trump became president (and pressed on with his Muslim ban), it's conceivable that his business dealings in Indonesia would suffer. Regardless, in the nightmarish universe where Trump changes America into a dystopian society overnight, it's unlikely that Indonesia would totally shut the US out of its international trade agenda. The country represents a more than US$972 million annual export market for the archipelago.
"What Donald Trump repeats in his campaign is how to put the United States in a protectionist regime like what occurred in the 1920s," explains Kuncoro. "If he runs the administration with that policy, not only would Indonesia-US relations, but all countries' relations with the US change dramatically." He adds that several economic consultants list Trump as a "risk factor" in their projections for the American economy.
Meanwhile, Imaduddin Abdullah, a researcher from Jakarta's Institute for Development of Economics and Finance, believes something thrilling could happen in terms of economic cooperation between governments if Trump became president.
"His business will still gain a positive response as long as his corporation gives big benefits to his partner in Indonesia. Especially if the business is not an end-product. Customers are usually concerned with the end-product from Trump. For example, in Lido, perhaps there will be a slight protest against the development of the resort from people around there. But that's all that will happen," says Abdullah.