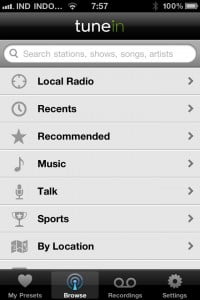 For about the last 15 years I haven't listened to the radio.
More specifically, I haven't even owned a radio to listen to (except the one in my car that I would never use as it only has local stations). But all this changed a few months ago when I got TuneIn radio for my iPhone (and it's available on BlackBerry and Android and just about every other smart phone on the market.) While there's no shortage of radio apps on the App Store, good and inexpensive ones with a large number of station choices are a bit harder to find than most. That's where TuneIn Radio comes into play. TuneIn provides solid support for Radiotime presets as well as DVR-style controls for rewinding and recording favourite songs and shows.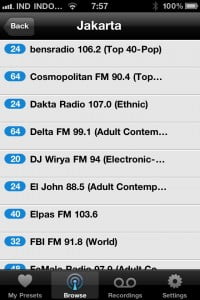 The core interface for TuneIn Radio looks an awful lot like iTunes, but that's not a bad thing. The screen displays major headings for radio stations – from location-based stations, to music, talk or sports. Choosing one of these opens sub-menus, and each of these opens a sub-menu, and so on and so on until you find a station you prefer. Stations are imported from the online Radiotime service, so there are literally thousands to choose from. Because the device uses GPS, it even provides a category of "local stations" for those who are looking for something local. For the rest of us, you have immediate access to the entire world of online radio at your fingertips.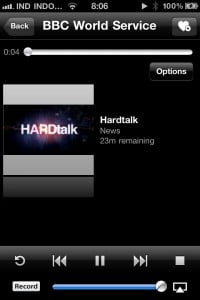 What really sets TuneIn apart from its competitors, however, is its use of DVR-style record/rewind/fast forward functions. At any point during a listening session, all you have to do is click the record button and you will record as long as you remain on that station (it will even spool back and record the bit you listened to before clicking record). Even better, you can set a timer on your iPad or iPhone (TuneIn is, gratefully, a universal app) to begin recording when and what you want. Have a favourite daily show? No problem. Just set the timer and listen at your convenience. Background tasking means you don't have to keep the program open in order for this to work either.
Recordings are all stored, naturally enough, under the "Recordings" side heading, but therein lies a small problem. There is no way to export your recordings or save them to anything other than TuneIn. This sounds like more of an issue with Apple than with the app developer, but it would certainly be nice to export your saved programs to iTunes or other similar programs.
TuneIn handles streaming audio (and recording that audio) very well. Considering its low price point of $0.99, and the fact that it's a universal app, it's a good choice for anyone looking for a radio app for their iPad, iPhone or any other smart device with a good data connection. While I still don't use the radio in my car, this app opened an entirely new world of music and talk radio discovery in a way I didn't think was possible.