Let me start by dazzling you with some numbers. How do travellers use the web to search for hotels, flight information, tickets and other stuff, 69% of those will visit hotel sites,62% will visit airline websites, 54% will use search engines and 52% will use an Online Travel Agency (OTA).
More travellers use mobile for travel information whereas the business travellers score a 57%, from the leisure travellers 38% will use their mobile. Home and office/work computers have dropped 10% since 2010 whereas smartphones have gained 11% in popularity to be used as the right tool to search the web. More and more travellers increasingly turn to the smartphone and/or tablet to plan and book.
Most of the online travel agents have recognized this trend and are consequently bringing native apps for Blackberry, iPhone and Android into the market, making sure that their mobile websites are not too difficult to see/read/navigate on the mobile device. Downloading of the pages on a mobile device is another deterrent to book online using your mobile. Hence web designers in Indonesia have an extra task to make sure that webpages for mobile are relatively small in size.
Below you will find three rather new companies that will help you to search for a hotel, airline ticket or tourism package to book your end to end journey. All of them started as an online travel agent using the PC but they will provide native apps for smart phones in the near future. Every company is unique in the way they present their online booking system.

GoIndonesia.com is Indonesia's first real online travel agent, developed primarily for the Indonesian market and for Indonesia as a destination. On Go Indonesia you can book a wide selection of hotels in Indonesia online, and soon also hotels around the world. Hotel prices are conveniently displayed in the form of a table or matrix, which makes it very easy to compare prices for different hotels, as well as for different dates. You can also search for hotels on an interactive map, as well as through a convenient search menu that allows you to choose specific search criteria such as hotel facilities. To pay online GoIndonesia.com offers a wide selection of payment options, from Visa and MasterCard credit cards, to internet banking such as KlikBCA and Mandiri Clickpay and through ATMs from BCA bank. All hotel reservations are confirmed instantly: you receive and a confirmation and hotel voucher the moment you have paid online.
Go Indonesia is a product of the Kaha Group, one of the largest and most reputable tour and travel companies.
A BlackBerry application will soon come out and this will offer the same full services and convenience to book hotels through your BlackBerry.

This is a unique adventure tourism portal that explores the uniqueness of Yogyakarta. Besides information on places to explore, Dusun Merapi also provides a personalization feature that allows visitors to create a specific tourism package in Yogyakarta. Using the "create your own package" feature, visitors can choose the destination places, hotels, duration (days), participant numbers, and transportation mode. Then, the system would automatically create the trip package for the visitor as required.
Using this feature, anyone can go to any place. For example, a visitor may choose Jomblang cave and Offroad Lava Merapi as the destination, staying at Rumah Palagan guest house, using a Toyota Avanza vehicle with driver, for a three day period and four participants. Dusun Merapi creates the trip package and offers a special competitive price automatically. Visitors may do reservation directly or just save the simulation result.
An Android app will be available in the first quarter of 2013 as well as a full English version of the site.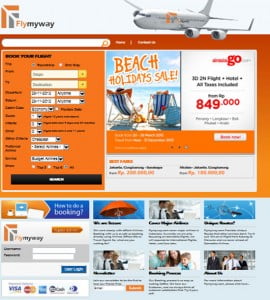 Fly My Way (FMW) will provide a search, book and payment portal specifically for the domestic airline market. The founders and employees of FMW are experienced travel-industry professionals and passionate about the activities they will promote and offer. An opportunity for FMW's success exists because the domestic tourism and travel industry is growing.
Fly My Way is poised to take advantage of this growth and lack of competition with experienced staff, an excellent portal, and effective management and marketing. Prices will be competitive with the remainder of the market. Fly My Way is a result of people with a passion for travel and Indonesia. Based upon that passion, Fly My Way have created a system that will allow travellers, both in and outside Indonesia, to book and pay for any flight within the boundaries of Indonesia. The solution offered is a one stop shop where the potential traveller would be able to search, compare, – based upon their own criteria, such as price, budget or full services, to book and ultimately even pay for their trip.
Native apps for Blackberry, iPhone and Android will be available in the first quarter of 2013.